This Taco Bell Birthday 'Cake' Is Turning Heads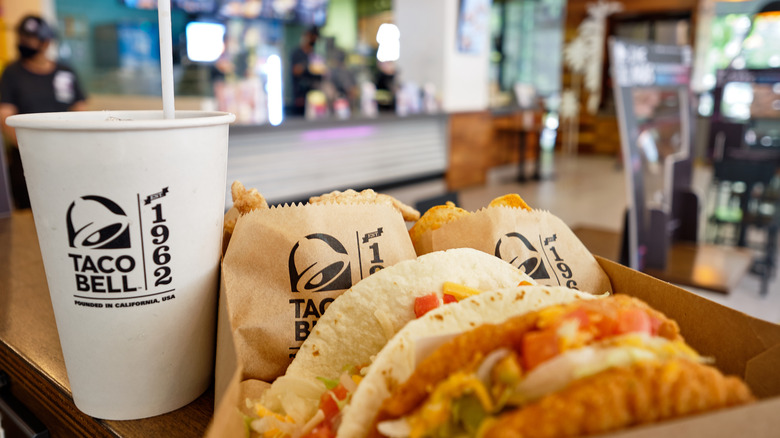 KULLAPONG PARCHERAT/Shutterstock
Twitter user Eytan Haddad is clearly a Taco Bell superfan. In a recent Twitter post that has gone viral, he shares a photo of a special treat made from TB goods, saying, "Shoutout to my family for the perfect birthday cake." This perfect "cake" is actually a layered collection of Taco Bell favorites, topped with burning candles representing the number 31. As best we can tell, the cake includes Cinnabon Delights — the most cake-like of all the components with a sweet touch of cinnamon and sugar. The base looks like two quesadillas topped with a Crunchwrap Supreme. Add a layer of crunchy hard shell tacos, another Crunchwrap, and top with an assortment of burritos and there you go — the perfect "cake."
As fellow fan and reader John Collins comments, "I need that every year 'til I die."
We would caution, however, that once a year for this meal is probably enough. For those keeping track, this looks like a calorie count of around 3,550 if you add up two Crunchwraps coming in at 350 calories each, three Burrito Supremes at 390 calories each, two crunchy tacos at 170 calories each, two chicken quesadillas at 510 calories each, and two orders of Cinnabon Delights with 160 calories each (via Taco Bell). With that much food, you'll definitely have enough to stave off hunger for a whole birthday week.
It was a very happy Taco Bell birthday for one Twitter user
Twitter user Eytan Haddad also comments on their birthday post, "The icing on top of the 'cake' would be an extra birthday present from my taco idols. @tacobell hook it up!" and Taco Bell apparently was listening — at least a little bit. The chain replied, "This is incredible." Even Stouffer's got in on the fun, replying, "Best birthday cake idea ever."
And while almost everyone is impressed with the creativity in this innovative birthday "cake," not everyone is a fan. One person, Via, was filled with disappointment because, "For a second I thought I saw a Mexican pizza and I was like WHAAAT." For the record, those are clearly tacos, although rumors about the return of Taco Bell's Mexican Pizza have circulated in the past. Others have made jokes about digestive issues after a feast like this, and we'll simply reiterate that over 3,500 calories of fast food in one sitting probably won't do anyone's digestive tract any favors.
As for the overall take on this creative cake, however, Twitter follower Casey Ogden sums it up best saying, "That's how you think outside the "bun."