Peanut Butter Cup Spider Cookies Recipe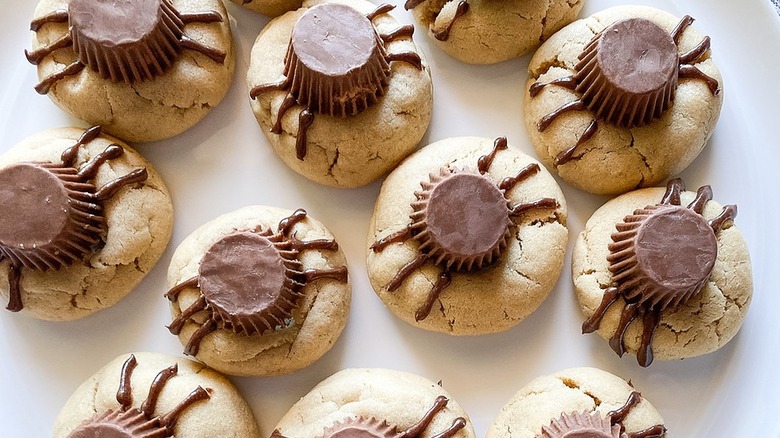 Kristen Carli/Mashed
What is your favorite type of Halloween candy? Year after year, Reese's peanut butter cups are the top choice for many trick-or-treaters. Recipe developer Kristen Carli is a registered dietitian who is usually all about healthy eating, but at this time of year even she finds herself craving these slightly salty and sweet treats. And, what better way to get into the Halloween spirit than with these peanut butter cup spider cookies? "I have been brainstorming ways to utilize [peanut butter cups] more," Carli explains. "This gave me the idea to make these spider cookies."
It's not just the candies on top that make these cookies so special, nor is it the adorable spider decoration. "I love the cookies themselves too," Carli raves, adding that "the peanut butter dough is DELICIOUS." When the cookies are done, she describes them as having a "soft and chewy in texture." "Your home will smell so sweet when baking these," Carli notes of a special bonus. If you love peanut butter cups and cookies, then you'll definitely want to give this sweet recipe a try for your upcoming Halloween party!
Gather the ingredients to make peanut butter cup spider cookies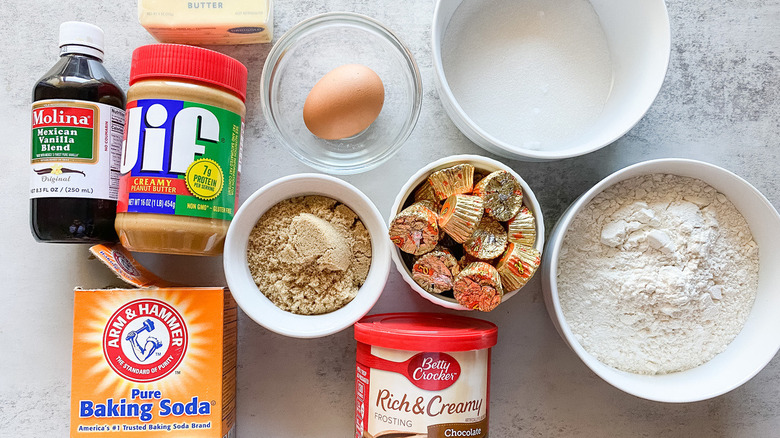 Kristen Carli/Mashed
To make the peanut butter cookies, you're naturally going to need plenty of peanut butter. You'll also need flour, baking soda, unsalted butter, an egg, vanilla extract, and both white and brown sugar.
In addition to the standard cookie stuff, you'll be using just two items to decorate the cookies: chocolate frosting and a bunch of miniature peanut butter cups (Carli used Reese's brand, though any type of mini peanut butter cup will work.) Better buy an entire bag of the peanut butter cups (or maybe two) so you'll still have enough left to top the cookies if you've been snacking while you bake. You'd have to have super will power to resist, after all!
Stir together the cookie dough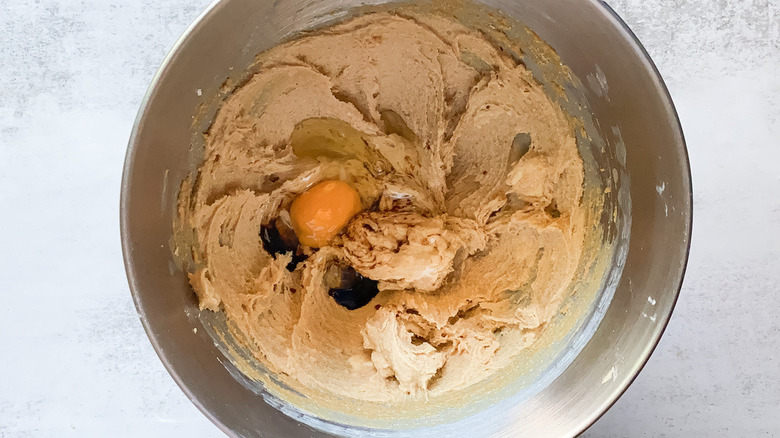 Kristen Carli/Mashed
Begin the preparations by preheating the oven to 375 F. You should also locate three large cookie sheets, then grease them or line them with silicone baking sheets or parchment paper. Next, mix together the butter, peanut butter, and both types of sugar. Carli used a stand mixer for this, although you can use a handheld electric beater or even muscle through the beating by using a wooden spoon and your own strong arm. Beat these ingredients together until they are well combined, then add the egg and vanilla and beat those in, too. In a separate bowl, whisk together the flour, baking soda, and salt, then add them to the peanut butter mixture. Mix everything up until it looks like cookie dough.
Shape the dough and bake the cookies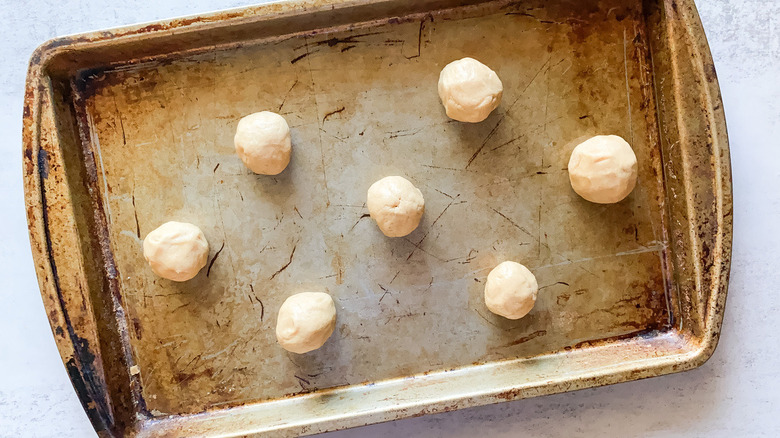 Kristen Carli/Mashed
Start rolling the dough into little balls — you should have 36 of these in all, although one more or less isn't going to be a deal breaker. Place about 12 balls (or however many will comfortably fit) on each baking sheet, then bake the cookies in the oven for 10 to 12 minutes. Depending on the size of your oven and your baking sheets, you may need to bake the cookies in batches.
As soon as the cookies come out of the oven, give each one a poke with the end of a wooden spoon to make a little indentation. This is where the peanut butter cups will go once the cookies have cooled.
Dress the cookies up in their spider costumes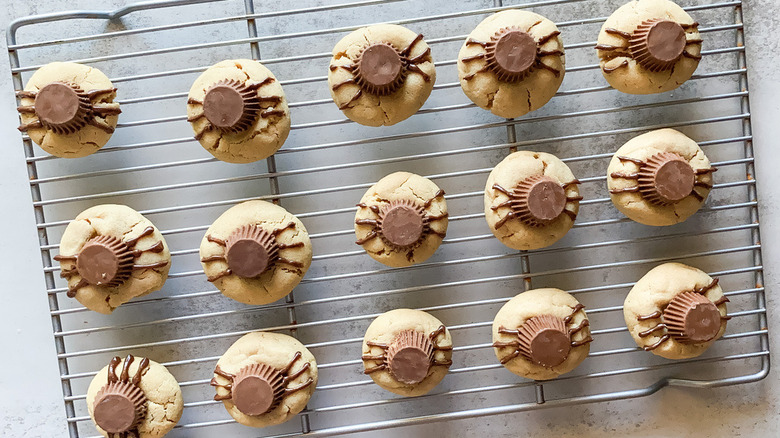 Kristen Carli/Mashed
Allow the cookies to cool, then unwrap each peanut butter cup and put it face-down into the dent in each cookie. Carli notes that "a bit of chocolate frosting will act as the glue" if they don't want to stay in place on their own. Now, take the rest of the frosting and put it into a piping bag, though even just a small plastic baggie will suffice. If you do use a plastic baggie, snip off the corner as a way to squeeze the frosting out. Now pipe the "legs" onto the spiders.
Not only are these festive little treats the perfect addition to any Halloween party, but you can easily make them in advance. "They keep best in an airtight container at room temp for 10 days," Carli explains. She adds that they'd be great as part of a Halloween spread, which could also include these festive cheese and pretzel broomsticks or spooky ghost brownies. Of course, you could also just serve these peanut butter cup spider cookies alone and delight the entire crowd!
Peanut Butter Cup Spider Cookies Recipe
Get into the Halloween spirit with these festive peanut butter cup spider cookies, courtesy of recipe developer Kristen Carli.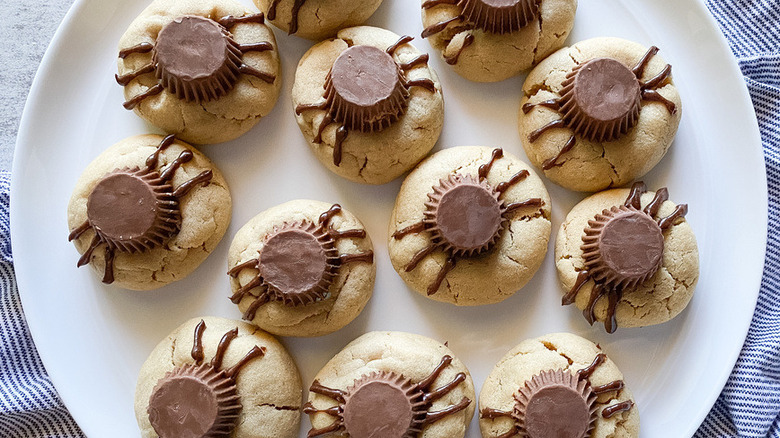 Ingredients
nonstick cooking spray
1 stick unsalted butter
½ cup peanut butter
½ cup brown sugar
½ cup white sugar
1 egg
1 teaspoon vanilla extract
1 ¾ cups flour
1 teaspoon baking soda
¼ teaspoon salt
36 miniature Reese's peanut butter cups, unwrapped
½ cup chocolate frosting
Directions
Preheat oven to 375 F.
Spray 3 large baking sheets with nonstick cooking spray or line with silicone baking sheets.
Beat butter, peanut butter, brown sugar, and white sugar until combined. Add egg and vanilla to the peanut butter mixture, beating until combined.
Whisk together flour, baking soda, and ¼ teaspoon salt in a medium bowl.
Add dry ingredients to wet ingredients, beating until combined.
Shape the cookie dough into 36 balls and place about 12 on each baking sheet.
Bake the cookies for 10 to 12 minutes.
While the cookies are still warm from the oven, press the end of a wooden spoon gently into the center of each one to create a recess for the peanut butter cups.
Allow the cookies to cool, then top each one with a peanut butter cup face down.
Pipe chocolate frosting "legs" onto each cookie spider, then you're ready to serve.
Nutrition
| | |
| --- | --- |
| Calories per Serving | 144 |
| Total Fat | 7.8 g |
| Saturated Fat | 3.1 g |
| Trans Fat | 0.1 g |
| Cholesterol | 11.6 mg |
| | |
| --- | --- |
| Total Carbohydrates | 17.1 g |
| Dietary Fiber | 0.6 g |
| Total Sugars | 11.1 g |
| Sodium | 72.1 mg |
| Protein | 2.4 g |