Layered Pumpkin Custard Pie Recipe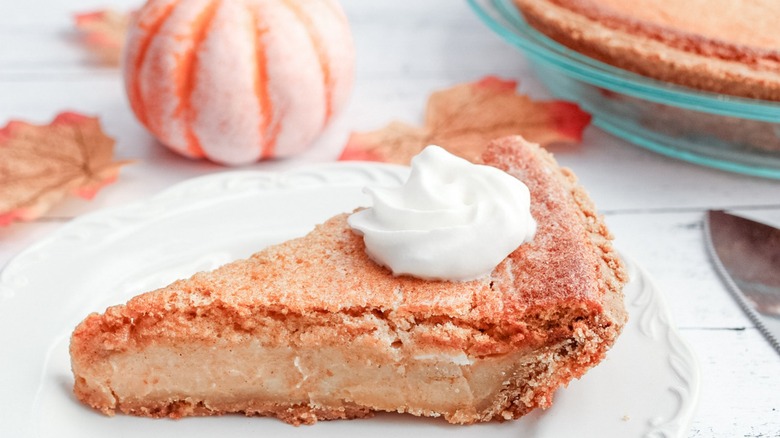 Jessica Morone/Mashed
Let's be honest: Everybody likes quick and easy recipe. As a matter of fact, wouldn't it be amazing if there were a food that could actually prepare and cook itself? While the food replicator from "Star Trek" has yet to become a realty, there are a few recipes in which the ingredients almost magically seem to transform themselves into the desired end product without too much human intervention. Among these recipes are the way-more-appetizing-than-it-sounds dump cake and the coconut "impossible pie" that miraculously seems to form a crust (via The Southern Lady Cooks).
While Jessica Morone's recipe for layered pumpkin custard pie does not form its own crust, it still fits the "impossible" profile by performing its own special kind of trick. "As this pie bakes," Morone says, "it separates itself into layers, the light fluffy pumpkin layer on top, then a silky, delicate custard layer below it, and the sweet, buttery graham cracker crust at the bottom." As to what causes this happen, she admits, "I'm not sure what exactly makes it separate into layers like that — it's just magic!"
Gather the ingredients for layered pumpkin custard pie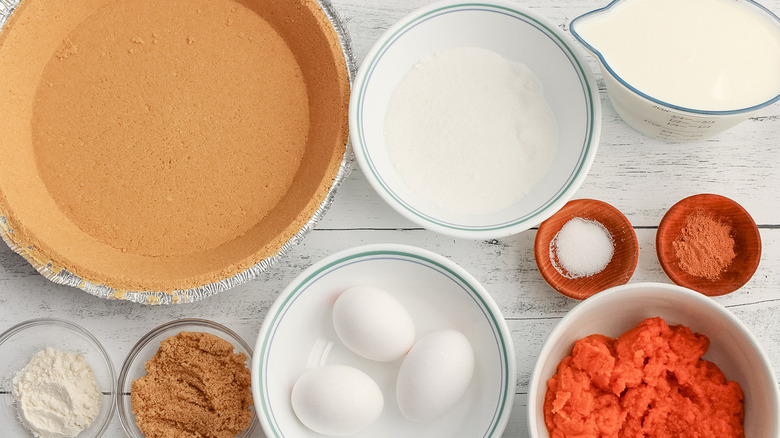 Jessica Morone/Mashed
To make the pie filling, you'll need pumpkin pureé, eggs, sugar (both white and brown), flour, pumpkin spice, and milk. As for a crust, Morone went with a graham cracker crust, although she says you can use any type of 9-inch pre-baked crust. (If you're in need of an easy graham cracker crust recipe, ours requires 12 sheets of graham crackers, 1 stick of melted butter, and ⅓ cup of sugar.)
If the pie ingredients are making you think of a typical pumpkin pie, Morone explains that it's a little bit different. "This is really more of a custard pie with pumpkin added rather than a traditional pumpkin pie, so in addition to the standard pumpkin pie texture, there is more of a silky creamy texture to it," she notes. "I think [this] makes it more interesting than a traditional pumpkin pie."
While all of the ingredients above can be found in any given grocery store, some of them you can prepare right at home. Yes, you can use homemade pumpkin puree in pies, as long as you drain out all of the excess moisture. And pumpkin pie spice is pretty easy to mix up on your own out of ground cinnamon, ground ginger, ground cloves, and ground nutmeg. Taste of Home recommended using 4 teaspoons of the first, 2 of the second, 1 of the third, and ½ teaspoon of the last-named spice.
Mix the pumpkin filling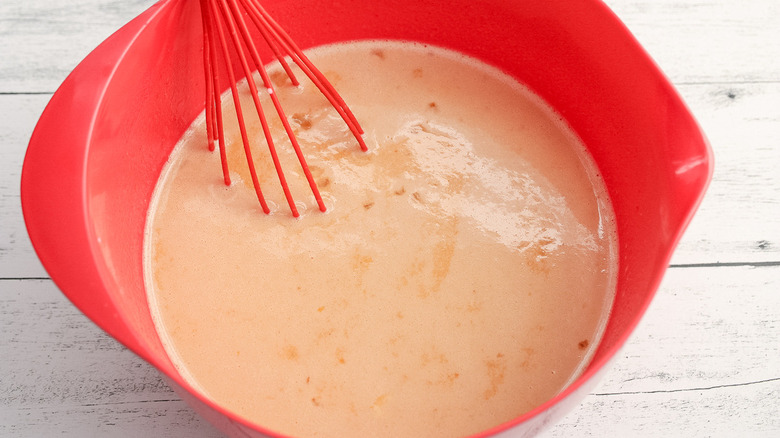 Jessica Morone/Mashed
Assuming your pie crust is all set to go, it won't take too long to make this pie. Before you get started, then, you'd better preheat the oven to 350 F so it will be almost ready by the time your pie is assembled.
Whisk the pumpkin with the eggs, both types of sugar, the flour, the pumpkin spice, and ½ teaspoon of salt. Slowly add in the milk, continuing to whisk until you have a smooth, somewhat liquidy filling. Place your pie crust on a baking sheet, then pour the pumpkin filling into the shell.
Bake the pie, then let it cool before serving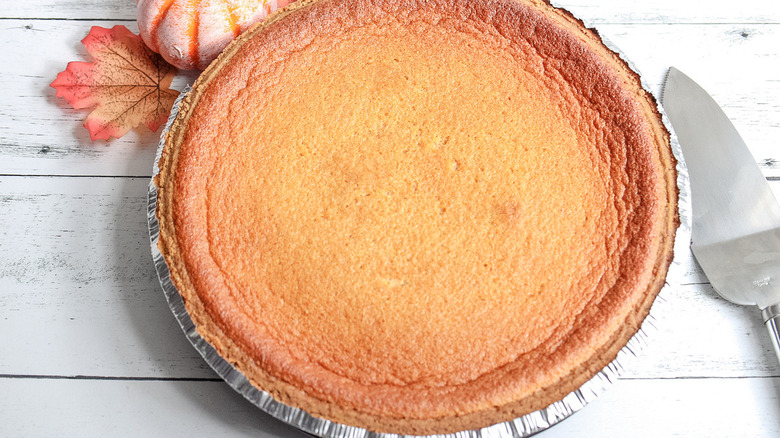 Jessica Morone/Mashed
Put the pie in the oven, and bake it for 45 to 50 minutes. When it's done, the top should be golden in color, and the filling should be mostly set with only a tiny bit of jiggle to it. Allow the pie to cool, then stick it in the fridge for an hour or so before you serve it. While Morone says, "This pie can be warmed up," she adds, "I definitely prefer it cold, because I think it tastes better." What's more, as she points out, "It['s] so easy to eat straight out of the fridge." Speaking of the refrigerator, you should cover the pie before storing it there, and it should be good for up to four days after baking.
Serving suggestions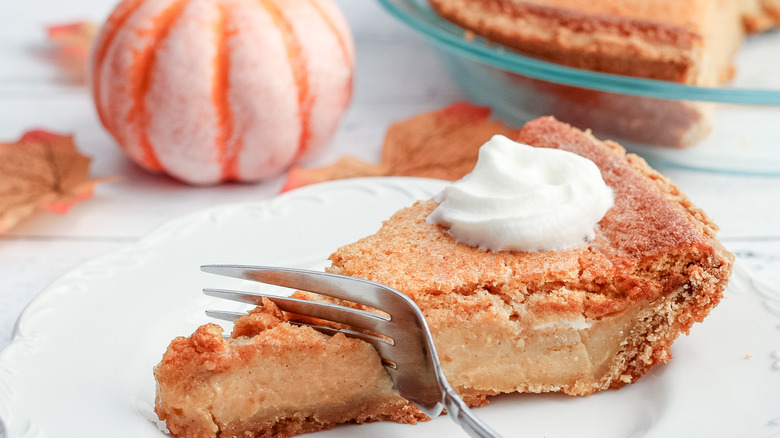 Jessica Morone/Mashed
Since this pie is so easy to make, Morone says you could enjoy it any time you feel like having some pumpkin (or custard) pie, but she also says it "seems fancy enough that it would absolutely fit in with Thanksgiving dinner." If you like, you can serve the pie with a blop (or a squirt) of whipped cream, fresh or canned. As for a beverage pairing, Morone recommends, "This pie would be a great served with any kind of coffee."
Layered Pumpkin Custard Pie Recipe
This layered pumpkin custard pie is creamy, delicious, and so seamless to put together for an autumn-inspired dessert.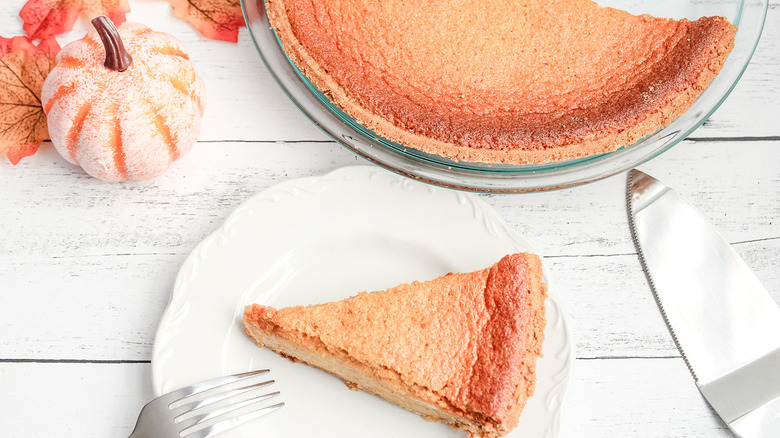 Ingredients
½ cup pumpkin puree
3 eggs
½ cup granulated sugar
¼ cup brown sugar
2 tablespoons flour
1 teaspoon pumpkin spice
½ teaspoon salt
1 ½ cups whole milk
1 (9-inch) graham cracker crust
Optional Ingredients
whipped cream, for serving
Directions
Whisk together the pumpkin puree, eggs, granulated sugar, brown sugar, pumpkin spice, and salt in a large bowl.
Slowly whisk the milk into the pumpkin mixture until smooth.
Place the pie crust onto a baking sheet, then pour the pumpkin mixture into the pie crust.
Bake the pie for 45 to 50 minutes, until the top is golden and the pie is set with just a slight jiggle in the center.
Allow the pie to cool, then refrigerate for at least 1 hour.
If desired, top the pie with whipped cream right before serving.
Nutrition
| | |
| --- | --- |
| Calories per Serving | 244 |
| Total Fat | 8.8 g |
| Saturated Fat | 2.5 g |
| Trans Fat | 0.0 g |
| Cholesterol | 64.6 mg |
| | |
| --- | --- |
| Total Carbohydrates | 36.8 g |
| Dietary Fiber | 1.0 g |
| Total Sugars | 23.9 g |
| Sodium | 277.3 mg |
| Protein | 5.0 g |