Crustless Coconut Pie Recipe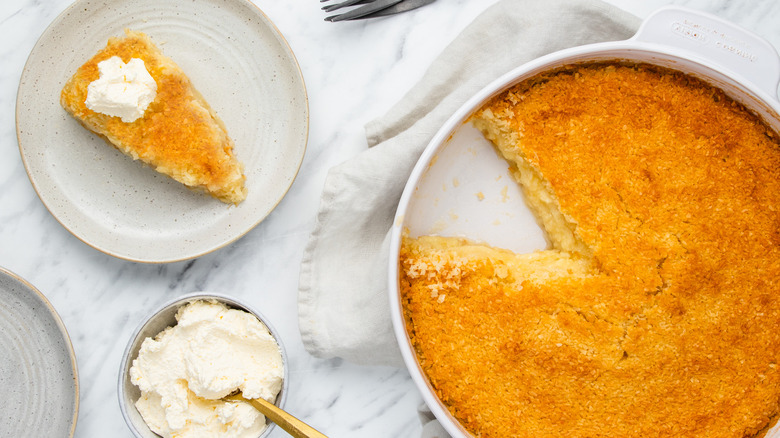 Catherine Brookes/Mashed
When it comes to desserts, there are always plenty of things that come to mind to serve for the perfect after-dinner treat. Cookies and cupcakes are some of the most popular desserts that you can make, but pies are also pretty popular in their own right. Which kind of opens up the debate: What's better, pie or cake? We must admit that here at Mashed, we love all things sweet. But there's a soft spot in our hearts for pie, because, well, it's absolutely delicious. 
Recipe developer Catherine Brookes of Blue Sky Eating came up with this tasty recipe for a crustless coconut pie that is the best kind of post-dinner treat — especially for coconut lovers. One of the best things about this recipe is that it's simple to make, requiring just five minutes of prep time. And pie without crust is just as good — trust us! "With no crust element, this pie couldn't be simpler," Brookes raves. "Everything is just mixed up in one bowl and popped in the oven." Sounds like a plan to us! Keep reading to find out how to make this wonderful crustless coconut pie.
Gather the ingredients to prepare crustless coconut pie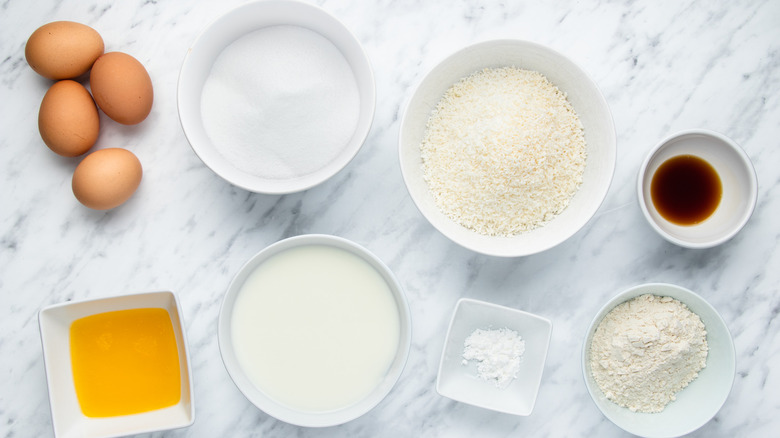 Catherine Brookes/Mashed
The first thing to do is to gather your ingredients. If you bake a lot, you are in luck, because you may already have a lot of the items needed, as you use many of these ingredients when baking. For starters, you'll need a cup of sugar and melted butter. In addition, you'll want to have handy four large eggs and all-purpose flour. At this time, you will also want to add shredded coconut to your list, which will provide the perfect amount of coconut flavor. To complete your necessary ingredients, pull out milk, vanilla extract, and baking powder. Now, it's time to get to work!
Preheat the oven, and mix the ingredients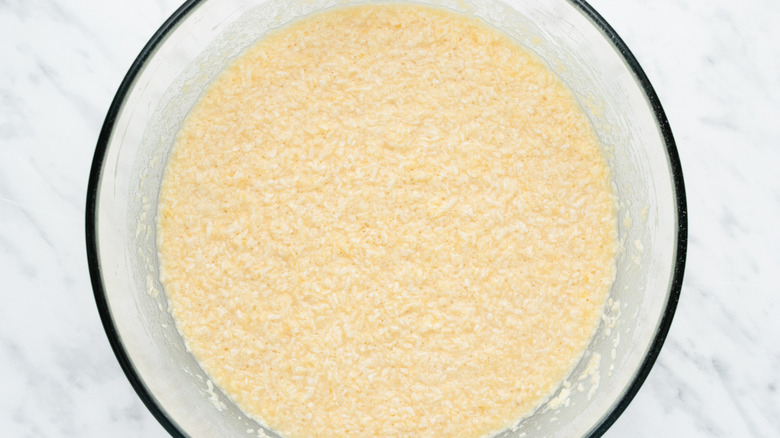 Catherine Brookes/Mashed
Before you do anything else, you want to be sure that you preheat your oven to the perfect temperature. In this case, you need to turn the dial to 325 F. That way, when the pie goes in, the oven will be ready to bake the pie. Preheating is key, because it ensures the pie will bake the right way.
After you preheat the oven, take out a 9-inch pie dish. "Just rub a little butter around the base and sides of the dish," Brookes shares. "You could also use cooking spray."
At this time, you'll also want to measure out your ingredients. Then, combine them in a large mixing bowl. Doing this makes this step seamless. You can either use an old-fashioned wooden spoon or an electric hand whisk to mix everything together nicely. If you really want help with mixing the ingredients together, Brookes says that a stand mixer should also do the trick. Luckily, the ingredients are pretty smooth, so not a lot of hard work is required no matter which method you choose.
Transfer the contents into a pie dish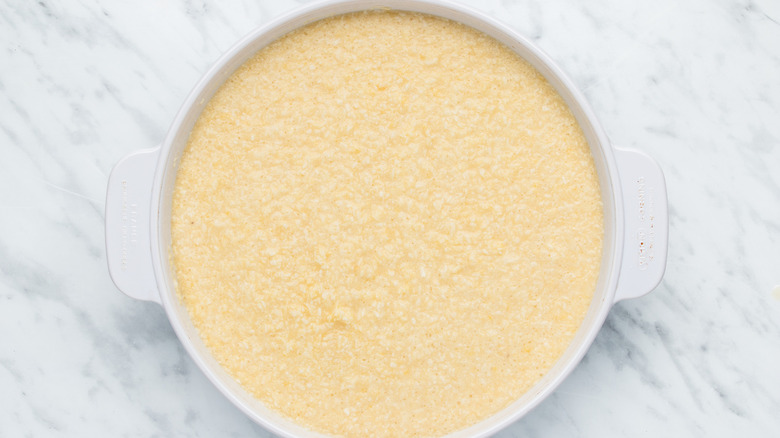 Catherine Brookes/Mashed
Once you have all of the items mixed together, transfer the mixture into your pre-greased pie dish. Pop the pie into the oven, and set your timer for 50 minutes. Please note that the pie may take up to an hour to bake, but you will want to start checking it around 50 minutes since all ovens vary slightly. You will know the pie is done when you insert a toothpick or skewer into the center, and it comes out clean. If it starts to get too brown on top, you can cover the dish loosely with foil.
Let the coconut pie cool, and serve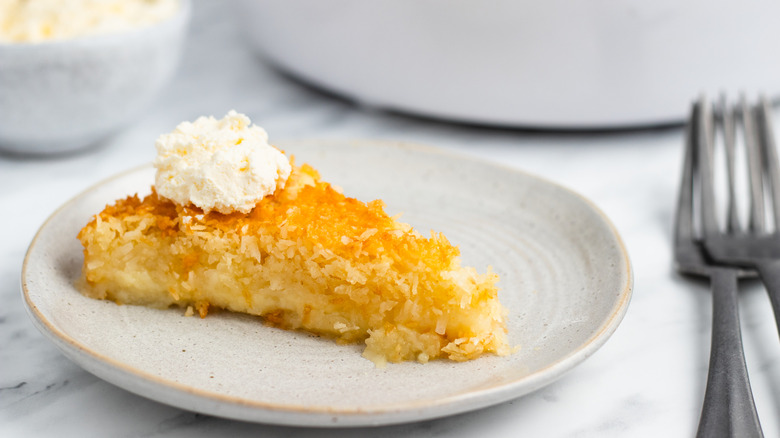 Catherine Brookes/Mashed
Once you take the pie out of the oven, allow it to cool completely before serving it. Obviously, the pie is just perfect by itself. If you want to add a little something else to jazz it up a bit for guests, though, Brookes suggests the perfect way to do exactly that. "Fresh whipped cream and berries or banana would be great," she says. We also think that it would pair well with a nice scoop of vanilla ice cream. Is your mouth watering yet? We don't blame you! And if you happen to have leftovers, Brookes shares that they will stay good for two days.
Crustless Coconut Pie Recipe
This tasty recipe for a crustless coconut pie is the best kind of post-dinner treat — especially for coconut lovers.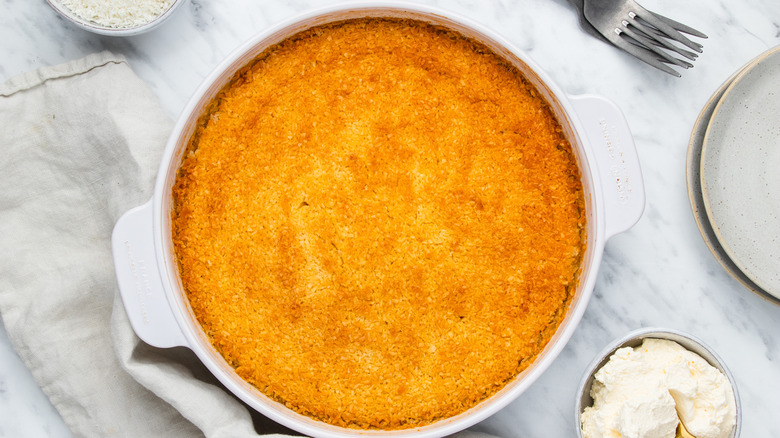 Ingredients
1 ½ cups sugar
⅓ cup butter, melted
4 large eggs
⅔ cup all-purpose flour
1 ¾ cups shredded coconut
1 ¾ cups milk
1 ½ teaspoons vanilla extract
1 teaspoon baking powder
Directions
Preheat the oven to 325 F.
Lightly grease a 9-inch pie dish.
Add all the ingredients to a large mixing bowl.
Beat with an electric hand mixer or wooden spoon until well combined.
Transfer the mixture to the pie dish, and bake for 50 minutes to 1 hour, or until a skewer inserted into the center of the pie comes out clean.
Allow the pie to cool completely before slicing and serving.
Nutrition
| | |
| --- | --- |
| Calories per Serving | 296 |
| Total Fat | 15.9 g |
| Saturated Fat | 11.5 g |
| Trans Fat | 0.2 g |
| Cholesterol | 79.1 mg |
| | |
| --- | --- |
| Total Carbohydrates | 35.2 g |
| Dietary Fiber | 2.2 g |
| Total Sugars | 27.8 g |
| Sodium | 74.9 mg |
| Protein | 4.8 g |