Gordon Ramsay Fans Can't Believe How Much His Son Looks Like Him In New Pic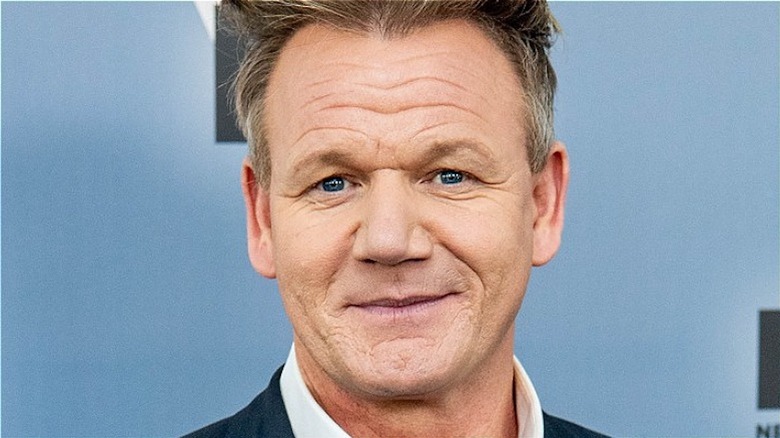 Roy Rochlin/Getty
Tilly Ramsay may be known for her cooking skills and on-camera charm, but the youngest of Gordon Ramsay's children has risen to recent fame for his uncanny resemblance to his celebrity father. In a recent Instagram post, Chef Ramsay calls his second son, Oscar Ramsay, a "young man," and fans are going crazy in the comments. One user, @jonstevens955, wrote, "Resemblance is uncanny," which received several likes in agreement. Another follower, @s_j1616, said, "He looks just like you. ... he's precious."
This isn't the first time that fans have called the television star's littlest his dopplegänger. A previous Instagram post has already proved that Ramsay and his son look like twins. This time around, Ramsay tagged Oscar's Instagram account, @oscarjramsay, which has 325,000 followers and is managed by his two older sisters, Tilly and Holly. You can follow along with his photos to learn more about the 2-year-old child whose mom, Tana Ramsay, describes him as "hilarious" (via Hello!).
Oscar is loved by his parents and siblings
Oscar Ramsay's four older siblings — Megan, 23; twins Holly and Jack, 21; and Tilly, 19  — are all relatively close in age, with no more than two years between each of their birthdays, according to Good Housekeeping. It was quite the pleasant surprise, then, when their parents announced the arrival of their fifth child in 2019.
Despite their large age gap, the Ramsay kids are close to the newest addition to their clan. Tana Ramsay showed off adorable photos of her two sons bonding at their holiday home in 2020, Hello! reports, and according to the Daily Mail, the Ramsays have been spotted coming out of restaurants together. Young Oscar provides so many photo-ops, apparently, that Tilly and Holly couldn't resist creating him his own Instagram profile, which has nearly 50 posts so far. These photos document milestones in the youngest Ramsay's life, from his first haircut to his visits to his dad at work. Needless to say, we can't wait to watch Oscar grow up to, perhaps, look more and more like Gordon Ramsay.