What You Don't Know About Baskin-Robbins' Very Berry Strawberry Flavor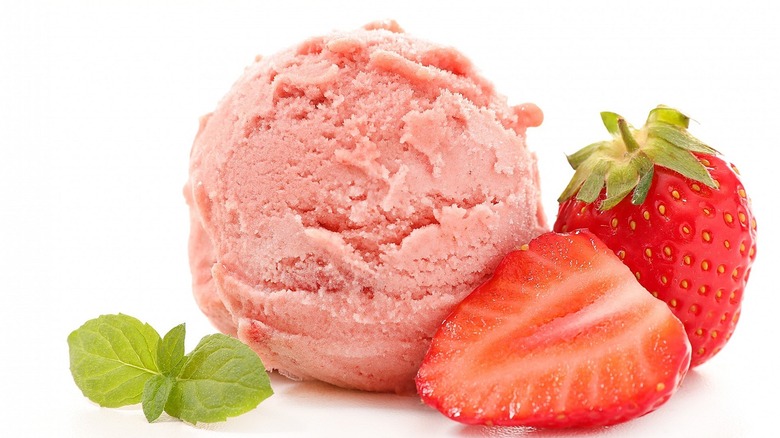 margouillat photo/Shutterstock
Strawberry ice cream is a sweet pink sensation that has been around for more than two centuries. In fact, the treat is so popular that January 15 has been declared National Strawberry Ice Cream Day to celebrate the flavor. It is believed that strawberry ice cream was first introduced in 1813 by First Lady Dolley Madison, wife of the fourth U.S. President, James Madison. She loved it so much, it was the dessert course served at President Madison's second inaugural banquet at the White House (per timeanddate.com). From then on, strawberry ice cream became an instant classic, and remains one of the most popular American ice cream flavors, according to Newsweek.
Ice cream has become an industry all in its own, with new brands popping up year after year. Most of you are likely familiar with Baskin-Robbins, the international parlor chain that has been known to invent some of the tastiest scoops of all time, including the beloved Pralines 'N Cream. But that's not the only Baskin-Robbins flavor with an interesting tale to tell. The chain's Very Berry Strawberry flavor has a pretty cool story behind it as well.
Let's dig in, shall we?
What is so unique about Baskin-Robbins' Very Berry Strawberry ice cream?
If you've ever had the pleasure of enjoying Baskin-Robbins ice cream at any of its parlors across the country, you've likely spotted its famous Very Berry Strawberry ice cream among the colorful display case of 31 flavors. So, what's the scoop on Baskin-Robbins' Very Berry Strawberry? Well, according to the company's fun facts page, the flavor was initially created with a special variety of strawberry that was developed and grown exclusively for Baskin-Robbins. How cool is that?
In addition to these special berries, this ice cream is made with cream, sugar, and nonfat milk. It contains no artificial dyes, going by the Baskin-Robins Very Berry Strawberry ingredient list. In fact, the iconic pastel pink shade is made from a combination of carrot, black currant, and beets. Prefer straws over spoons? You can also enjoy a dreamy, creamy Very Berry Strawberry milkshake (via Baskin-Robbins).