Snoop Was Shocked To Find Out This Expensive Coffee Secret On Snoop & Martha's Very Tasty Halloween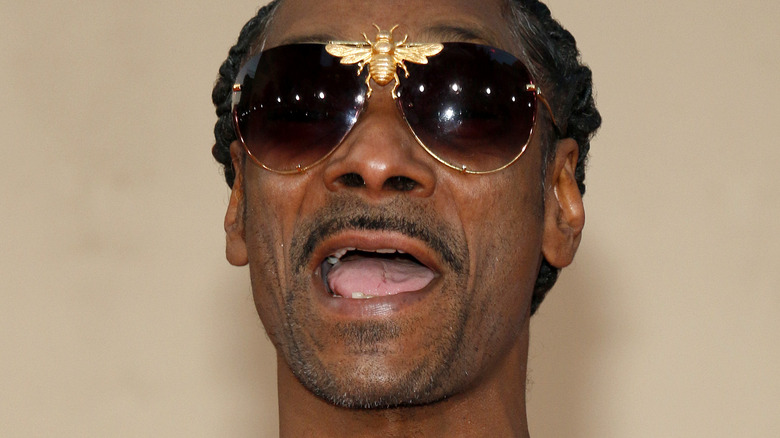 Tinseltown/Shutterstock
This is one of the funnest things about the odd food couple that is Snoop Dogg and Martha Stewart: While Stewart is the consummate expert on all things food and anything else party-host related, Snoop is always learning something new. The rest of us home decor and dinner party mortals can relate to Snoop as he navigates Martha's home turf on shows such as the recent "Snoop & Martha's Very Tasty Halloween."
On the show, which debuted last week on Peacock, teams of bakers must create an edible, room-sized experience around a spooky theme. A trio calling themselves Bone Appetit built a party space from a Martha Stewart nightmare. The theme was 'Friends for Dinner," with the suggestion that the friends aren't exactly the dinner guests, if you know what we mean. Martha, Snoop, and guest judge Alvin Zhou were all impressed with a particular treat on Bone Appetit's menu: the golden chocolate tooth. It included a type of coffee that Snoop Dogg hadn't heard of before. But once he learned about the unique way it was, uh, processed, he declared it to be "the s***!"
Snoop Dogg just learned where the world's most expensive coffee comes from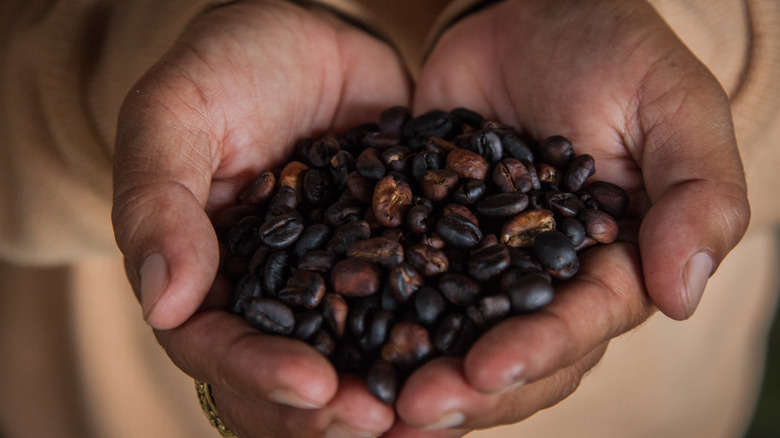 Nicky Loh/Getty Images
The trick to the golden chocolate tooth treat on "Snoop & Martha's Very Tasty Halloween" was that it was so crisp you would think you cracked your tooth when you bit into it. Snoop Dogg definitely noticed this effect, while Martha Stewart and Alvin Zhou agreed the treat tasted like high-end candy. As Stewart said, it was "something that you would get on Madison Avenue." The golden chocolate tooth consisted of gold chocolate with kopi luwak coffee, coated with white chocolate with a hard, dark chocolate crisp in the center.
Bone Appetit team member Matt could hardly contain his glee when he asked Snoop, "Do you know about kopi luwak?" Snoop did not. "A little weasel eats the coffee cherry," Matt began — but Martha finished his thought for him. "And poops it!" Stewart said.
Kopi luwak coffee, from Vietnam, is actually ingested by an Asian palm civet (via Culture Trip). The cherry is partially fermented during digestion to create an unbeatable coffee flavor. "It's the most expensive coffee in the world," Matt told Snoop on "Snoop & Martha's Very Tasty Halloween." Ever the rap artist, Snoop came right back at Matt with this snappy rhyme: "It's the most expensive s*** that you could get."