The Most Uncomfortable Moment In Snoop & Martha's Very Tasty Halloween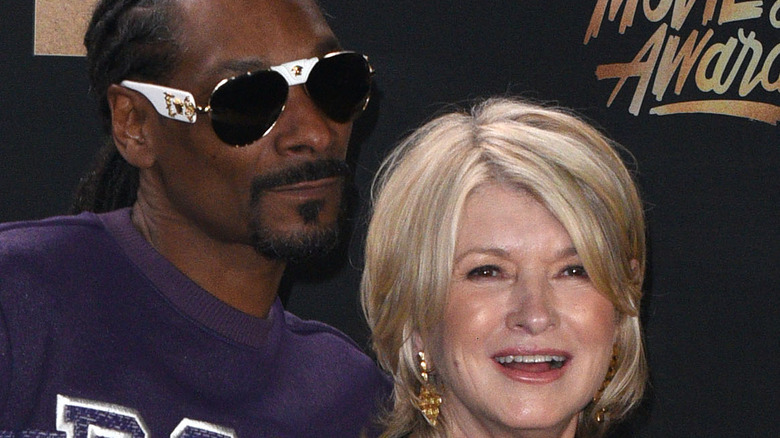 C Flanigan/Getty Images
Everyone should know by now that Snoop Dogg doesn't care what anybody thinks. Anyone who has the temerity to smoke a joint across the street from Donald Trump's White House can pretty much do whatever he wants (via YouTube). Besides, if you give a Dogg a bone, what do expect him to do with it?
Snoop and Martha Stewart are together again, this time for the Peacock holiday special "Snoop & Martha's Very Tasty Halloween." Three teams of bakers must make an edible haunted house-like structure filled with four baked treats. Early in the show, which premiered on October 21, Snoop, Martha, and guest judge Alvin Zhou made their rounds, checking in with each team to hear them describe their spooky concepts and sample their tasty treats. First stop: team Bone Appetit, which was building a broken-down house with the theme "Friends for Dinner." As team member Jodi described it, Friends for Dinner is about "what is in the food you're eating ... or who."
So when Snoop, Stewart, and Zhou stopped at Bone Appetit's station, the team offered Snoop Dogg a long chocolate bone that looked like a decent imitation of a human femur.
An awkward treat tasting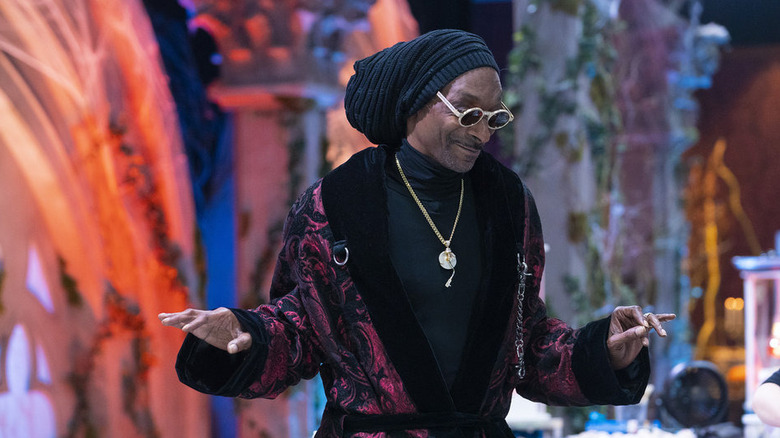 Nicole Weingart/Peacock
"If you give a dog a bone, he'll find his way home," Snoop Dogg exclaimed as he took hold of team Bone Appetit's bone-shaped chocolate on "Snoop & Martha's Very Tasty Halloween." He wanted to make sure it was okay to sample it, asking "I can have a nibble-nibble?"
When Snoop got the go-ahead, he didn't give the bone a nibble-nibble. Instead, he stuck out his tongue and licked up and down the length of the bone too many times for some people's comfort. The camera and the contestants' gaze lingered on Snoop licking this bone from end to end about four times. Actually, team member Jodi started looking at her shoes after just one pass of Snoop Dogg's tongue. Team member Matt, on the other hand, said he'd been a Snoop Dogg fan ever since "Gin and Juice," his 1994 single (via Genius). "Aw Snoop, you're making my day right now," Matt said.
Let's not judge Snoop Dogg for his antics. Instead, let's respect him for doing in front of a national TV audience what some of us wouldn't dare do alone at home.