Halloween Caramel Apples Recipe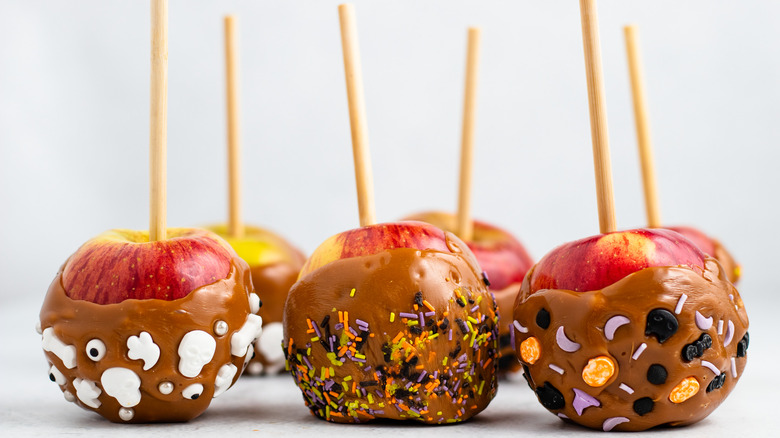 Catherine Brookes/Mashed
One of the best fall treats of all time has to be a delicious caramel apple. These delights are a bit messy to eat, but they are just so much fun. Plus, the fact that there's a whole apple inside each caramel coating means they've got to be pretty healthy, right? An apple a day spares you a hefty co-pay, after all (or so we'd like to think), and a spoonful (or more) or caramel helps that medicine go down in the most delightful way.
As recipe developer Catherine Brookes of Blue Sky Eating says of her recipe, "These classic Halloween treats are so tasty and fun to make. The combination of caramel and apples is always a winner, and you can get as creative as you'd like with the decoration!" She suggests that these treats make "a fun Halloween dessert," and suggests serving them with hot chocolate, although hot cider would also make for a great beverage pairing.
Gather the ingredients for Halloween caramel apples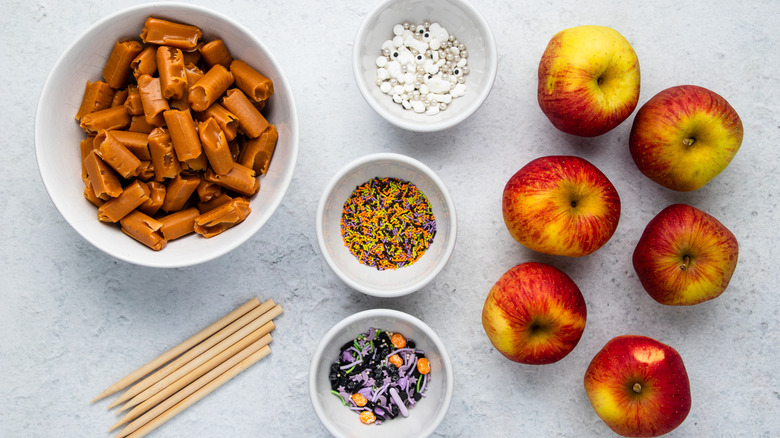 Catherine Brookes/Mashed
You shouldn't have to spend too much time grocery shopping before you can make these caramel apples. First of all, you'll need some apples, of course. Brookes notes, "I used Gala apples," but continues to say, "Just pick your favorite sweet eating apple." You could also go with a nice, firm, tart apple like a Granny Smith. You then need some soft, chewy caramels. Brookes used a bag of Werther's Original Chewy Caramels, but you could also use Kraft Caramels or a similar brand. Just make sure you are choosing soft caramels, not hard ones like Werther's Original Caramel Hard Candies! These will not give you the proper texture you need when you melt them.
To decorate your apples and make them Halloween-y, you'll need some Halloween-themed sprinkles. If you can find ones shaped like bats or black cats or ghosts or something, that would be great, but if your grocery store doesn't run to such things, you can always go with a classic black-and-orange mix. One more thing you will need to make these is not an ingredient, per se, but falls under the heading of supplies: bamboo or wooden skewers or sticks.
Prepare the apples for their caramel coating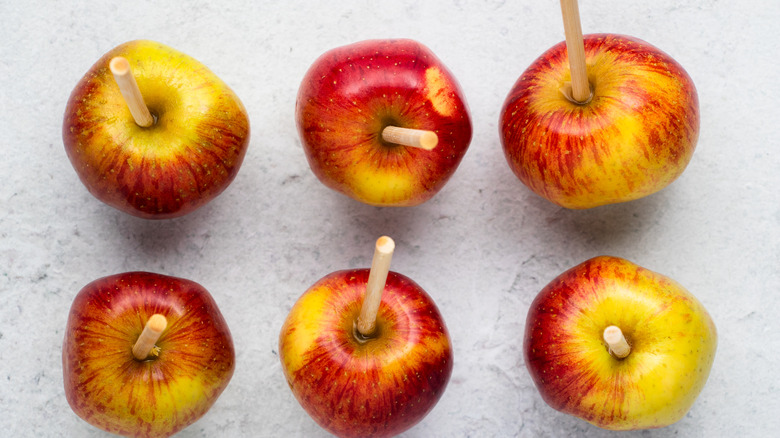 Catherine Brookes/Mashed
Start out by washing all of the apples in warm water, then rubbing them dry with a dish towel. As Brookes explains, "This removes the waxy coating from the apples and helps the caramel to stick." After the apples are clean and dry, take your sticks (which should also be both clean and dry), and push each stick into the center of an apple, about ¾ of the way through the apple. This should make for a nice solid "handle."
Melt the caramels low and slow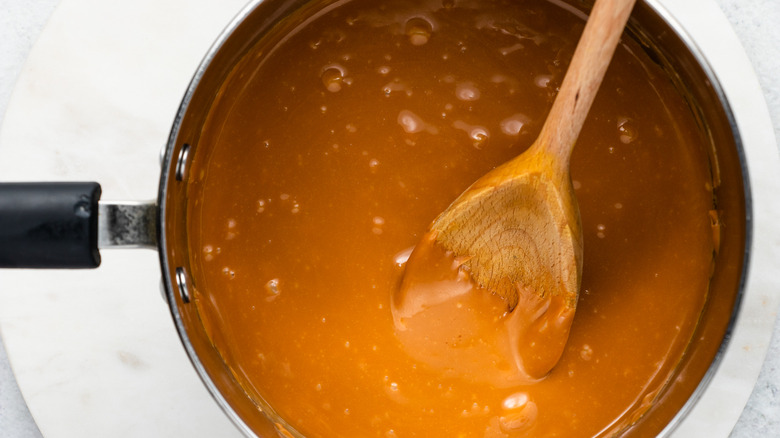 Catherine Brookes/Mashed
Pour the caramels into a small saucepan, and turn the stove burner to low heat. Let the caramels melt very slowly, stirring them fairly often. It should take about 15 minutes in all for the caramels to be completely melted.
As you wait for the caramels to melt, you can go ahead and line a baking sheet with either parchment paper or waxed paper. Waxed paper is cheaper, and it's perfectly okay to use here since you're not going to be doing any baking, so it will not be exposed to direct heat.
Dip the apples in caramel and sprinkles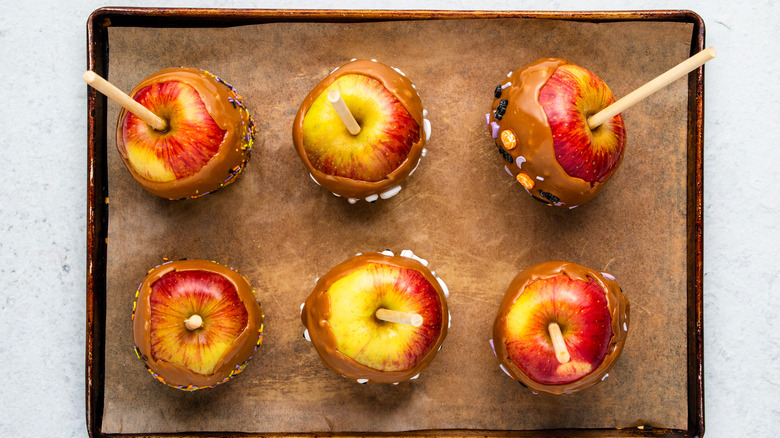 Catherine Brookes/Mashed
Once the caramels have melted, pour the sprinkles into a shallow dish, then dip each apple first into the caramel, twirling to coat, and then into the sprinkles. Brookes says if you are using large sprinkles, you can just push them into the caramel rather than dipping. If the caramel starts to harden before you're done dipping, just put the pan back on the stove for a minute or so to re-melt it.
Once your apples are dipped, let them sit for ½ hour or so before eating. This will allow the caramel to set. Brookes says these apples "should keep fine at room temperature for about three days or in the fridge for a week."
Halloween Caramel Apples Recipe
These spooky caramel apples make such a fun Halloween dessert. Pair them with hot chocolate or hot apple cider, and you're set for a sweet treat.
Servings
6
Caramel Apples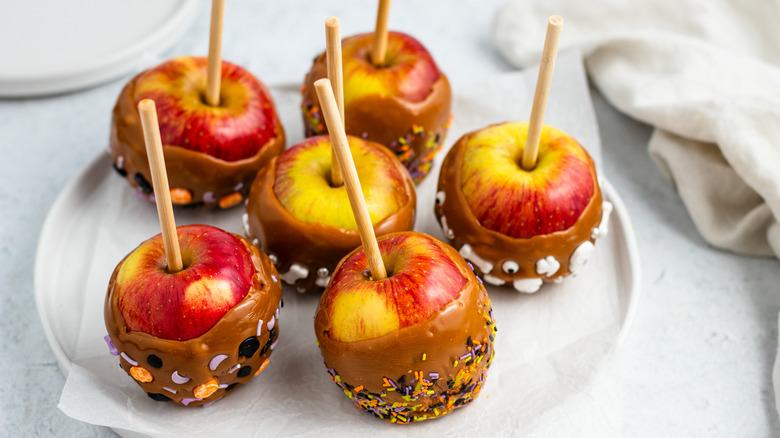 Ingredients
6 apples
1 (14-ounce) bag chewy caramel candies
3 tablespoons Halloween-themed sprinkles
Directions
Wash the apples in warm water, and rub them dry with a kitchen towel.
Push a stick firmly through the middle of each apple about ¾ of the way down.
Melt the caramels in a saucepan over low heat, about 15 minutes, stirring frequently.
Line a baking sheet with parchment or wax paper.
Pour the sprinkles into a large dish.
Dip and roll an apple into the caramel, then immediately dip and roll it into the sprinkles.
Place the apple on the lined baking sheet.
Repeat steps 6 and 7 with the remaining apples.
Let the apples cool for 30 minutes before serving.
Nutrition
| | |
| --- | --- |
| Calories per Serving | 372 |
| Total Fat | 5.7 g |
| Saturated Fat | 1.7 g |
| Trans Fat | 0.0 |
| Cholesterol | 4.6 mg |
| | |
| --- | --- |
| Total Carbohydrates | 82.3 g |
| Dietary Fiber | 4.4 g |
| Total Sugars | 68.5 g |
| Sodium | 163.9 mg |
| Protein | 3.5 g |