Martha Stewart's Dark Twist On Caramel Apples Is Perfect For Halloween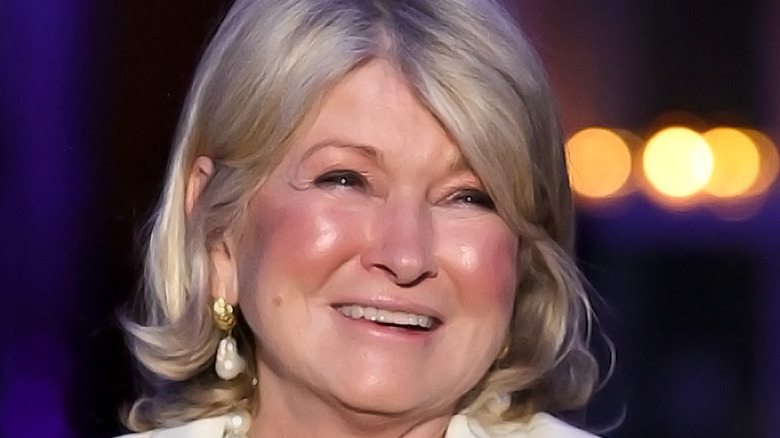 Dimitrios Kambouris/Getty Images
There's a lot to love about fall: Gorgeous leaves, crisp weather, pumpkin spice lattes and, of course, Halloween. While dressing up for trick-or-treating, costume contests, and office parties is one of the highlights of the holiday, the spooky season is also famous for its food. More specifically, for its sweet treats. The most obvious is the buckets (literally) of candy available at every doorstep, grocery store, and local Target — from Reese's to Kit Kats to Snickers. Then there's the candy corn, the monster-themed cereals (Boo Berry, anyone?!), and the Halloween Oreos. 
While there are plenty of spooky goodies to buy at the store, there are also many you can make at home. One of the most traditional (and most popular) is the traditional candy apple, also known as caramel apples. There's just something about the gooey sweet caramel giving way to a crunchy, juicy apple that makes for the perfect treat this time of year. If you're planning on making a few caramel apples, consider trying out this extra-creepy hack from Martha Stewart herself.
The trick for this treat is dark food coloring for the caramel
Sure, you could make regular caramel apples, but Martha Stewart took it one step further with a variant that basically screams Halloween. In a recent Instagram post, she shared a step-by-step tutorial of how to make her haunted version of the treat, which features a spooky black glaze rather than the typical light brown caramel sauce. How does she do it? "A teaspoon of black food coloring added to homemade caramel sauce gives these carnival sweets a dark twist for Halloween," she explains in the caption. 
The best part is that, for as ghoulishly gourmet as these look, they're scarily easy. Martha says they take less than 10 minutes to whip up. You can find the full recipe on her website — all you need is red apples, light corn syrup, unsalted butter, sugar, black food coloring, and water. Note that if you don't have food coloring, one Instagram user commented that they've recreated the same recipe using edible charcoal instead.