Starbucks Secret Menu Includes 2 Creepy Chucky-Themed Drinks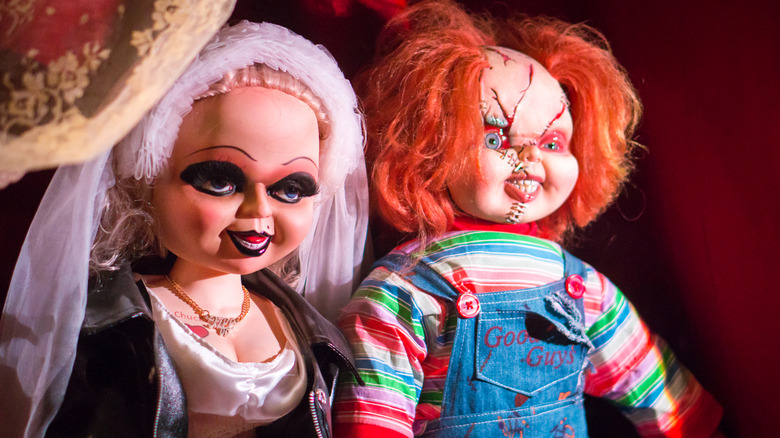 Tero Vesalainen/Shutterstock
While the barista might not serve Chucky-themed drinks with a dollop of mayhem, there are plenty of reasons to enjoy these Good Guys doll-approved Starbucks secret menu drinks. As reported by FOX News, Holly Walker of Totally the Bomb blog created two colorful Frappuccinos based on Chucky and the Bride of Chucky respectively. Although the foodie admitted that she hadn't watched the horror movies that inspired the Frappuccinos (namely "Child's Play" and "Bride of Chucky"), she seemed to think in-depth knowledge of the plots wasn't necessary. Walker said the beverages were "meant to complement the outfits of Chucky and his bride, and then I chose striking flavors to complement them both."
Some baristas might prefer for guests to avoid the over-the-top beverage orders in general, but these Chucky-themed drinks are a creative choice for Halloween. As a Starbucks representative told FOX News in a statement, "Our customers and partners are always coming up with creative customizations, and we're always excited to see people customize their favorite Starbucks drinks to their liking." 
These particular Chucky-themed drinks were created in 2020, though we wouldn't be surprised if the new "Chucky" television series that debuted this year on USA/SYFY (via IMDb) sparks a renewed interest in the sinister character and these beverages by extension. A true classic never goes out of style, and many people might feel that these secret menu Starbucks beverages will be their Halloween friends to the end.
How to order Chucky-themed drinks at Starbucks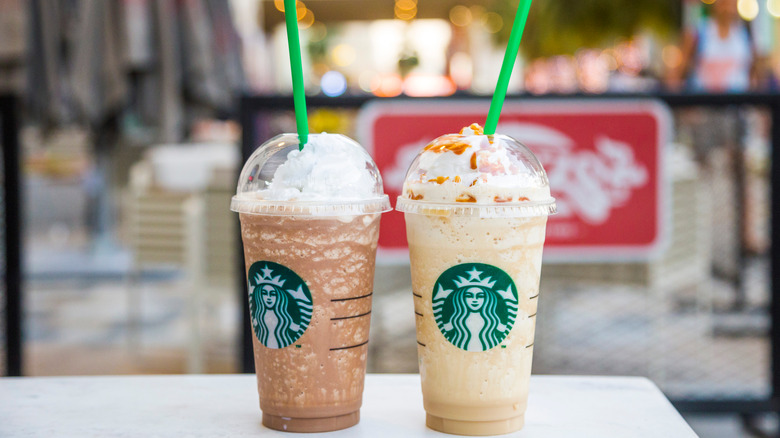 xalien/Shutterstock
According to FOX News, food blogger Holly Walker's Chucky- and Bride of Chucky-themed Frappuccinos have special customizations. Starbucks explained in a statement that it's best for customers to know all the specifications already when ordering beverages that aren't on the menu.
As explained on Walker's Totally The Bomb blog, the Chucky beverage starts with a Grande White Mocha Frappuccino. To customize it, request to have strawberry puree at the bottom. The whipped cream should have pumpkin spice powder on top. Although this isn't spelled out, we presume that the pumpkin spice powder is intended to mimic Chucky's hair while the strawberry puree might match the red on his outfit. 
For the Bride of Chucky, you order the Grande Chocolate Cookie Crumble Creme Frappuccino but request white mocha sauce instead of the traditional mocha (via Totally The Bomb). Then, funnel cake syrup is added to the mix. Finally, the beverage is topped with extra mocha drizzle. Based on the flavor combinations, the beverage will be very sweet, especially with the funnel cake syrup. These beverages might encourage others to be a little creative with their Starbucks secret menu order. Maybe someone can create a Glen (or Glenda) Frappuccino next. Then again, it might be too ugly to order.