30-Minute Baked Feta Pasta With Roasted Veggies Recipe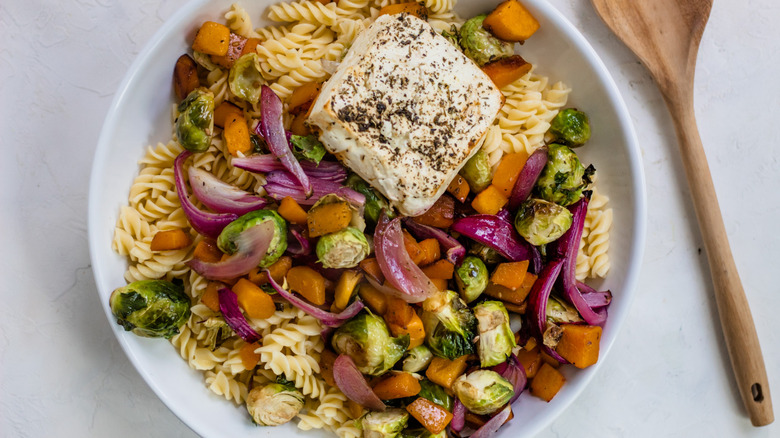 Jaime Shelbert/Mashed
Over the past few years, TikTok recipes have really taken off. Some of the food fads spread by this social media platform were a bit overdone (yes, you really can have too much sourdough), some were too cutesy (ahem, sushi cereal), and others were downright dangerous (no, you really should not attempt to cook steak in a toaster). Yet others seemingly existed for no other reason than to induce celebrity chef and professional yeller Gordon Ramsay to rip on them. 
But then, there was baked feta pasta, one dish that really was as easy as those speeded-up videos made it seem and tasted pretty good, too. But, as popular as it was, baked feta as it was originally presented was a bit of a one-dimensional dish that could stand a few tweaks. 
Recipe developer Jaime Shelbert says she was "Absolutely inspired by the TikTok trend. I couldn't resist!" When she added her special spin to it, she made use of another popular, hack: using a sheet pan to bake all (or nearly all) of the different components needed to make a meal. This means that not only is this dish convenient, but it's also absolutely delicious! According to Shelbert, "roasting the feta with olive oil and Italian seasoning really deepens the flavor and mellows out the tanginess that's typical of feta. It marries really well with the pasta and roasted veggies."
Get the ingredients for baked feta pasta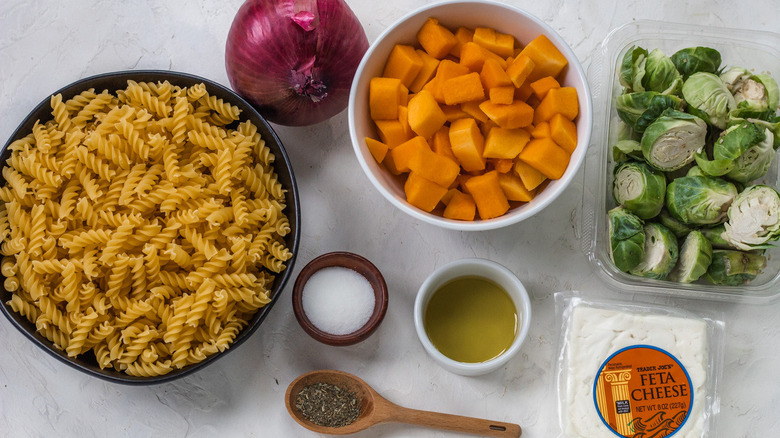 Jaime Shelbert/Mashed
The star of the show here is, of course a big block of feta cheese. Meanwhile, the supporting cast includes a red onion as well as some butternut squash, Brussels sprouts, and fusilli pasta (that's the curly corkscrew kind, if you need a reminder). You're also going to need some extra virgin olive oil and a sprinkling of Italian seasoning.
If you don't have any Italian seasoning on hand but your spice cabinet is extremely well-stocked in all other regards, there's no need to make a special trip to the store. Just mix together ¼ teaspoon each of basil, oregano, sage, rosemary, and thyme, or as many of these herbs as you have on hand. If you do have all of them, you'll end up with an extra ¼ teaspoon of homemade seasoning, but that extra little bit won't do any harm.
Prepare the vegetables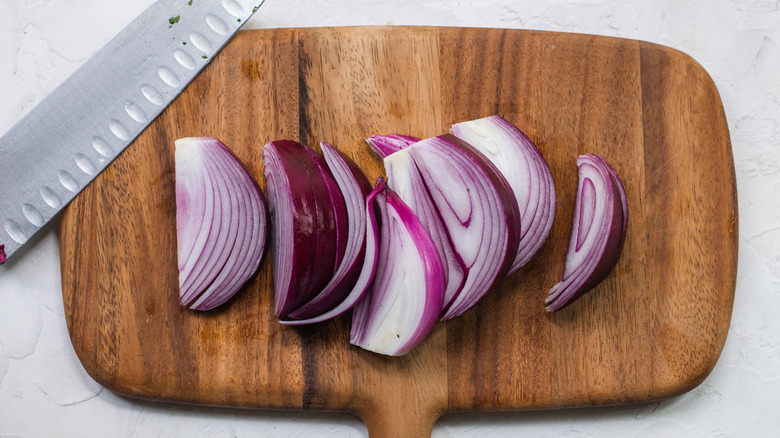 Jaime Shelbert/Mashed
First things first: preheat the oven to 425 F to make sure that it's ready to cook everything when it's go time. 
Now let's get the hard part out of the way by peeling the onion and cutting it into ½ inch slices. As for the other two vegetables, Shelbert was able to save some time by using pre-cut squash and Brussels sprouts. If you don't have access to pre-cut veggies or you would prefer to save money rather than time, you can always chop your own veggies into bite-size pieces.
The feta shouldn't need any preparation — unless you weren't able to find the whole or chunk kind, that is. If all you could find was feta crumbles, you could always try pressing them together into a solid slab as best you can. Your pasta dish might look a little ... well, a little different, but it will probably taste just as good.
Bake the cheese and vegetables while you cook the pasta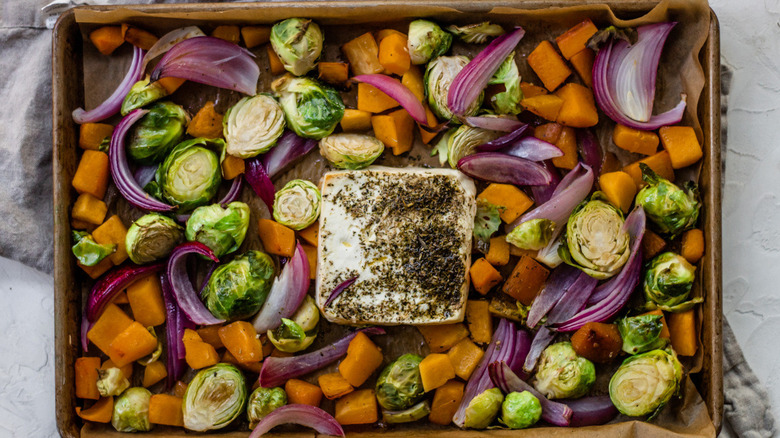 Jaime Shelbert/Mashed
Line a baking sheet with parchment paper or grease it with cooking spray. Center the feta on the sheet and drizzle it with 1 tablespoon of the extra virgin olive oil, then sprinkle it with the Italian seasoning mix. Arrange the vegetables on the tray in a single layer surrounding the cheese, then drizzle them with the remaining olive oil and season them with salt and pepper to taste. Bake them for 25 minutes.
While the cheese and veggies cook, boil a large pot of water, then add the fusilli and cook it until it reaches the al dente stage. Your package should tell you how long it'll take for whatever brand you used to reach this point. When the pasta is done, drain it, but be sure to reserve a cup of the starch-infused cooking water.
Put it all together and you're ready to eat!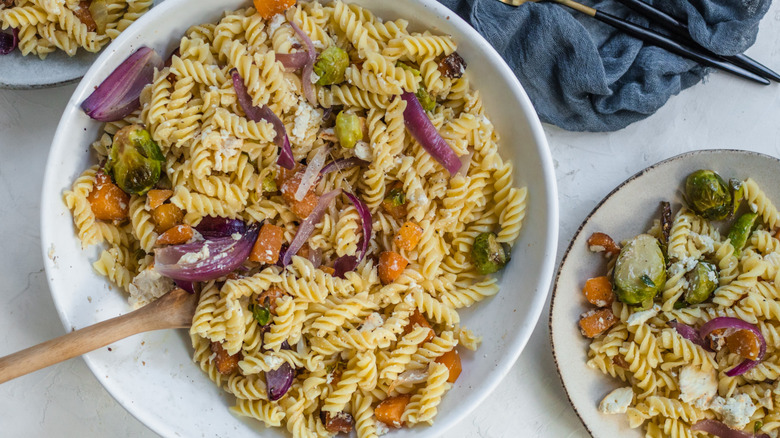 Jaime Shelbert/Mashed
Mix the drained pasta with the cheese and vegetables in a large bowl, stirring so the feta breaks up and gets thoroughly distributed throughout. If the cheese is too thick to mix well, stir in a few tablespoons of the pasta water at a time until your dish reaches the desired consistency. You can also drizzle some additional olive oil over the finished pasta if you like.
Shelbert tells us that this feta pasta " is definitely a vegetarian main!" She does say, though, that non-vegetarians can feel free to add some protein such as grilled chicken, and adds "we have added a sweet chicken sausage" as well. She tells us that she and her family enjoy this dish with a fresh, healthy side such as a green salad and some garlic bread, too.
30-Minute Baked Feta Pasta With Roasted Veggies Recipe
Using a sheet pan to roast the veggies and cheese makes this trendy baked feta pasta dish an easy and delicious dinner staple for quick weeknight meals.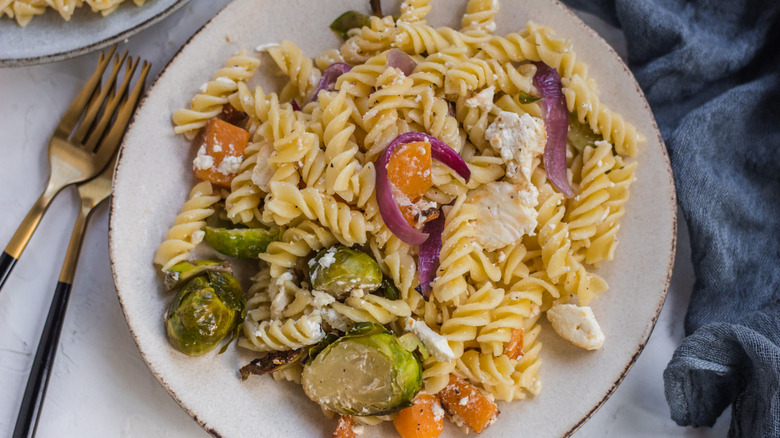 Ingredients
1 8-ounce block of feta
2 tablespoons extra virgin olive oil, divided
1 teaspoon Italian seasoning
1 small red onion (or ½ large one)
12 ounces butternut squash, chopped (about 2 cups)
10 ounces brussels sprouts, sliced (about 3 cups)
12 ounces fusilli pasta
Directions
Preheat oven to 425 F.
Slice the onion into ½-inch sections.
Grease a rimmed baking sheet or line with parchment paper.
Place the feta in the center of the baking sheet and drizzle with 1 tablespoon of olive oil. Sprinkle feta with Italian seasoning.
Spread out the squash, brussels sprouts, and onions on the baking sheet around the feta in a single layer. Drizzle the vegetables with the remaining olive oil and season with salt and pepper.
Bake the feta and vegetables for 25 minutes.
Cook the fusilli according to package directions.
Drain the pasta, reserving 1 cup of the cooking water.
Combine all ingredients in a large bowl, stirring to break up the feta. Stir in pasta water as needed, a couple of tablespoons at a time.
Nutrition
| | |
| --- | --- |
| Calories per Serving | 395 |
| Total Fat | 13.6 g |
| Saturated Fat | 6.5 g |
| Trans Fat | 0.0 g |
| Cholesterol | 33.6 mg |
| | |
| --- | --- |
| Total Carbohydrates | 54.5 g |
| Dietary Fiber | 4.7 g |
| Total Sugars | 5.6 g |
| Sodium | 363.5 mg |
| Protein | 14.9 g |