The Pizza Tyler Florence Called 'So Good It Should Be Illegal'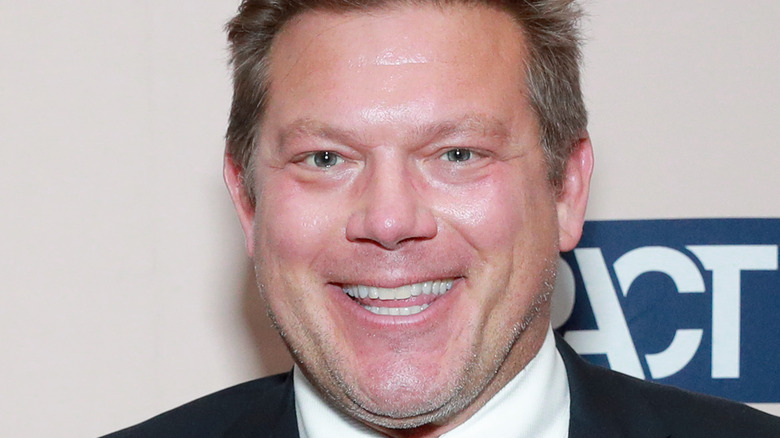 Rich Fury/Getty Images
Tyler Florence may have been born and raised in South Carolina, but the celebrity chef's love for food extends beyond those Southern boundaries. Per Charleston Magazine, Florence shared that he found his calling when he was working at a French eatery known as the Fishmarket. Florence said, "I fell in love with the craft of cooking, which had nothing to do with Southern food." One food that Florence is a true fan and student of is pizza. On "Tyler's Ultimate" (via Food Network), Florence explains that pizza started as a "poor man's" dish. Clearly, this food has evolved in variety as well as price. Today, a family can enjoy a modestly priced pizza at the likes of Papa John's. But there's also something for the super wealthy — Renato Viola's Louis XIII pizza, which costs about $10k. 
Still, the great thing about pizza is how it caters to such a wide variety of tastes. Thick crusts, thin crusts, cheese, anchovies, and a variety of meats and vegetables for toppings — pizza is a crowd pleaser. That's probably why Americans eat so much of it. According to the blog Slice Life, we eat 3 billion pizzas annually in the United States and spend about $38 billion in the process. But there is one pizza that Florence said is "so good it should be illegal," and, surprisingly, it isn't the Louis XIII.
It's a serious pizza
Per Food Network, the ultimate pizza, according to Florence, hails from a Seattle, Washington restaurant aptly named Serious Pie. While appearing on an episode of "The Best Thing I Ever Ate," Florence called out this joint's mushroom pizza and labeled it "so good it should be illegal." What makes this variety that good? The crust, Food Network explains, is made from "focaccia-style dough" and topped with seasonal mushrooms that are native to the region, such as golden chanterelles, which the Forager Chef says are prized for their meaty texture, along with black trumpets, which the blogger says are "potent" in flavor.
But the beauty of this pie only begins with the mushrooms. Then there is the cheese, Sottocenere, which, per Murray's Cheese, means "under ash" — this is how this cheese is aged. It provides that ooey-gooey melted cheese element we love about pizza. Sottocenere is made from the milk of Italian cows and bits of the coveted black truffle. Food Network goes on to reveal that once out of the oven, this 'shroom pizza gets topped with a little olive oil, Murray River pink flake salt, and fresh, local herbs. It must be good because a Twitter search found a lot of love for this 'za, with one Tweeter thanking Florence, writing, "The mushroom truffle pizza at serious pie did not disappoint. #delicious thanks for the tip."