The Reason This Italian Pizza Costs Almost $10,000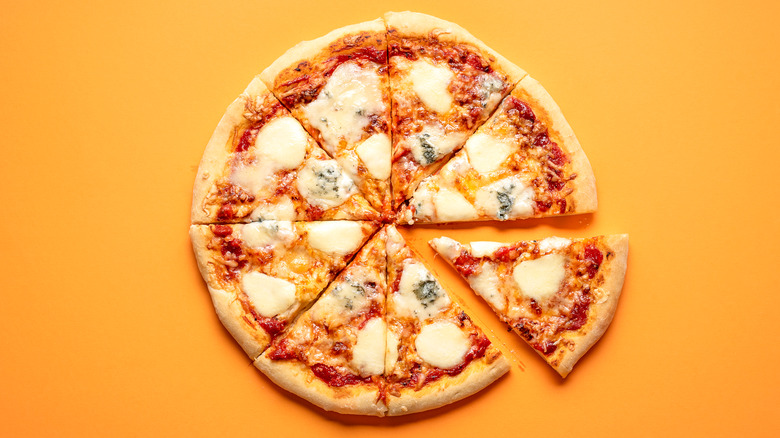 YesPhotographers/Shutterstock
It seems like chefs and restaurants are always trying to one-up their competitors by creating outrageous menu offerings that only the ultra-rich can afford, let alone put any thought into ordering. Per Sotheby's Luxhabitat, there are some outrageous dishes for the well-heeled to partake in. From $25,000 gold flake-infused tacos filled with Kobe beef, Beluga caviar, and black truffle cheese, to a $1,000 Golden Opulence Sundae that takes eight hours to create, eateries are capitalizing on those who have wealth to spare.
One dish that the culinary elite are always riffing on is the one we love best: pizza. And why wouldn't they? According to the South Florida Reporter, in the United States alone, 3 billion pizzas are sold annually, and that doesn't include 1 billion of the frozen variety. (And if you are wondering what the most ordered pizza is, pepperoni takes the pie prize.) And if you love pizza, you'd be happy to know that pizza master Renato Viola has created the ultimate pizza; but, if you want a slice of this za, you'd better be making bank because it will set you back a cool $10k — maybe a little less depending on the currency exchange rate. So, what makes this pizza so expensive?
It uses three kinds of caviar
Per Renato Viola's website, this extravagant pizza, which is priced at €8,300, is aptly named Louis XIII and if images of the French monarch eating grapes at Versailles are popping into your head, it's probably for good reason. This pizza is as decadent and luxurious as its price tag. So, what makes this pizza that is just 20 cm in diameter — just big enough for two — so expensive? Viola says on his site that to begin with, he makes it in your kitchen along with a sommelier and another chef. While the dough is made 72 hours prior to your dining experience, everything else is done in the privacy of your home.
Then come the ingredients! Organic flour, Murray River pink salt from Australia, and natural yeast are the core ingredients for his masterful dough that will turn into a golden crust. The expensive pizza also has three types of caviar — Oscietra Royal Prestige, Kaspia Oscietra Royal Classic from the Iranian coast, and Kaspia Beluga — red prawns, lobster, and Squilla mantis shrimp. And to make it extra special, it is served with a little Remy Martin Cognac Louis XIII and Champagne Krug Clos du Mesnil 1995. But if you can't afford the Louis XIII, don't despair. The Miami Herald reports that Viola has a spot in South Beach called Mister 01 Extraordinary Pizza where you can eat his za at a much more economical price!