This Viral TikTok Of College Kids At Waffle House Might Warm Your Heart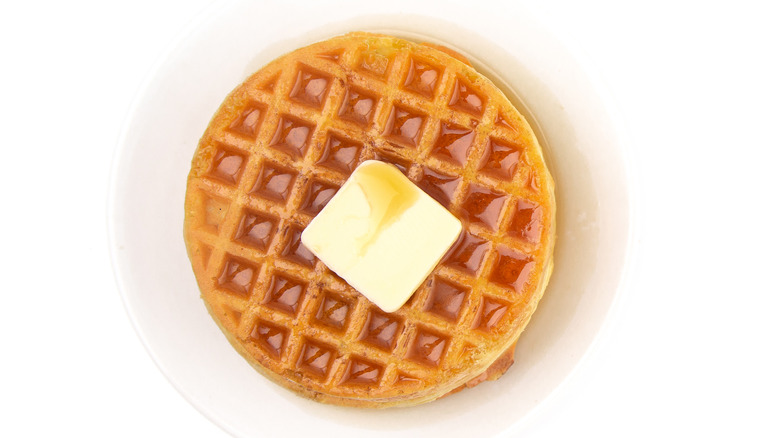 P Maxwell Photography/Shutterstock
It's not uncommon for a restaurant to go viral for the behavior of unusual or even rude customers, but a recent TikTok has garnered attention for a more heartwarming reason. Artist and Waffle House employee Ashley Weinstein of North Carolina recently shared a video of customers at the restaurant with the caption, "Not art related but definitely a tender moment in the Waffle House." In the TikTok, she explains that the location was so short-staffed that it had to shut down for an hour, so the final patrons in the restaurant jumped in to help with bussing and cleaning. Weinstein elaborated, "We were all out of dishes, silverware, and bacon [sad emoji] a true state of emergency in the Waffle home last night."
The video shows a smiling group of young adults collecting dishes while "I'm A Survivor" by Reba McEntire plays in the background. Followers can't get enough of the kind gesture, with many commenting that the restaurant is not a Waffle House, but a waffle home, and another saying that the customers' parents "raised them right." Daily Dot shares more about the supportive group, who are local college students.
Behind the scenes at the Waffle House
The TikTok features seven freshmen at Appalachian State University, who were dining at the Waffle House location in Boone, North Carolina late on a Friday night, according to Daily Dot. One of those students was James "H" Baird III, who said he couldn't remember whose idea it was to help the staff, but they all agreed that it was the right thing to do. "We didn't even do it to get free food, and they didn't give us free food," he said. "Waffle House gives so much to us. Like why not give it back to them?"
The video likely resonated with viewers because of the high volume of viral "Karen" videos on TikTok, which often show customers berating employees. For that reason, it was probably refreshing for restaurant workers on the app to see customers recognizing their hard work. "I mean, they're working 12 hour shifts," Baird said. "And of course college people don't tip well, so they're working their butt off." One commenter said it was "heartwarming to see the help." While the employees were happy to have their workload lightened in this case, reports Daily Dot, a word of caution: Not all restaurants can allow customer assistance due to liability concerns, so if in doubt, ask before helping or simply leave a generous tip.