The Surprising Snack Timothee Chalamet Once Handed Out On The Red Carpet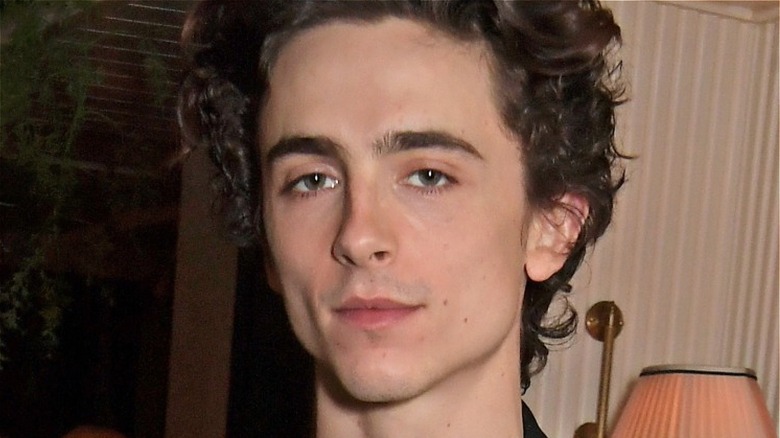 David M. Benett/Getty
Timothée Chalamet is making quite a name for himself in Hollywood. The famous young heartthrob known for his boyish good looks, quirky sense of humor, and lustrous wardrobe has stolen the hearts of millions of cinemagoers through starring roles in films like "Call Me By Your Name," "Beautiful Boy," "The King," and "Little Women." Fans are also ecstatic about the chance to see him in Wes Anderson's "The French Dispatch" and "Dune," as well as in upcoming flicks like "Don't Look Up," and "Wonka," in which he will play budding chocolatier Willy Wonka (via IMDb).
Chalamet, who was born and raised in Manhattan, is familiar with the hustle and bustle of living in the big city. He also knows a thing or two about high-quality, on-the-go comfort eats. And during the premiere of 2019's "The King," in which he played the lead role of heroic wartime monarch King Henry V, Timothée surprised fans with a tasty treat that's considered an emblem of his home city.
Timothée Chalamet handed out bagels on the red carpet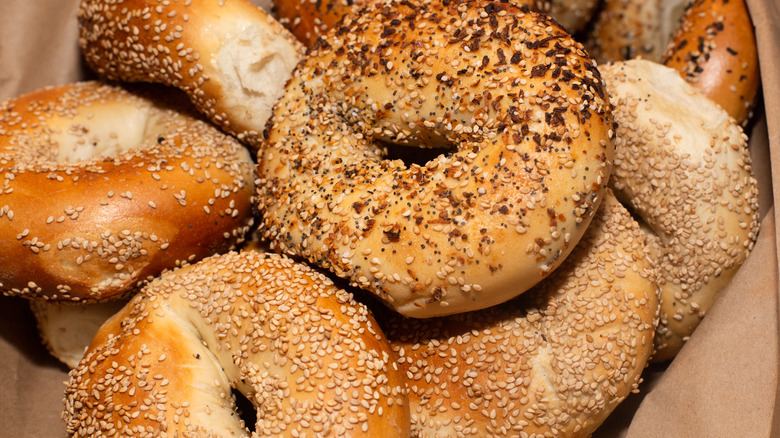 littlenySTOCK/Shutterstock
When Chalamet got to the SVA Theater in New York City for the premiere of "The King" in October 2019, he certainly did not arrive empty-handed. According to Refinery29, he brought paper bags filled with freshly baked whole wheat everything bagels from Tompkins Square Bagels, which he personally handed out to hungry attendees. His charming act of New York-style kindness originated from a tweet from one of his fans who requested he bring bagels to the red carpet. Chalamet — who isn't the most active celebrity on social media and tends to keep most of his personal life private — saw the ask. So, being the gentleman he is, he decided to surprise his fans in the most adorable way possible.
"We were ALL starving with most of us standing in line waiting for the red carpet for 5 hours, so it was amazing that he was literally feeding us," one fan at the event told Refinery29. And if you're wondering about Timothée's all-time favorite bagel order, it's a classic: bacon, egg, and cheese (via Paper Magazine).
Oh, Timmy! Never change.