Timothée Chalamet Fans Are Freaking Out Over His Willy Wonka Sneak Peek Pic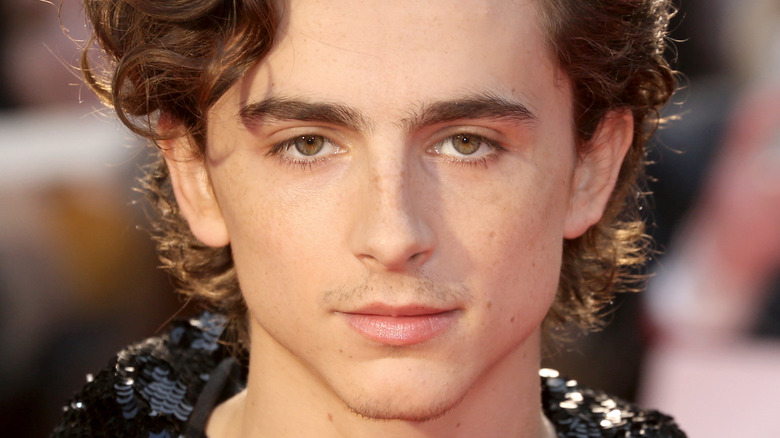 Cubankite/Shutterstock
The Timothée Chalamet fanbase is officially in a frenzy. The actor recently took to Instagram and Twitter to share a picture from "Wonka," his forthcoming film. The star's Instagram post currently has almost 5 million likes and over 50 thousand comments.
While news of "Wonka" broke earlier in September (via ScreenCrush), Chalamet's Instagram post provided fans with their first real look at the actor's take on the character. In the behind the scenes photo, Chalamet is shown decked out in a version of the iconic Willy Wonka outfit — a burgundy suit and top hat. Fans are beside themselves with excitement, flooding the comments section with questions, exclamations, and even a few propositions. "I HAVE NEVER BEEN SO EXCITED FOR ANYTHING," reads one response, which itself received over 23,000 likes. "Someone grab my inhaler I can't w this man," commented another. Some fans didn't even try to put their excitement into words — preferring emojis, punctuation marks, and long strings of letters.
Chalamet will play a younger Willy Wonka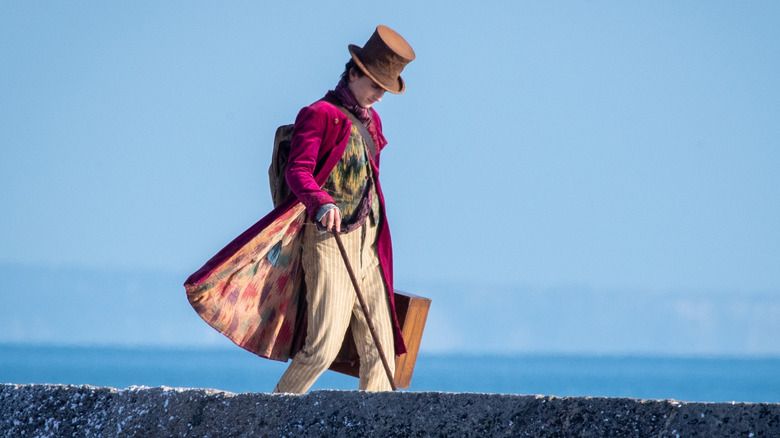 Finnbarr Webster/Getty Images
Though the news of Chalamet's casting initially took some by surprise, it seems the just released photo has quelled most fans concerns. (In the previous two films based on 'Charlie and the Chocolate Factory' Willy Wonka is portrayed as somewhat older: Gene Wilder would have been about 38 when he donned the chocolatier's top hat, says IMDb, while Depp was around 42, according to his IMDb profile. Born in December 1995, again per IMDb, Chalamet is considerably younger.) At least one Chalamet fan commented on the Instagram post, admitting that they "did not see [the casting choice] coming." Over on Twitter, one user shared a photoshopped image of Chalamet as Wonka, stating the character turned out to be "MUCH better than what we expected."
The overall response to Chalamet's behind the scenes photo was a positive one on both social media platforms, with the majority agreeing with the star's Instagram caption "The suspense is terrible, I hope it will last ..."