The British Meal Meghan Markle And Queen Elizabeth Agree On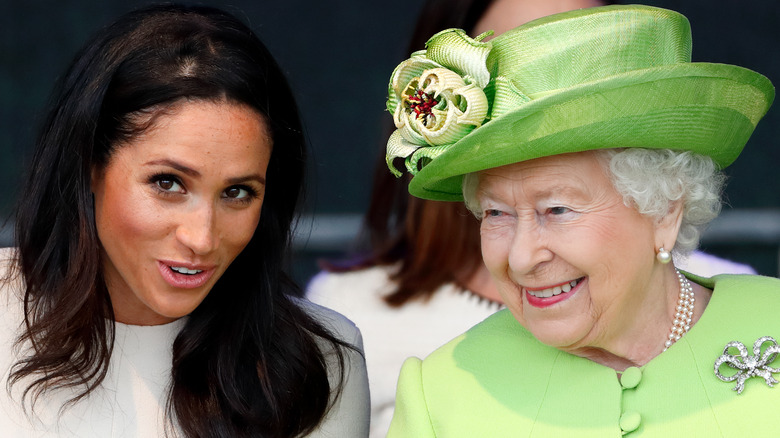 Max Mumby/indigo/Getty Images
Meghan Markle may have married into the British Royal family, but that doesn't mean she abandoned her American roots. In fact, per Fox News, Markle enjoyed having her friends fete her pregnancy in New York City with a baby shower when she was expecting — even though baby showers aren't really a British thing. But Katie Nicholl, a royal expert told the outlet, "I think what we've seen with Meghan that makes her so unique and I think has really endeared her to people is that while she has a great respect for the traditions of the monarchy, the cultural institution that she married into, she also showed this ability to bring her own sense of identity, her heritage, being an American into being a royal."
And while marrying into the royal family may sound romantic, it's no fairy tale and there are lots of "don'ts" when it comes to food. While living in the UK, the Duchess of Sussex became familiar with the Queen's dislike of garlic, an ingredient Markle is said to like. Per the Express, a palace chef shared that Queen Elizabeth doesn't allow it on the menu at Buckingham Palace. But that doesn't mean Markle doesn't eat garlic. According to the Insider, it simply means when she has a calendar full of meetings with people, she probably won't because she doesn't want anyone to think her breath stinks. Still, that doesn't mean the Queen and Markle don't have common foods they enjoy.
This dish is British with an Australian twist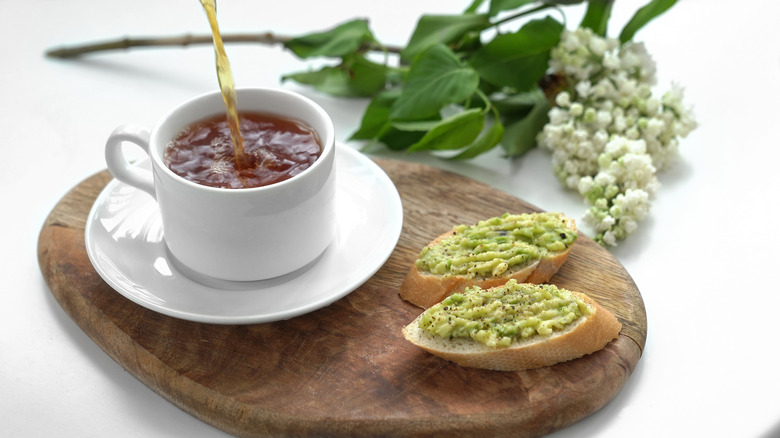 Andrey Sayfutdinov/Shutterstock
Per People, Markle and Queen Elizabeth are both fond of a spot of tea and some toast. In fact, at a Buckingham Palace reception, the Queen quipped that "a bit of toast and tea goes a long way." Clearly the Duchess agrees with Prince Harry's grandmother because while living in London, make-up artist Daniel Martin shared the meal Markle hosted for him while he was visiting with her in January 2019 and it was an Australian take on this combo. Martin posted on Instagram, "Thank you Meghan for being the consummate hostess this weekend and still being the [avocado toast] whisperer, YUM!" Indeed. 
Meghan truly believes in the power of this combo and even made a present of tea and bread — of the banana variety — to a family when she and Harry were on their Australian tour. What kind of tea do the two royals enjoy? According to Delish, when Markle is drinking tea, she enjoys both Kusmi Detox Tea and Teapigs Licorice & Peppermint Tea, while the Queen is more of an Assam and Earl Grey type of gal, per Hello!. Perhaps the two will share a cup of their favorite blend on the Duke and Duchess of Sussex's next visit to the Palace.