Popeyes Only UK Location Will Have The Chain's First Vegan Sandwich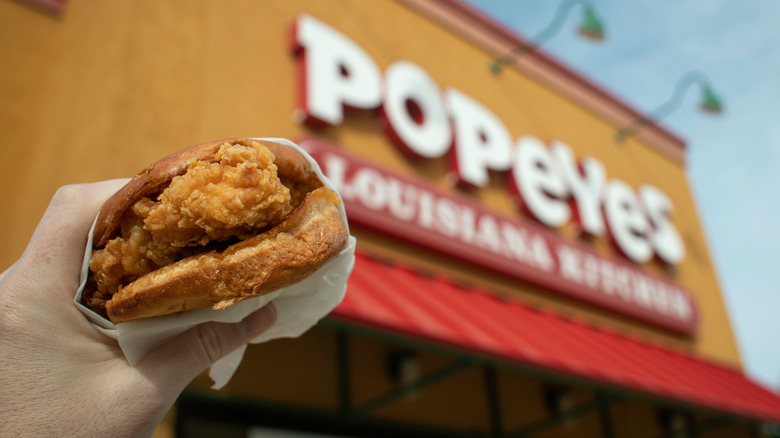 Forge Productions/Shutterstock
Popeyes has long been the go-to destination for fried chicken lovers looking for a fix. The fast-food chain has shown no signs of slowing down, broadening its reach overseas with new locations in a number of countries including the UK. According to Eater London, locals just have a short wait remaining before the much-anticipated opening of the flagship location in Stratford. While the menu will undoubtedly be focused on the chain's fried chicken specialty, it will also include a new item that caters to vegan diners.
Eater London announced that a vegan burger (one that is not masquerading as meat) will be the latest novelty on the menu. Unlike other fast-food giants who have chosen to venture into the world of artificial meat using products such as Beyond Meat and Impossible Foods, Popeyes is sticking to its roots. The burger consists of a red bean patty that is breaded, fried, and served with lettuce, tomato, and Creole sauce on a brioche bun. While it isn't fried chicken, the burger is definitely still on-brand. As the outlet notes, one of Popeyes' popular side options is red beans and rice.
What else will be on the menu at this Popeyes location?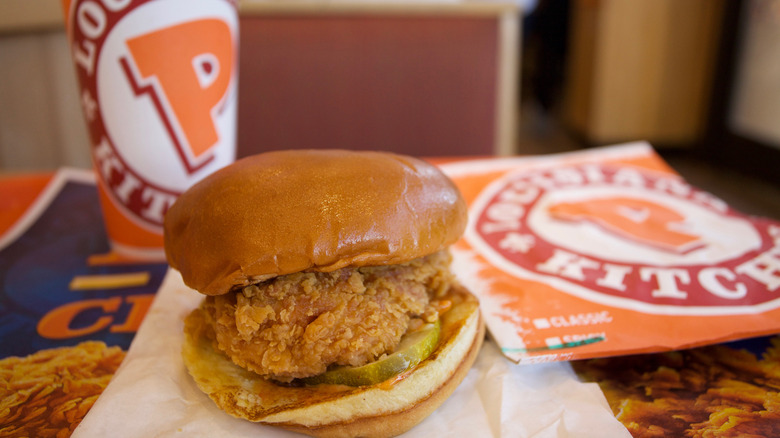 Elliott Cowand Jr/Shutterstock
Metro UK confirms that the rest of the menu will stick to the Louisiana classics with customers able to enjoy fried chicken, biscuits and gravy, hot wings, mac 'n' cheese, and the chain's popular selection of sauces. Although many British customers will surely be eager to try the famous fried chicken, expanding the menu to satisfy an increasing trend towards vegan fast-food options is probably a wise choice. There will likely be a high demand for the new item as evidenced by the large number of food bloggers already experimenting with vegan Popeyes recipes.
There's no talk yet of whether the new vegan burger will find its way to American menus, but as long as UK customers like it, the consumer market is definitely open to more plant-based products. Focusing on healthy, meatless ingredients, such as legumes, would be an interesting development in the world of vegan fast-food items. Plus, demonstrating that vegan food doesn't have to be "impossible" or in any way related to meat is a good way to broaden the average American diet.