Willy Wonka Fans Won't Want To Miss These New Coffee Creamer Flavors
As a wise man once said, "The suspense is terrible. I hope it'll last." Well, thankfully, coffee lovers won't have to wait too much longer for the next best thing they'll be able to add to their morning cuppa. International Delight announced that it is releasing its newest coffee creamers, and they're inspired by the legendary fictional chocolatier Willy Wonka. Let's just say the new flavors will transport you to a world of pure imagination.
International Delight broke the news with consumers on Instagram that they have collaborated with Warner Bros. Entertainment, the company behind the Wonka franchise, to create a product so scrumdiddlyumptious, you'll wish it would last forever, just like Everlasting Gobstoppers. Alas, the creation will be limited-edition, but it'll certainly be worth every drop. The brand's new Whipple Scrumptious Fudgy Caramel coffee creamer flavor is a sweet, rich blend of chocolatey fudge and caramel flavors, according to Foodbeast. It will also be available in both traditional and zero-sugar varieties for a wider audience appeal. So, when and where can you snag a bottle or two of your own?
The Willy Wonka-inspired creamers will be available for the new year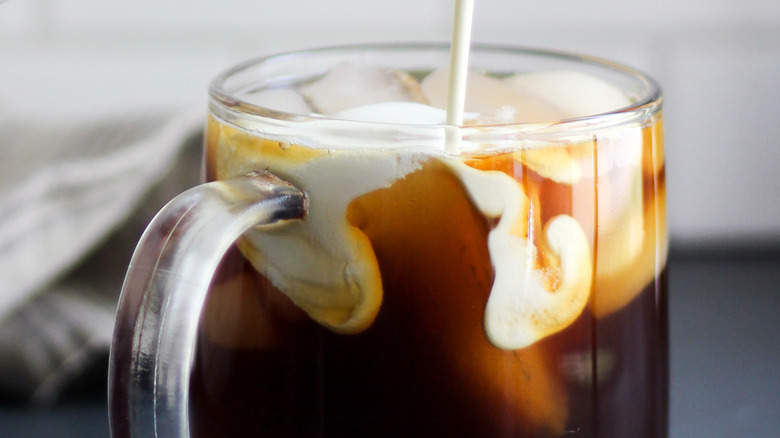 Cara Leigh Harbstreet/Shutterstock
The Whipple Scrumptious Fudgy Caramel coffee creamers will make their debut at major retailers nationwide in January, according to press materials (via Best Products). The company also has been hinting at the fact that there will be a Golden Ticket search in 2022. The lucky winners will enjoy some delicious prizes, including a year's supply of International Delight creamer. As long as they don't have the same fates as Violet Beauregarde, Augustus Gloop, Veruca Salt, and Mike Teavee, this once-in-a-lifetime promotional sweepstakes should be pretty awesome.
"At International Delight, we exist to transform your cup of coffee into a moment of celebration, self-expression and joy," said Olivia Sanchez, vice president of marketing for International Delight in a release. "We're on a relentless mission to offer delicious creamer flavors that deliver unmatched delight in every drop, brought to life with iconic partnerships." If you want to view paradise, simply look around and view it... or sip it.