This Taco Bell Throwback Will Make You Feel Nostalgic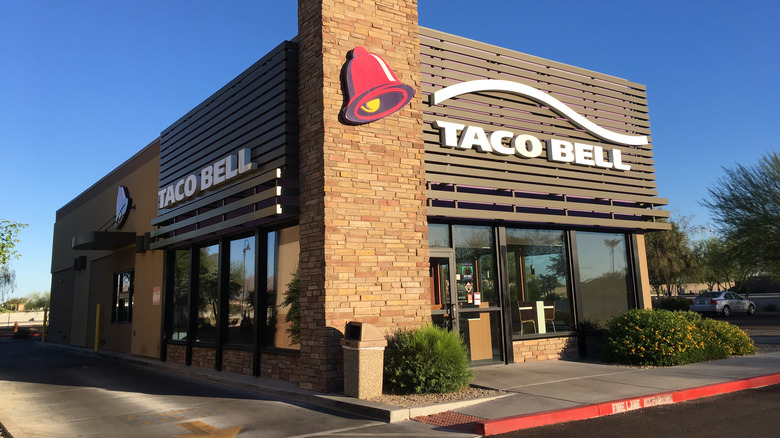 JJava Designs/Shutterstock
Fast food restaurants are a dime a dozen these days, but few chains are as well-loved as Taco Bell. With its wide range of Mexican-inspired comfort meals that include Crunchwrap Supremes and quesadillas, plus a breakfast menu and both vegetarian and vegan-friendly entrees, it's safe to say the California-based eatery has a little something for everyone to enjoy. Which is probably why it was estimated in 2016, that at least half of the U.S. population visited Taco Bell for a meal at least once a month (via CNBC).
If you're one of the many that have Taco Bell in their monthly rotations, chances are you're following the majority of customers and picking up your soft tacos and Baja Blasts via the drive-thru window. And why wouldn't you? Per Restaurant Business Online, the chain has spent the last several years improving its drive-thru services by implementing new equipment and training methods which, along with that little thing called the coronavirus pandemic, led to a nearly 50% uptick in drive-thru orders in 2020 alone. However, while there's no denying the convenience of picking up tacos from the comfort of your own car, there was once a time that venturing inside the restaurant was a truly magical experience.
Warning: Intense feelings of Taco Bell nostalgia ahead
Gone but not forgotten are the days of Taco Bell's red, teal, purple and pink color scheme. Especially on the Taco Bell subreddit page, where the above snap showing off the restaurant's quintessential 1990's interior design theme has sparked some serious reminiscing amongst the fast food chain's fans. The nostalgic shot was posted by a user along with a plea for Taco Bell to "bring back the colors" that many other Redditors seemed to love so much. "I thought all Taco Bells would look like this forever," one person commented before adding, "You never know what you've got until it's gone" (via Reddit). 
Others were reminded of some of the delicious Taco Bell meals of yesterday year that, sadly, have been discontinued. "Bring back Mexican pizza and supreme nachos," one user wrote, while a third Redditor called for the return of the Lava Sauce that slathered the top of tacos, nachos, and burritos (via Taco Bell Fandom).
Deborah Brand, the companie's vice president of development, explained to Architectural Digest in 2018 that the vibrant 1990's interior that was once the norm at Taco Bell restaurants is "fondly referred to as the Miami Vice era." She said that the design is out of date, though many Redditors from all around the country shared that their local Taco Bell still sported the colorful aesthetic. If you're feeling nostalgic over this snap and feel like dining like it's 1990 again, perhaps it's time for a road trip.