Taco Bell Has Good News For Vegetarians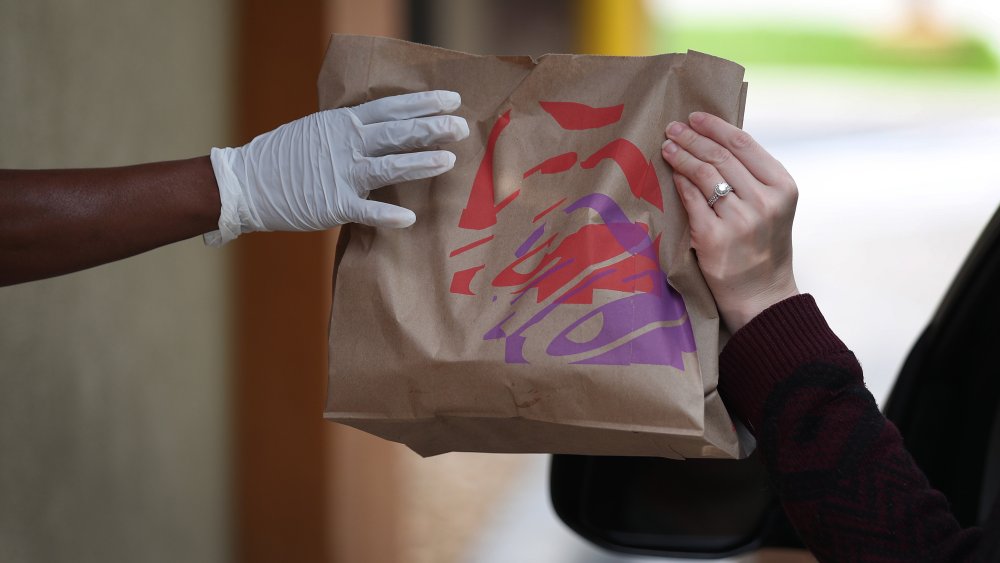 Joe Raedle/Getty Images
When it comes to fast food joints, vegetarians often get the short end of the stick. With massive chains like McDonald's, KFC, and Chick-fil-A slinging burgers and fried chicken, there's not a ton of fast food places to stop and get a quick meal at that's veggie friendly. Even smaller, seemingly meat-free sides are not necessarily a good alternative. According to the McDonald's website, not even their French fries are safe for vegetarians and vegans, getting their distinctive taste from natural beef flavor that is added after the potatoes have been partially fried in oil. 
Taco Bell has long been an exception to this meat heavy market. While they offer plenty of meat filled options, the chain also has quite a few vegetarian alternatives on their menu. Taco Bell restaurants have long carried vegetarian staples, like their bean burrito and the cheese quesadilla, and many of their other menu items can be made vegetarian or vegan with a few easy substitutions. According to their website, Taco Bell locations will customize your order by replacing the meat with vegetarian ingredients. They even offer specialties like their Crunchwrap Supreme and Quesarito made with black beans instead of meat (via Taco Bell).
Taco Bell announces a new vegetarian chalupa
Taco Bell has just announced even more great news for vegetarian diners. According to FoodBeast, the company revealed they will be bringing back a classic from last year's menu, but with a twist. The original Toasted Cheddar Chalupa contains all the classic ingredients of a chalupa, but with a toasted cheddar taco shell. However, this time around, the company will also be adding a Black Bean Toasted Cheddar Chalupa to the menu. This version offers the same staple ingredients and cheesy shell, but contains black beans in place of meat, making it a tasty, completely vegetarian alternative.
This move has only further confirmed Taco Bell's status as one of the most vegetarian friendly fast food restaurants in the US, so if you are a vegetarian or just trying to eat a little less meat, look for the golden bells next time you're craving fast food or simply need a quick and convenient meal while on the go.