Duff Goldman's Daughter Stole The Spotlight During A Family Photoshoot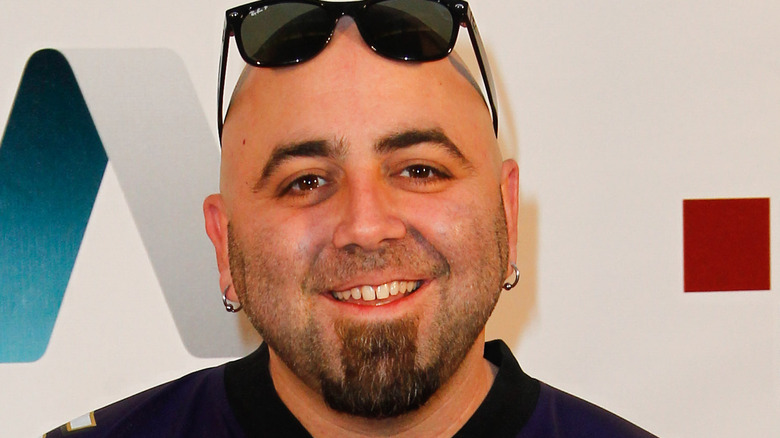 Debby Wong/Shutterstock
If you follow Duff Goldman on social media, you know he loves to brag about the good things going on in his life. From his original baby, Charm City Cakes, and his next labor of love, cooking television, to his actual baby, he cannot get enough of the humblebrag. One of his recent posts on Twitter involved a promo for "Holiday Baking Championship." In July, he actually combined two of his loves, posting a photo on Instagram of his baby, Josephine, at Charm City Cakes on a trip to Baltimore. 
And the baby brag pictures don't stop there. Baby Josephine has been featured laughing as she danced with her mom in a mirror, dressed as a football in honor of the Baltimore Ravens, and most recently sitting in front of the TV watching Sesame Street and clapping her little butt off. Yet, it seems he's not the only one who thinks she needs prominent featuring on his page.
A cute showoff
Duff Goldman's adorable daughter is stealing the spotlight once again, this time overshadowing the whole family. LA Parent Mag posted a video of Duff and his family mid-photoshoot on their Instagram account, and while the plan was to feature him on a cover, there is no denying who was the main focus in this video. The family was gathered in the kitchen among some baking supplies, which Josephine seemed to love digging into and putting in her mouth. 
As they mention in their caption, they worked to capture BTS of Duff, his wife, and their charming child for its holiday issue. The end result? A flawless family photo with a baby eating a whisk front and center. We can only assume this was a load off Duff's mind, as now other people will already be sharing the brag-worthy picture of their adorable daughter. She's already taking after dad.