Duff Goldman's Latest Instagram Proves He's Raising A Baltimore Ravens Fan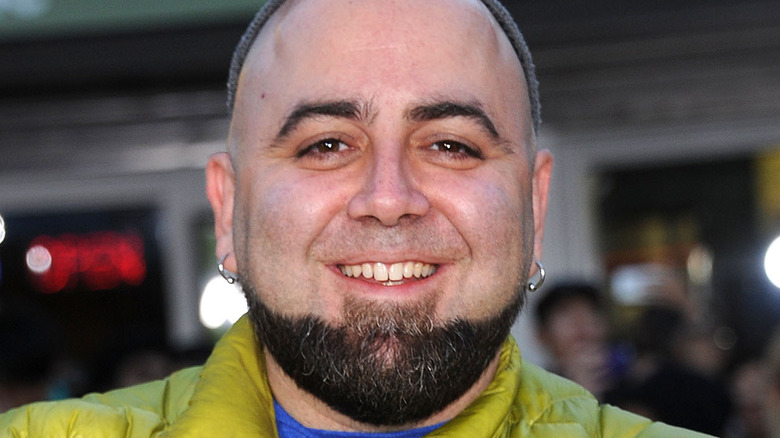 DFree/Shutterstock
Duff Goldman is basically a social media aficionado at this point. He, or more accurately, his baby, recently melted hearts in an adorable video in which baby Josephine is dancing with her mama as Goldman films the two of them. And of course he's got a fab food game, wowing fans with a picture his team made of a stunning seaside landscape complete with sunset background. He's even confused people on Twitter with his bizarre notion that chicken nuggets are actually just jelly donuts filled with chicken instead of pastry and jelly. 
But one of his latest posts has nothing to do with nugs and everything to do with the Baltimore Ravens. It makes sense he would be a fan, given Charm City Cakes, Duff's now-famous bakery, is located in Baltimore, Maryland, where Duff used to live. So what was the post that made his Baltimore Raven fandom status clear?
You know you're committed to your team when you dress up your child
At first glance the photo seems innocuous enough. A football fan taking a picture of a football game on his giant television, but if you read the caption of Duff's post, you'll realize you missed something. His Instagram post is captioned, "Josephine is wearing her @ravens football onesie," and there in the top corner is his daughter Josephine, dressed like a little football herself, ready to sub in for the pigskin currently in play. 
Football fandom doesn't get any more real than buying your baby a onesie in support of your favorite team, and users are eating it up. One follower wrote, "Raising her right!" and another fan commented, "Love it! Let's go Ravens!" It looks like Duff's got his priorities straight and is as excited about football Sunday's return as the rest of the U.S. It almost makes you want to become a Raven's fan — almost.