Here's Where To Find Salt Bae's 24-Karat Gold Steak For A Much Cheaper Cost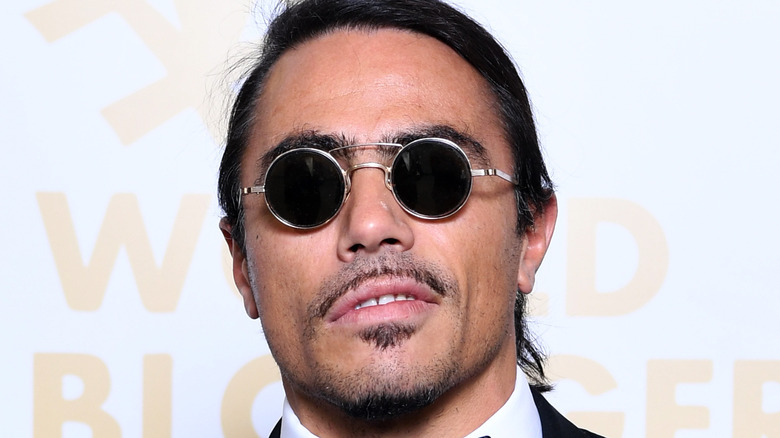 Daniele Venturelli/Getty Images
While the "Legend of El Dorado" ensnared explorers with the lure of a city of gold, Salt Bae's 24-karat gold steak has caused a heated debate over the extreme cost of a single plate. As foodies long to devour specialty food items, one British restaurant is serving a similar version of that gilded tomahawk steak. Although the old phrase about all that glitters isn't gold, the reality is that a gold encrusted steak doesn't have to cost four figures.
Much has been written about the London location of Nusr-Et Steakhouse, operated by the infamous Salt Bae. While jaws dropped at the over pricey dinner tab of one party, the reality is that this meal might make Gordon Ramsay's gourmet burger feel like chump change. One of the restaurant's signature menu items is a "bone-in wagyu ribeye encrusted in 24-karat gold leaf" (per EsquireME.com). While gold leaf is tasteless and is for presentation only, the gleaming bone increases the steak's cost. According to The Guardian, the golden steak has a price of £850 ($1,150). While not quite as expensive as the crown jewels, the cost is far from reasonable. For some other chefs, they believe that people are paying for the hype only, which is why they proved that the high cost can be cut like an inedible piece of grizzle from a bad steak.
Cutting the cost fat on a 24-karat gold steak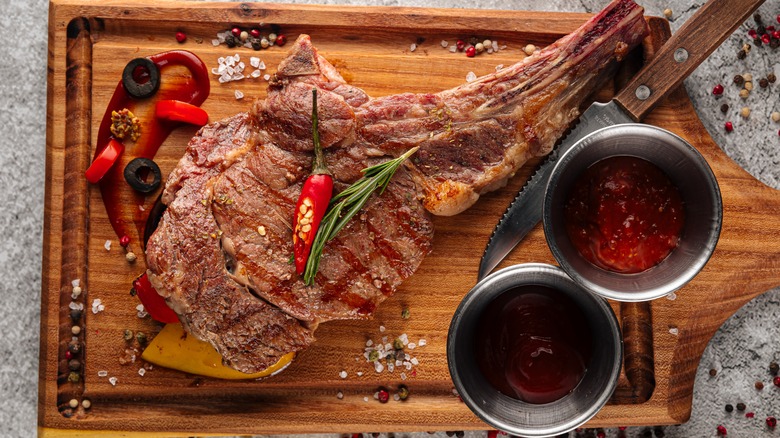 Hihitetlin/Shutterstock
Although foodies might be willing to open their wallets for a delicious meal, the reality is that overpriced food just for show does not leave a flavorful taste in anyone's mouth. As reported by Food & Wine, a British chef has found a way to serve his take on a 24-karat gold steak that doesn't come with a side of the Salt Bae pretentiousness. John Stirk, the chef who created the more reasonable steak, told The Guardian that his inspiration stemmed from more guests "posting receipts for how much they've paid for the food rather than the quality."
Available at Stirk's Italian Steakhouse, the 24-karat gold steak for two costs £100 ($135). Since it has been added to his menu, Stirk shared to The Guardian that it has sold over 30, but he admits that it is a splurge item. "The sentiment behind it wasn't about putting a gold, flashy steak on our menu, it was about quality of food," he said. That statement seems to capture the question that is often raised about menu prices. Some diners are willing to pay significant sums for an expertly curated meal with flavors that linger on the palate. But, gimmicks for extravagance sake can cheapen the meal without adding value to the experience. For those who think that the sparkles on the plate justify the emptiness in their wallet, Salt Bae has a steak waiting for them. For others who prefer flavor to showmanship, Stirk has an open table waiting to welcome guests.