Which Is Better: KFC US Or Ireland?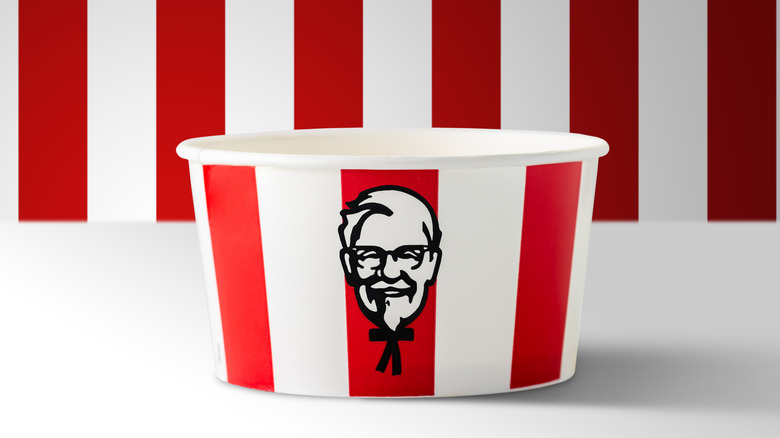 Nixx Photography/Shutterstock
There's a lot of food that's just quintessentially American ... and we're not even talking about those weird (but undeniably interesting) cheeseburger donuts. Is it wrong? Maybe, but there are times that you just might not want to be right.
We're actually talking about things like apple pie, a steak dinner, a clambake, a cheeseburger (regular or on a donut), and — of course — fried chicken. Most of the food that's typically thought of as American was heavily influenced by other cultures, but fried chicken is generally considered to be a product of the southern U.S. (According to the BBC, though, West Africa and Scotland both deserve a hearty "thank you!" for laying the groundwork for the whole idea.) And you can't talk about fried chicken without talking about KFC.
You can't get much more American than that — there's a state right in the name, after all. That got us wondering: Is KFC the same in other countries? Is this a shamelessly brilliant excuse for a road trip? Maybe!
We wanted to know if KFC customers outside of the U.S. could mosey on in and order the same crispy, crunchy, delicious fried chicken that KFC delivers across the United States, and honestly? We were kind of shocked. While pricing and portion sizes were pretty similar across the board, there were some other major differences.
Battle of the fried chickens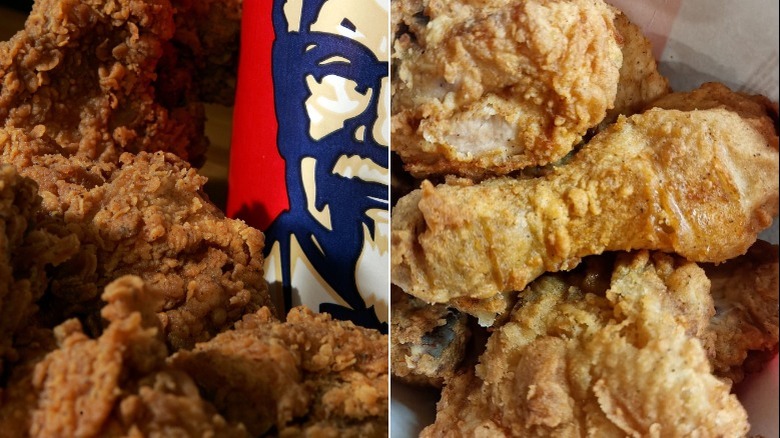 Justin Sullivan/Getty Images, Debra Kelly/Mashed
Let's talk about what KFC is known for: fried chicken. And here's the thing — even if you might not think that KFC U.S. has the best fried chicken, you pretty much know what you're going to get. You're going to get crispy, crunchy fried chicken that's going to satisfy your craving in a big way. It's so good that heck, you might be just craving not fried chicken, but specifically KFC.
We picked up a 10-piece Family Feast bucket at an Irish KFC, and when we peeked inside, we were already disappointed. There was none of the crunchy exterior that makes fried chicken, well, fried chicken, and instead, we were greeted by the sight of a soggy, greasy, group of chicken pieces that were kind of uncomfortable calling themselves fried. The color wasn't so much the color we expected from fried chicken, but weirdly, it was pretty similar to the color that we're more accustomed to seeing on fried rice.
Still, we waded into the fray and dug in, and honestly, it tasted about as good as it looked. On the first bite into a drumstick, the breading kind of sloughed off in a single piece that reminded us a little too much of a snake shedding their skin, and while the chicken inside was decently moist, it definitely couldn't make up for the dismal crust. We weren't even able to pick the Extra Crispy option, because it doesn't exist in Ireland.
We know. Right?
How different are the menus?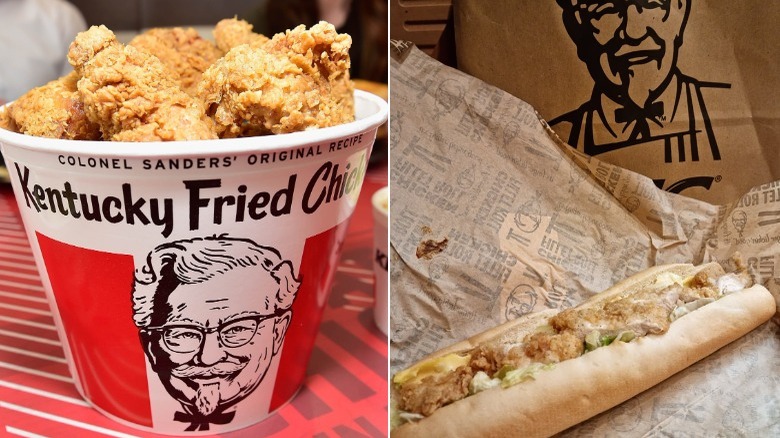 Moses Robinson/Getty Images, Debra Kelly/Mashed
The first thing we noticed when we sauntered up to KFC Ireland was that there was something massive missing: Extra Crispy chicken. In spite of the fact that the photos on the menu looked like the crunchy Extra Crispy chicken that we've come to know and love — and honestly, were craving by that point — it just wasn't there. Read the fine print, and all their chicken was Original Recipe. There was also no Nashville Hot Chicken, and instead, there was something called a "Zinger" for those who were craving something hot. When it came to buckets, there was also a "Wicked" variety bucket. How did that work out for us? We'll get to that.
There were other things missing, too: There were no KFC bowls, so we tried one of their exclusives — the chicken fillet roll — in lieu of those. There was also no option to get a massive order of wings, just a 2-piece of hot wings as a side order.
Now, while it's true that most people might head to KFC for the chicken, it's the sides that turn this into a not-your-average-fast-food ... fast food chain. Add a pile of sides, and you can easily turn KFC into a dinner that you won't feel terrible about, but many of the staples were missing in KFC Ireland. There was no cornbread, no green beans, no mac and cheese, and no biscuits. That's just an offense against the very idea of traditional Southern cooking.
Nutritional information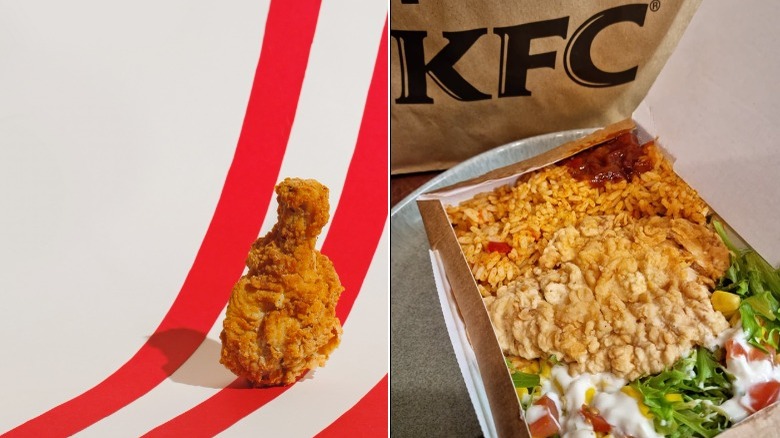 Shutterstock, Debra Kelly/Mashed
No one goes to KFC expecting to get something decently healthy, let's just say that right from the start. Still, let's also take an objective look at which side of the Atlantic is going to have healthier chicken — while saying that yes, KFC Ireland says they use the same top-secret blend of spices that U.S. restaurants do. That said, how do they stack up?
Let's take just a handful of random menu items and compare them, starting with an Original Recipe chicken drumstick. The U.S. version comes with (via Fast Food Menu Prices) about 120 calories, 7 grams of fat, and 11 grams of protein, while the Irish version has about 170 calories, 10.2 grams of fat, and 13.4 grams of protein.
Now, some non-chicken items: Since Ireland does their mashed potatoes and gravy as two separate items, let's look at them separately. In the U.S., a plain order of mashed potatoes has 90 calories and 3 grams of fat, while Ireland's version has 150 calories and 4 grams of fat. Add gravy, and that tacks on 30 calories and a gram of fat in the U.S., while a "Regular Gravy" boat in Ireland adds 60 calories and 2.8 grams of fat.
That said, KFC Ireland does have what their menu calls "Lighter choices," which includes things like their Fillet Ricebox (pictured). That comes in at 490 calories and 14.7 grams of fat, and yes, that really is a chicken fillet in the center of the box.
Who makes fried potatoes better?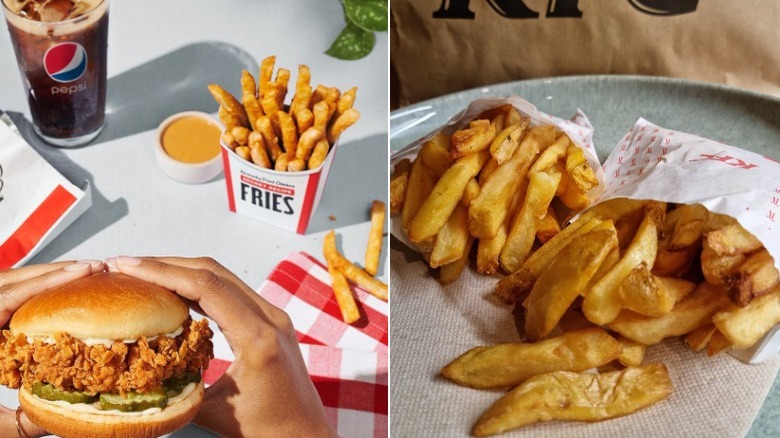 KFC, Debra Kelly/Mashed
So, here's where things get complicated. KFC Ireland offers both mashed potatoes and French fries, while KFC U.S. has recently been in the middle of a little upheaval. In addition to their iconic mashed potatoes, they announced in 2020 that their almost equally iconic potato wedges were going to be replaced with fries. How did they each do?
While KFC U.S.'s fries have had a bit of a rocky start — we'd consistently describe them as being just sort of "okay" — there's one consolation here: They're not KFC Ireland fries.
That's super disappointing, because there are approximately a million places you can go in Ireland to get phenomenal chips. It's practically a lifestyle. There are entire freezers in every grocery store dedicated to chips of all shapes and sizes. Still, when we got our bag of fries, it was filled with loose fries with a few sacks thrown in on top. The grease had soaked through the bag before it was even handed to us, and that meant we were kind of prepared for the soggy, greasy fries we got. Pro tip? One word that should never be used to describe fries is "floppy."
Who does the sides right?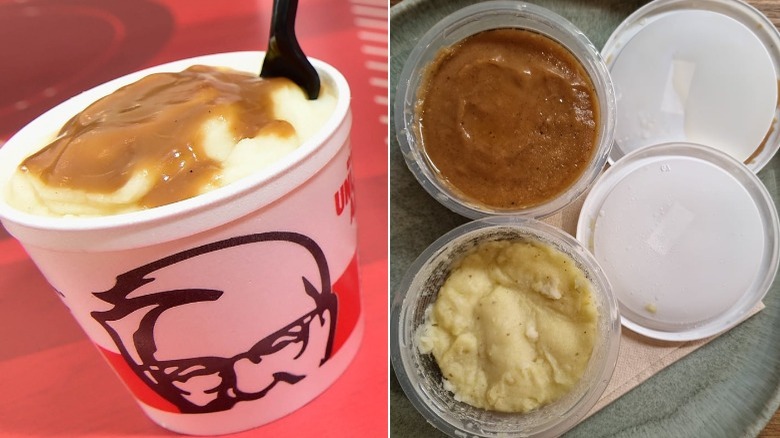 Moses Robinson/Getty Images, Debra Kelly/Mashed
Oh, KFC Ireland, what on Earth are you doing here?
For starters, their sides menu is sorely lacking. Choices were limited — in theory — to baked beans, corn, mashed potatoes, and something called "southern rice," which we'll get to. But here's the thing: We ordered coleslaw, and were told that they didn't have any. But, we also ordered something called a Twister Wrap, and guess what it had on it? Coleslaw! But ... ! We ... just ...
You can fill in an audible sigh here.
So, with coleslaw apparently inaccessible, we went with the mashed potatoes. Stateside KFC's mashed potatoes absolutely earn their iconic status as being almost as essential to the whole KFC experience as their chicken. Add some of that gravy, and honestly, who even needs fries. 'Nuff said? That's why we were shocked when we tried Ireland's version. For a country known for its steadfast devotion to the potato in all forms, these mashed potatoes were seriously disappointing. They looked like they had some seasoning in them, but still managed to be bland and a little too wallpaper-paste-esque. As far as the gravy, well, we can say this for sure: It was definitely brown. 
Vegetarian options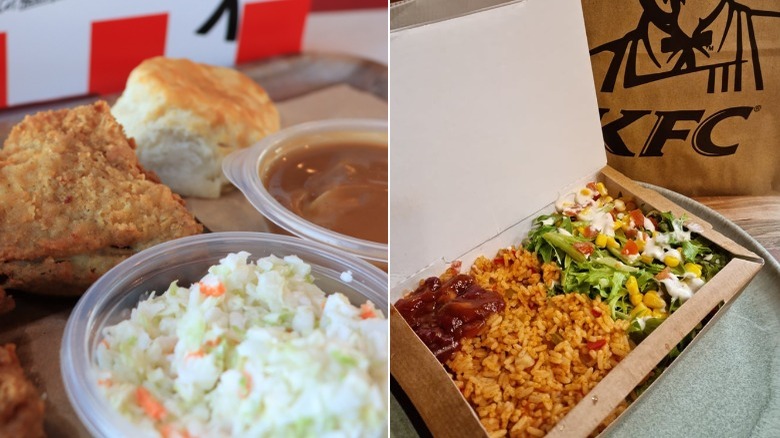 Shutterstock, Debra Kelly/Mashed
We know, there's "chicken" right in the name. That said, we're still a huge fan of restaurants that have at least one or two options on the menu for people with dietary preferences and restrictions, and that includes the growing number of people who have gone vegetarian.
In September 2021, Fortune spoke with KFC U.S. president Kevin Hochman, and he said that they were all about coming up with a plant-based, faux chicken burger. The sticking point was replicating the texture of fresh chicken, as opposed to what they called "chewed-and-glued." After KFC did a test-run of Beyond Meat's faux chicken, it sort of fell off the face of the Earth, leaving the vegetarian in a group of friends craving KFC just out of luck.
Vegetarians in Ireland are a little more fortunate, in that they have more than just coleslaw and biscuits to choose from. We picked up a Veggie Ricebox, and we were intrigued. It was advertised as being a box that came filled half with a salad, and half with Tex-Mex rice. Everything was topped with a buttermilk dressing and a bean salsa, but unfortunately, it wasn't nearly as good as it sounded. The salad half was heavy on the lettuce and not much else, while the rice wasn't so much "Tex-Mex rice" as it was a solid block of overcooked rice that didn't have much in the way of seasoning at all. It's a nice thought, but fell really, really flat.
Rolls or bowls?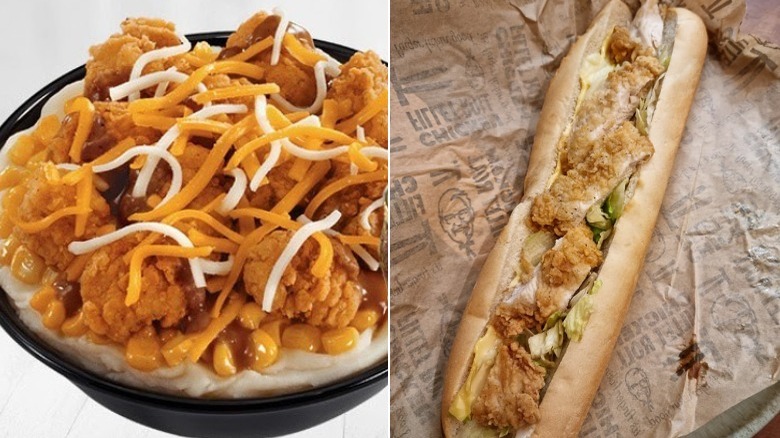 KFC, Debra Kelly/Mashed
KFC U.S. might call their bowls "famous," but we were still pretty surprised to see they weren't on the menu in Ireland. They're pretty much a staple in the U.S., and they're brilliant. Sure, it's not going to be great for you — Fast Food Menu Prices say you're looking at around 680 calories and 31 grams of fat — but we'd totally recommend them. When we couldn't get one in Ireland, we had to look for another option.
Enter, the fillet roll. First, let's explain that the chicken fillet roll is one of Ireland's staples. College Times jokes that the fillet roll — a chicken breast fillet on a roll — was brought to Ireland by St. Brendan. How did KFC do? Insert another audible sigh here, and you've got it.
The fillet roll came on a baguette that was way, way too big, and too hard for a sandwich. The result was the mayo filled the bottom in a way that kind of reminded us of a leaky and sinking boat. Lettuce filled the gaps, there was a bit of cheese on it, and a sliced, Original Recipe chicken breast was balanced on top of the whole thing. It looked decent enough, if a little bland, but we quickly learned we had two options: Have everything fall off the top or out the bottom as we ate. It ended up being jaw-achingly difficult to eat, and in the end, just didn't do the idea of the fillet roll justice.
Who has the better sauces?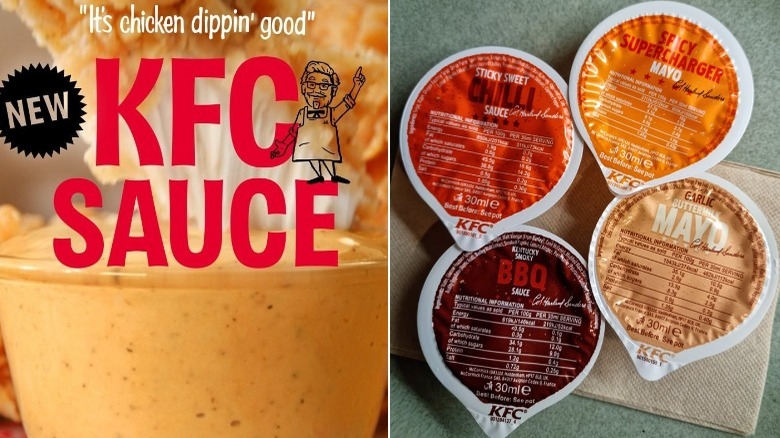 KFC, Debra Kelly/Mashed
Dipping sauces and fried chicken don't necessarily go hand-in-hand, but it's sort of an unwritten rule that where there is chicken, there must be sauces. When KFC U.S. announced (via CNN) back in 2020 that they were replacing their Finger Lickin' Good sauce with a KFC Sauce, it wasn't a bad move. (And not only because licking your fingers during a pandemic isn't a good idea.) The new sauce — which joined staples like honey BBQ, hot sauce, honey mustard, and ranch — was a good option for something that's a smoky-yet-tangy alternative to plain old BBQ.
Ireland's sauces looked a little different: We got a Sticky Sweet Chilli, a Spicy Supercharger Mayo, a garlic Buttermilk Mayo, and a Kentucky Smoky BBQ. If all of those sound like there's a heavy lean on the sweet and the garlic, that's because there is. Even the BBQ was more sweet than smoky, and the sweet chili was a little reminiscent of corn syrup with some flaky bits in it. The mayo was a bit like dipping some fries in creamy garlic, and we're not sure what was supposed to be spicy or supercharged about the other mayo, but it wasn't.
Bottom line? It doesn't really matter what you think of the new addition (and subtraction) to KFC's U.S. lineup, it wins — hands down.
Halal, or not?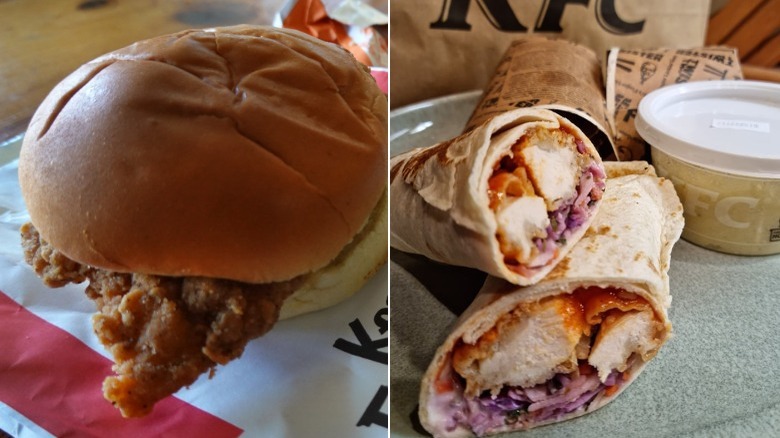 Scott Olson/Getty Images, Debra Kelly/Mashed
Here's something we found super interesting, especially since we believe that everyone should be able to enjoy a fast food restaurant no matter what their dietary restrictions may be. That's why we were impressed with a section on KFC Ireland's website on Halal food. (Although we also need to point out that it specifies that this applies to about 130 of the 900 KFC restaurants in the U.K. Ireland is not in the U.K, and suggest it is, well, let's just say that doesn't go over very well in the Republic.)
According to the site, KFC works with the Halal Food Authority to make sure all the food in the restaurants with a Halal designation comply with all U.K. and EU legislation. It's unclear just which restaurants are Halal, though, which is a bummer. Was our chicken wrap Halal? We have no idea!
Still, the effort is in sharp contrast to KFC U.S., which has had some issues with Halal (and Kosher) dietary requirements. In 2017, Eater reported that KFC had put an end to one Chicago franchisee's serving of Halal chicken. In spite of the fact that Afzal Lokhandwala said that KFC had helped him source Halal vendors, they later said his Halal chicken — which he'd been serving for 14 years — was in violation of their policies. Their statement to Eater read (in part): "Unfortunately, we are not able to make religious claims, such as Halal or Kosher, about KFC products at this time."
What about dessert?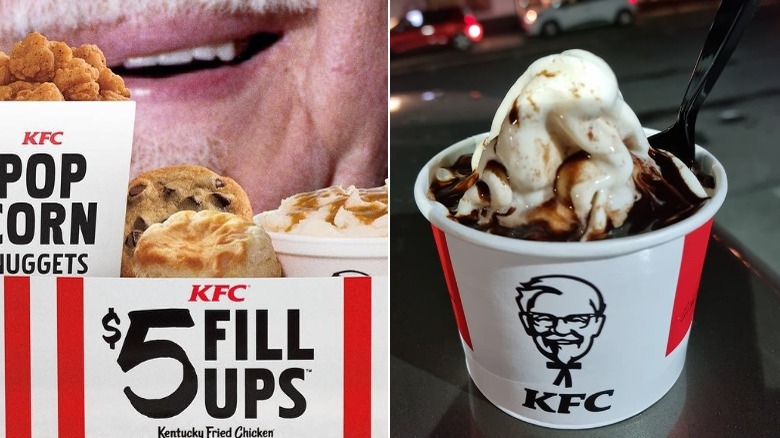 KFC/Getty Images, Debra Kelly/Mashed
Take a gander at KFC Ireland's online menu, and the images might make you think that there's going to be some chocolate chip cookies in your future. We found that wasn't the case, and we had one option for dessert: a chocolate sundae. We'll be honest — it was a pretty darn good chocolate sundae, which is expected — Ireland has some of the best ice cream in the world, after all.
But here's the thing: If we're taking KFC home to the family, a chocolate sundae isn't going to cut it for dessert. The option of something that isn't going to melt — like the U.S. cookies — is much more practical when you're looking for something to take home to the kids for after they eat their way through a bucket of fried chicken. Sundaes are for eating in the car on the way.
So, while the execution was done well, KFC U.S. just has a better variety of desserts — and the fact that we can take them home to the family makes a big difference, too.
Here's what we couldn't try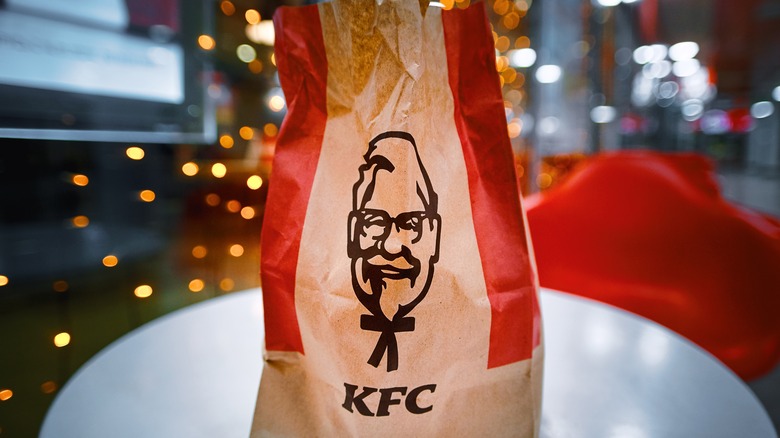 Tricky_Shark/Shutterstock
It's also worth taking just a minute to point out that there was more that we wanted to try in Ireland, but just didn't manage to. In order to not look like the maniacal, gluttonous Americans ordering and eating way too much KFC (while taking photos to undoubtedly post on social media), we got most of our order to go. (It's for a party. Really. Tons of people waiting. We swear.) And that meant we were kind of counting on them getting it right.
They did not.
There were a few things that we definitely ordered, but didn't make it into the system and into the bags. That was the side of hot wings and the fillet burger, so it ended up being more than a little disappointing in that respect. We'd like to think that maybe it was because they were busy, but they definitely weren't — there were only two other groups in the store at the time. So sadly, we're not able to give an honest, first-hand opinion on how well KFC Ireland does chicken sandwiches (and wings), although based on the fillet roll ... we're kind of okay with missing out.
Which is better: KFC Ireland or U.S.?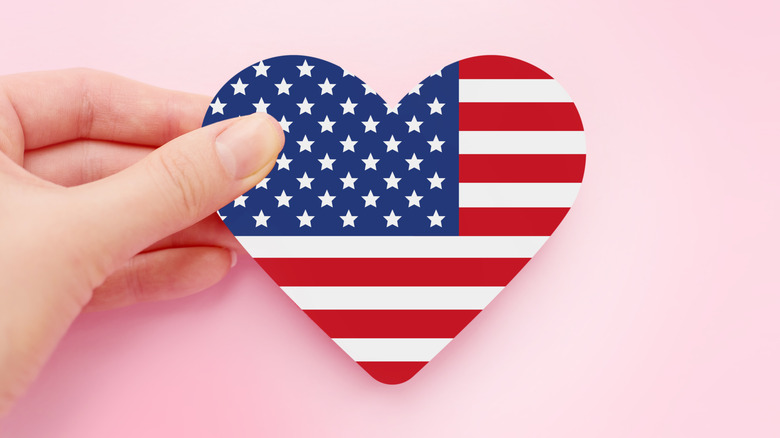 E.Va/Shutterstock
This was an incredibly easy one to call: U.S. — hands down. Just to recap, there's a whole bunch of reasons we were sorely disappointed in KFC Ireland, and for all our Irish friends, we'd just like to say this: "Come to the U.S. Try KFC. Or, even better, try almost any kind of fried chicken. Done right, it's golden, crunchy, and not-at-all greasy. It's divine. There's a reason we love it, and we promise, it's not the stuff you're familiar with if you've only had it at KFC in Ireland."
From the somehow higher-calorie, higher-fat foods to the lack of sides, it's safe to say there was a lot lost in translation. Seriously — how do you even have fried chicken without cornbread?
But the biggest problem we had was the one that we just couldn't overlook, and that's the fact that the chicken just wasn't good. It was greasy, not crunchy in the least, and no amount of secret herbs and spices could save a breading that just wasn't appetizing. The first bite, they say, is with your eyes, and when you open a bucket of fried chicken that's got the same color as a cup of tea that's more milk than tea, that's just not a good look. We walked away from KFC Ireland feeling nothing but regret ... and not in the good, KFC U.S. kind of way.
When it comes to KFC and fried chicken, the USA does it right.