Costco Shoppers Are Loving These Nightmare Before Christmas Containers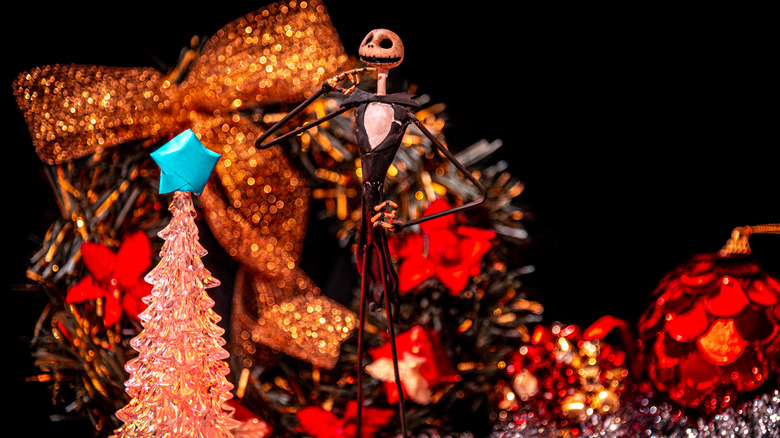 Andres Conema/Shutterstock
There are two kinds of people in the world: people who like to plan well in advance of a big occasion and people who prefer to wing it at the last minute. If you fall in the first category, you're probably already making a list of all the people who you need to buy Christmas presents for over the next few weeks.
It's not easy to shop for Christmas presents, especially when it comes to loved ones you may be close to, but who tend to be particularly difficult people to buy gifts for regardless. Luckily, with the Christmas-themed treats Costco has been rolling out since October, there's a ton of cute and yummy holiday-themed stuff to help you with your Christmas present shopping.
The latest holiday buy that has Costco shoppers are over the moon about is Tim Burton's "The Nightmare Before Christmas" food containers. Per a Reddit thread, a Costco shopper in San Diego spotted these food containers at a local store and thought that it was the perfect Christmas present for Disney lovers or anybody who can never decide which holiday they like more — Halloween or Christmas.
There are more Nightmare Before Christmas presents
The eight-piece set of glass containers made by Pyrex comes with 4 containers and four lids to go on top of them, with each container designed after a different "Nightmare Before Christmas" Halloween Town character (via Reddit). Naturally, Redditors were well excited and couldn't wait to make a trip to their local Costco to see if they could find these spooky containers.
"Need to stop by and see if there's any of those 'Nightmare Before' at my store. Daughter would love those," read one comment. Others managed to find the containers at Costco stores in Seattle, Northern California, and Charlotte.
If your nearest Costco hasn't stocked up on these just yet, there are more "Nightmare Before Christmas" goodies making the rounds of Costco. A Los Angeles-based Instagram account dedicated to Costco buys — costcosisters — found a "Nightmare Before Christmas" cookbook and entertaining guide at the wholesale store. Going for $18.99 at their Costco, the book is divided into two parts to arm you with everything you need to host a Halloween-themed Christmas bash. There are 50 recipes that cover everything from entrées to desserts, as well as ideas, activities, and spooky decor tips to make your party the next big thing people will be raving about till Christmas next year.