Nearly 35% Agree This Is The Best Appetizer At TGI Friday's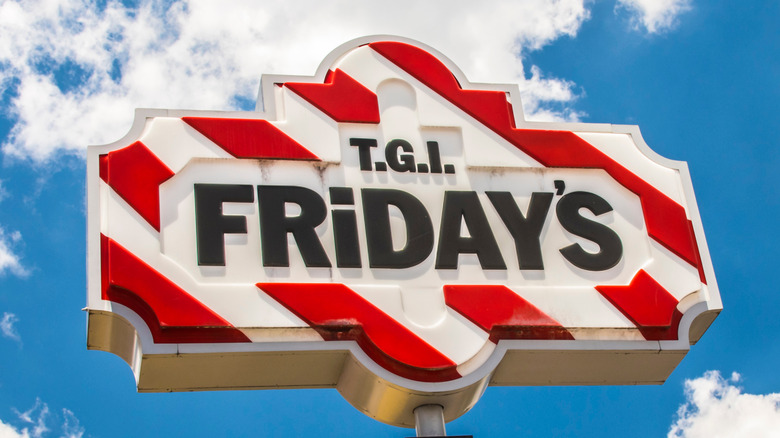 Billy F Blume Jr/Shutterstock
When you head to TGI Friday's, are you there for one of the chain's entrees, such as its new Double Meal combos, or are you craving an appetizer? There's no doubt that the restaurant specializes in the latter. Just check the freezer aisle of your grocery store — you'll probably see boxes and boxes of frozen TGI Friday's branded hors d'oeuvres. But as with any restaurant, not all of their offerings are equal (and there are even some foods you should never order from TGI Friday's).
In order to find the best apps at the chain, Mashed recently surveyed 604 U.S. residents about their favorite Friday's appetizers — and the answers were surprising. That's because, though the restaurant has an expansive appetizer menu, there was one item that got more than 1/3 of the votes. That dish? Well, find out below. As it turns out, you can grab it from the restaurant itself or your local grocery store, as the top two winners are available as frozen appetizers at supermarkets nationwide.
TGI Friday's loaded potato skins won by a landside
TGI Friday's loaded potato skins, which got 34.93% of the vote, proved to be more popular than the second-favorite appetizer by nearly 10%.
These crispy potato bites are made from Maine-grown white potatoes, according to the TGI Friday's menu. They're topped with cheddar cheese and crispy bits of bacon, and are served with ranch sour cream for dipping. The second most-popular appetizer at TGI Friday's was mozzarella sticks, with 24.34% of respondents calling this their favorite. Friday's sticks might taste a little different from what you'd get at another restaurant, and that's because they're made with both mozzarella and asiago cheeses, not just mozz. That's followed by a sprinkle of Parmesan and Romano, giving the sticks an extra-cheesy boost of flavor. 
The other favorite appetizers, ranked in order, were the boneless wings, green bean fries, Philly cheesesteak egg rolls, and pot stickers. You might want to skip some of those items, though — in another survey, we found that the green bean fries were ranked the worst appetizer at TGI Friday's.