31% Said This Was The Worst Appetizer At TGI Fridays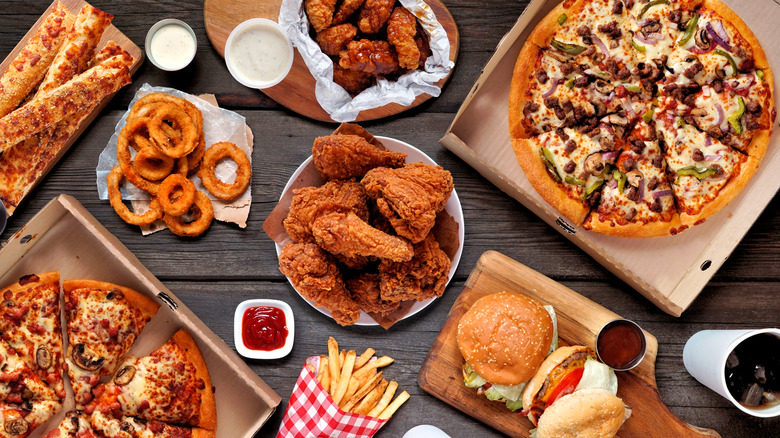 JeniFoto/Shutterstock
When it comes to classic American restaurant chains, TGI Fridays sits at the top of the list among other nostalgic dining establishments like Applebee's, Red Robin, and Chili's. Since it first opened its doors in 1965, TGI Fridays has expanded to more than 900 locations across the United States and around the world, per its website. The chain has developed a reputation as not only a neighborhood family-friendly spot, but also as a go-to for happy hour — especially on, as its name suggests, Fridays. As such, its menu includes a vast array of starters that are perfect for snacking on with a round of cocktails come 5 p.m.
The appetizer list at TGI Fridays includes something for everyone, from cheesy loaded potato skins to chewy soft pretzels. But which ones are worth ordering, and which ones aren't? Mashed polled 600 people on what they consider to be the worst appetizer to order at TGI Fridays. Here's which one nearly ⅓ of respondents dubbed their least favorite on the menu.
People aren't loving TGI Fridays' green bean fries
Of all the appetizers at TGI Fridays, the one that 31% of Mashed survey respondents named the worst is the green bean fries. They're essentially like regular french fries, except they're made with string beans instead of potatoes. The green beans are breaded, fried, and served with a side of cucumber-wasabi ranch sauce for dipping, according to the menu. They might sound tasty, but health-wise, they certainly aren't anything to write home about. As the The Orange County Register reports, a serving of the crispy green beans racks up about 900 calories and 1,720 milligrams of sodium, which is more than half the recommended daily amount, per the FDA.
As for how the other appetizers on TGI Fridays' menu compared? Warm pretzels and Philly cheesesteak egg rolls tied for the second least-favorite, each earning 19% of the votes. They were followed by spinach and artichoke dip with 13% of the votes and loaded potato skins with nearly 9%. Last place — or rather, the appetizer that's least-loathed — is the traditional wings, which only 8% of respondents dubbed the worst.