TGI Fridays New Double Meals Combine These Popular Menu Items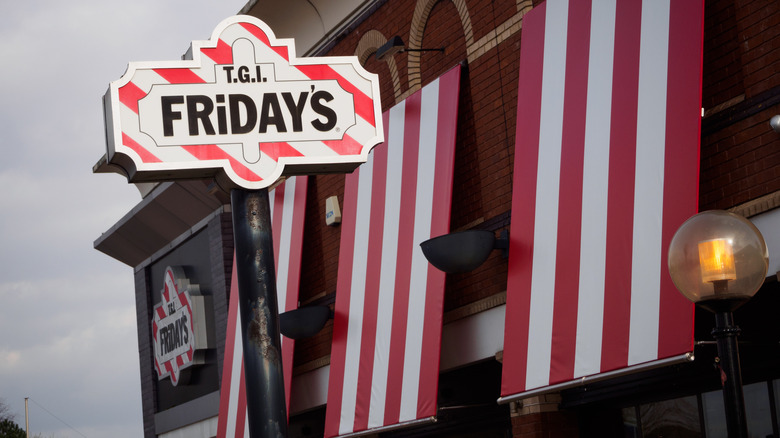 steved_np3/Shutterstock
TGI Fridays' slogan, emblazoned on its Twitter profile page, is meant to evoke happiness: "In here, it's always Friday." During the COVID-19 pandemic, every day has felt more like Friday the 13th for the casual-dining chain. Let's face it: TGI Fridays has been in a businessperson's horror show for several years now, as its customer base, middle-class America, continues to shrink (via Eater). But the pandemic was especially cruel to the casual restaurant sector, which didn't have fast food's advantage of drive-thru windows. In the spring of 2020, according to Business Insider, Fridays figured it would permanently close 20% of its restaurants due to the business it lost to government-ordered lockdowns.
Company executives did pull some of the right levers during the pandemic and made major gains in its takeout and delivery business. These improvements were solid enough that TGI Fridays' CEO was able to announce early this year the chain would only close 10% to 12% of locations worldwide. Consider that as good news these days for casual dining. One year ago, Ruby Tuesday filed for bankruptcy, per Nation's Restaurant News.
TGI Fridays continues to seek out new ways to get people in the door — or at least on its app, ordering takeout. The latest promotion, which the chain announced on Twitter, is the Combo Entrée.
TGI Fridays' Combo Entrées mix and match seafood and meat
The new Combo Entrée concept at TGI Fridays is as straightforward as it sounds: two main courses on one plate. There's no word on pricing for these four combo plates, but they appear to be more about providing a variety of flavors than anything like a two-for-one deal. All four combinations come with the same sides, mashed potatoes and lemon butter broccoli (via Chew Boom).
All four also get catchy names. The Speared & Seared is a grilled six ounce sirloin steak and grilled shrimp on skewers. The Top Shelf Pairing gives you a half rack of double-basted pork ribs and hickory-seasoned grilled chicken. You could also order the Catch of the Season: fried shrimp and beer-battered cod. The Crispy Whiskey Combo combines the pork ribs and the fried shrimp. All four meals involve TGI Fridays' Whiskey-Glaze. After the year and a half we've all just had — especially the folks at TGI Fridays and their casual-dining ilk — you might want to ask if you can order extra Whiskey-Glaze ... hold the glaze.
TGI Fridays' Combo Entrées are available for a limited time, per Chew Boom.