Aldi's Melting Snowmen Are Exactly What Your Hot Chocolate Needs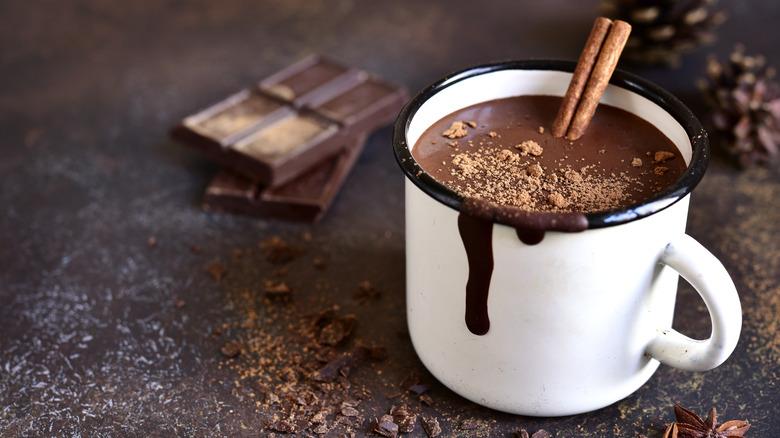 Liliya Kandrashevich/Shutterstock
When the temperatures get colder, it's only natural that our drinks get hotter. 'Tis the season for all things cozy and comforting, after all. While coffee and tea are both great options, there's just something about a mug of hot chocolate in the winter that feels like a hug in liquid form. According to a survey by OnePoll, 42% of people look forward to drinking the sugary sweet beverage when the snowy season rolls around (via PennLive).
There are plenty of ways to get your hot cocoa fix. For a nostalgic flavor that you can whip up in seconds, a packet of instant hot chocolate mix will do (after all, who doesn't love spooning those mini marshmallows off the top?). If you have a little more time and want to make something more gourmet, you can find a variety of homemade hot chocolate recipes online. And if you want something in between — a.k.a. not quite powdered mix but not quite from scratch — Aldi has you covered. The bargain grocery store chain recently released a hot chocolate melting snowman and fans are very excited.
It has marshmallows hidden inside
Aldi fan account @aldifavoritefinds posted a picture of the seasonal find on Instagram. Made by the brand Choceur, the melting snowman is similar to the hot cocoa bombs that went viral on TikTok last year. According to the instructions, all you have to do is place it in piping hot milk and the snowman will "melt" (a.k.a. dissolve) into a tasty mug of hot chocolate. The snowman, which costs just $1.99, is made of white chocolate and is filled with mini marshmallows and dark chocolate drops.
In just a few hours, the post racked up thousands of likes from fans who are dying to get their hands on the hot chocolate snowman for themselves. Many commented that they would be great stocking stuffers for kids and adults alike. They aren't available at every Aldi location just yet, shoppers say, but the original poster noted that if you want to look at your local store, check the "Christmas candy AldiFinds section."