Spiced Hot Chocolate Recipe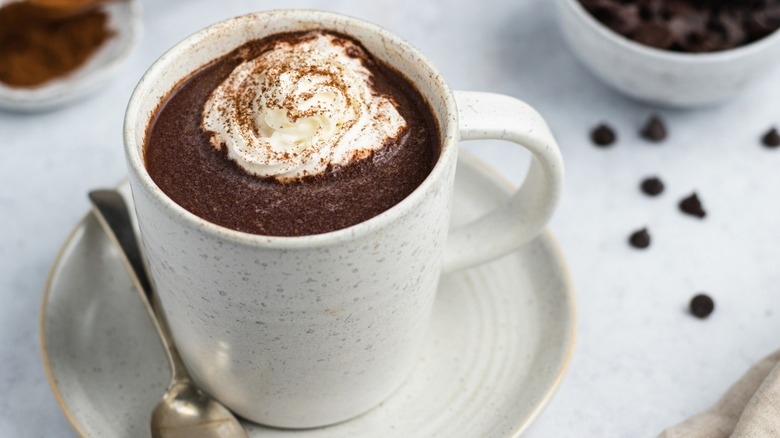 Catherine Brookes/Mashed
Hot chocolate is a beverage we often associate with wintertime. In fact, holiday commercials wouldn't be complete without wide-eyed children clutching mugs of hot chocolate in their mittened hands (why they're wearing mittens indoors escapes us, but they are, and the mittens are always striped). Did you know, though, that hot chocolate is everyone's favorite fall beverage as well? It's true, at least according to a super-scientific Mashed survey. According to the results, 35.68% of poll respondents (a pretty substantial majority) preferred hot chocolate over apple cider, pumpkin spice lattes, mulled wine, and pumpkin-flavored beer. (And FYI – nobody likes pumpkin spice seltzer.)
Still, hot chocolate on it's own doesn't seem all that autumnal, somehow. Or at least, it didn't until recipe developer Catherine Brookes of Blue Sky Eating gave it a fall-spiced makeover. As she tells us, "These spices are perfect for a hint of warmth and fall/winter flavor. Sweet and spicy with a bit of a kick from the chili!"
Gather the ingredients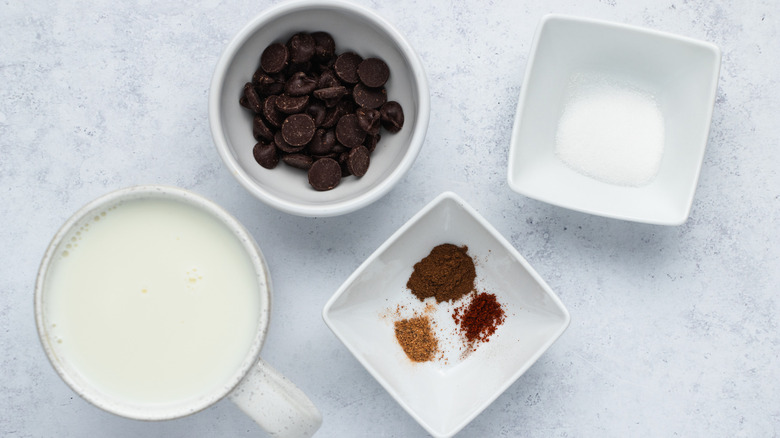 Catherine Brookes/Mashed
You don't need too many ingredients to make this recipe, just six in all. Well, seven, if you consider whipped cream or marshmallows to be essential rather than optional. It starts with milk — yes, this is the fancy kind of hot chocolate that isn't made with hot water! Once you get used to this upgrade, you'll never want to go back to those paper packets again. For the chocolate, you'll be melting chocolate chips, and if the chocolate doesn't sweeten the drink enough for you, you can also stir in an extra spoonful of sugar as Brookes does. The spices Brookes uses are cinnamon, nutmeg, and chili powder. If a single pinch of chili powder won't do, Brookes says you can always add a bit more for an extra kick.
This is a one-mug recipe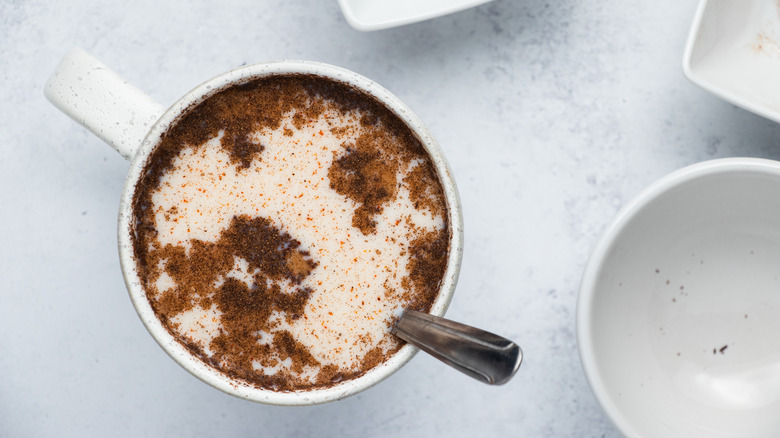 Catherine Brookes/Mashed
Not only is the ingredient list short, but so is the list of equipment needed: a mug and a spoon. That's it! Good news for anyone not a fan of dish washing (which is to say, everybody). Fill a mug with the milk, but not all the way to the brim since you'll still be adding the chocolate chips, which will take up some room (as well as the spices, which won't). Go ahead and add the rest of the ingredients, then give them a good stir.
Be careful as you heat the drink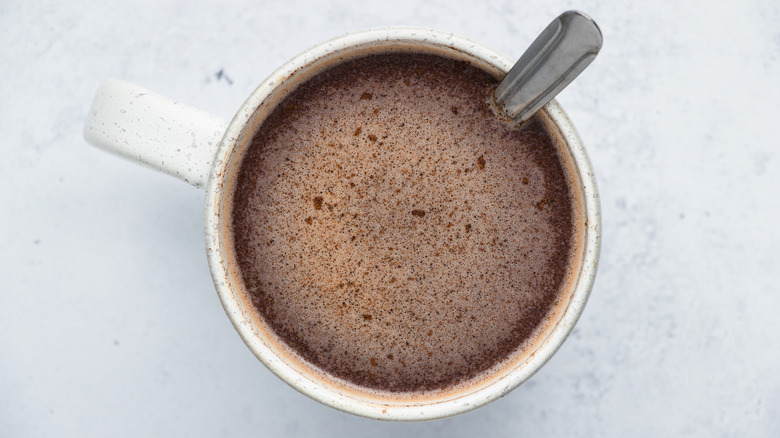 Catherine Brookes/Mashed
You'll be cooking this drink in the microwave, which is easy, but also tricky. Microwave power levels vary, and they've also been known to heat unevenly. When you're cooking something like milk, which is nasty when scorched and messy when it boils over, never turn your back on the microwave.
Heat the mug on full power for one minute, then take it out of the microwave and give it another stir. Now nuke it for one more minute, then stir it again, "ensuring the chocolate has completely melted," says Brookes. Once it's melted, your drink is ready, though you can feel free to squirt on some whipped cream or plop a few marshmallows on top, and Brookes suggests dusting it with extra cinnamon if you're a big fan of this spice. An extra sprinkling of chili powder might be nice, as well, if you're looking for something that will really warm you up on a chilly fall evening.
This recipe can stand a little tweaking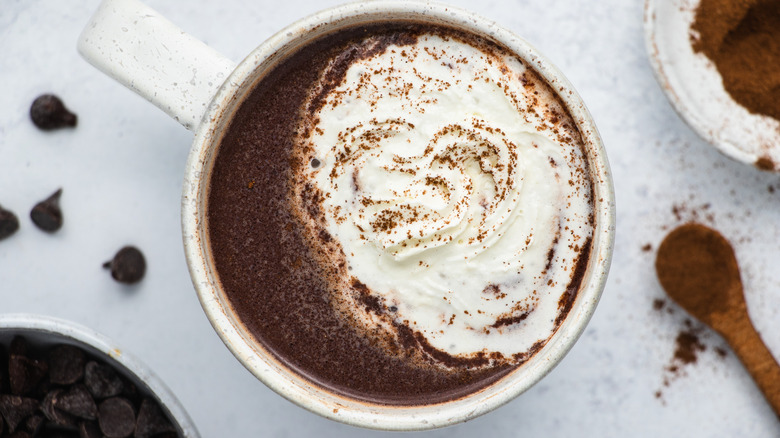 Catherine Brookes/Mashed
Brookes does suggest a few changes you can make to this recipe should you so desire. If you don't do moo juice, she says you could use non-dairy milk, while if you're a sugar-shunner, she says honey or maple syrup could work.
Another way you could give this drink an extra kick, at least if you're serving it to someone over the age of 21, is to spike it with a little bit of booze. Brookes suggests rum or bourbon, and brandy might also go well with this spicy hot chocolate. Whether you do or do not booze up your hot chocolate, though, Brookes says "It would be great with a cookie or slice of cake, or as an after dinner treat" and calls it "a comforting sweet treat that makes you feel super cozy on a rainy day."
Spiced Hot Chocolate Recipe
Warm up by the fire with this spicy hot chocolate drink, perfect for cozy fall nights and winter afternoons.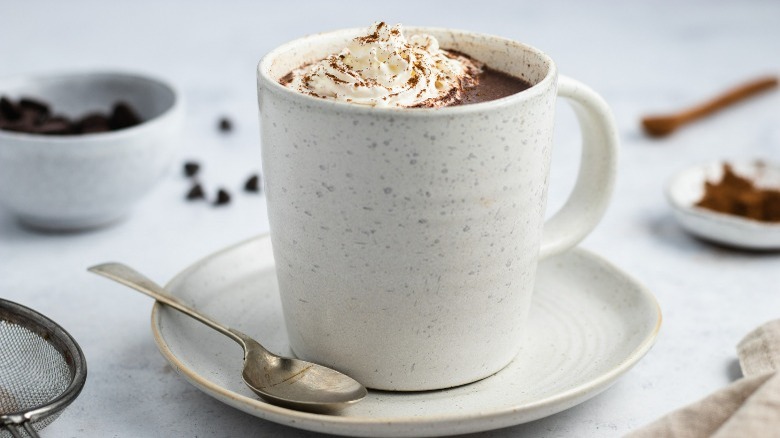 Ingredients
1 cup of milk
2 tablespoons semi-sweet (or dark) chocolate chips
¼ teaspoon cinnamon, plus more for topping if desired
a pinch of chili powder
a pinch of nutmeg
1 teaspoon sugar
Optional Ingredients
whipped cream
marshmallows
Directions
Fill a mug with the milk.
Add in the chocolate chips, cinnamon, chili powder, nutmeg, and sugar.
Microwave on full power for 1 minute, then stir.
Microwave for another minute, then stir again.
If desired, top with whipped cream, marshmallows, and additional cinnamon.
Serve immediately.
Nutrition
| | |
| --- | --- |
| Calories per Serving | 303 |
| Total Fat | 17.7 g |
| Saturated Fat | 10.2 g |
| Trans Fat | 0.0 g |
| Cholesterol | 25.1 mg |
| | |
| --- | --- |
| Total Carbohydrates | 27.0 g |
| Dietary Fiber | 2.9 g |
| Total Sugars | 22.0 g |
| Sodium | 114.4 mg |
| Protein | 9.5 g |