Fans Are Loving Gordon Ramsay's Sweet Birthday Message To Tilly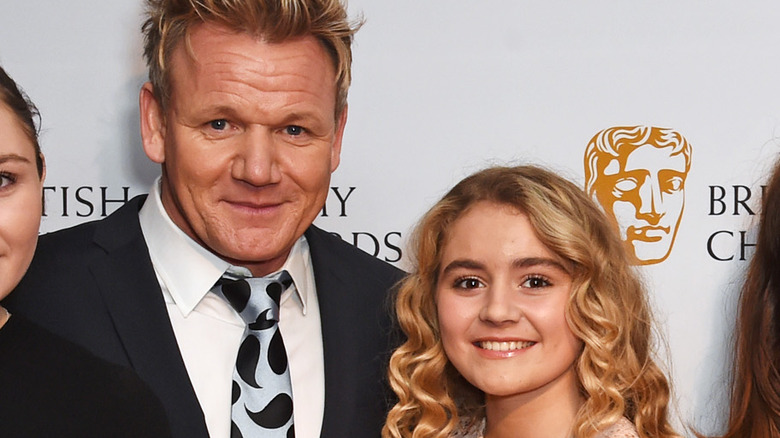 David M. Benett/Getty Images
It's been an action-packed couple of months for Gordon Ramsay's daughter Matilda, better known as "Tilly" to both Ramsay fans and fans of the breakout ballroom dance talent, herself. First, she made her ballroom dance debut on the BBC's star-studded ballroom dancing competition, "Strictly Come Dancing." Soon after, she found herself on the receiving end of a gratuitous and rather mean-spirited attack on her appearance by elderly British radio host, Steve Allen, to which the then-19-year-old Tilly clapped back with preternatural aplomb. Then Allen surprised the young woman with a private apology (via The Independent). Now — today, in fact, there is the auspicious occasion of Tilly's 20th birthday. 
Born on November 8, 2001, the talented and vivacious Tilly has officially bid her teenage years goodbye. And while fans are spinning with excitement — they did, after all, watch her grow up over the course of Gordon's television career — it might be said that no one is as thrilled as her dad, who, himself, is celebrating a milestone birthday today. Born November 8, 1966, Gordon greets his "double nickels day," as some refer to birthday number 55 (via Housewife2Hostess). And fans are just loving his sweet birthday message to Tilly, delivered with love via Twitter. 
Gordon Ramsay and his daughter share their November 8 birthday
"I can't think of a better person to share my birthday with than this adorable gracious young lady Tilly," the perennially cranky but uber-talented host of "Hell's Kitchen," Gordon Ramsay, wrote on Twitter on November 8. "Always putting others first before herself and you've grown up to become an amazing role model," Gordon continued quite gushingly on the social media platform. "Happy Birthday darling can't wait to see you very soon love you so much Dad xx," he ultimately concluded, while also posting three adorable father-daughter photos from the recent as well as the more distant past. And as much as Gordon fans might love to "take the piss" out of Gordan's well-cultivated abrasive demeanor, they are apparently bowled over by the sweetness of his birthday message to Tilly. 
Just a few hours old, Gordon's tweet has already garnered over 11 thousand likes, 236 retweets, and 33 quote tweets. And the comments could not be more enthusiastic, with fans sending along happy birthday wishes as well as commenting enthusiastically on the apparently loving relationship between father and daughter. "My favorite thing about you, chef," wrote one, "is how obviously you love your kids and how sincerely you encourage all kids to try things that they might fail at, but that it's the best way to learn. Happy Birthday to you and your wonderful daughter."