Instagram Is Loving Aarón Sánchez's Birthday Tribute To Gordon Ramsay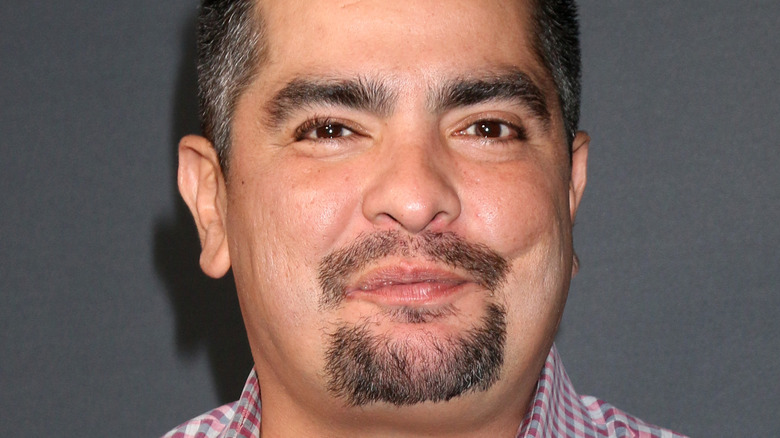 Kathy Hutchins/Shutterstock
If you've watched any of the 11 seasons of "MasterChef," then you will have witnessed the dynamics between Aarón Sánchez and Gordon Ramsey, two of the judges. They appear to collaborate well and Sánchez has regularly been vocal about his admiration for the British chef. Sánchez once told Insider that he thought of Ramsay as "probably one of the best chefs in the world." He was quick to list Ramsay's numerous qualities, noting that he viewed him as a mentor in his own career and life. Sánchez even opened up about his respect for Ramsay in an exclusive interview with Mashed, and it's clear that the two make a great team.
As one would for any good friend, Sánchez published a celebratory Instagram post in honor of Ramsay's birthday on November 8. The good vibes are palpable and he writes, "Happiest of birthdays to the fearless leader, the one and only [Gordon Ramsay]!! Love you, hermano!" The post includes three pictures, one of which showed the two chefs fighting over a jar of peanut butter. The picture is a memento from a PB & Jelly challenge on "MasterChef Junior" where Ramsay pranked Sánchez by freezing his peanut butter to slow down his sandwich-making efforts (via YouTube). During the challenge, the two are giggling and having fun like schoolboys, a far cry from Ramsay's usual on-screen presence.
Do Aarón Sánchez and Gordon Ramsay always agree?
While Ramsay is criticized by some as being a bully, Sánchez has commented that his behavior is best viewed as a direct style of communication (via Insider). And, according to one woman who commented on Sánchez's Instagram post, it is "beautiful" how the two of them "complement each other." Sánchez's fans seem to be equally on board with Ramsay and the post's comments are filled with birthday greetings for the chef.
Of course, even close friends disagree on certain matters. Earlier this year, Sánchez posted a reaction video to one of Ramsay's recipes on TikTok. Upon viewing his recipe for a Spanish-style avocado toast with chorizo and tomatoes, the Mexican chef captioned, "Hermano, I'm concerned..." Sánchez theorized that Ramsay had fallen into the avocado toast craze, adding that his citrus fruit of choice was wrong (he asserts that lime, not lemon is correct). As with any constructive criticism, he still included a positive comment, saying "I appreciate your effort trying to channel Spain and maybe Latin America but this is all kinds of wrong." He concludes by saying, "Love you, bye boss," providing evidence of the friendship and mentorship between the two.