Instagram Is Comparing Martha Stewart's Dessert To This Emoji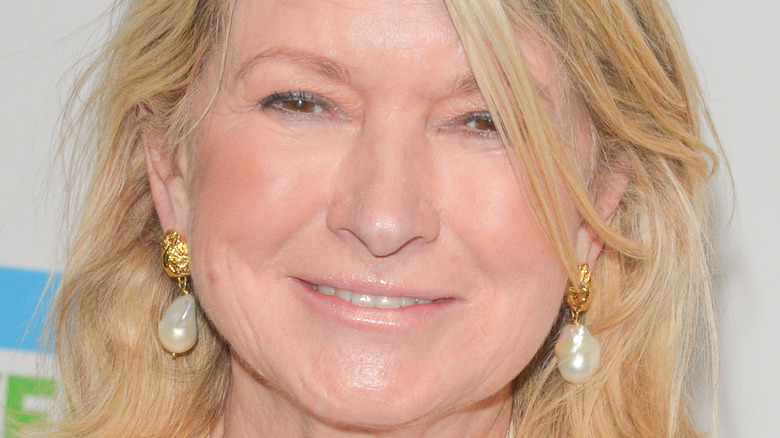 lev radin/Shutterstock
With a whopping 99 cookbooks under her belt, it's more than safe to say that Martha Stewart knows how to put together a good meal. The celebrity chef has curated thousands of recipes for all courses and occasions that were especially handy when the coronavirus pandemic hit in 2020. According to Parade, Stewart, along with her driver, gardener, and housekeeper, quarantined at her farm in Bedford, New York, where, unsurprisingly, the homemaking queen whipped up more meals than she could keep track of. "I lost count at 129 dinners," she admitted to the outlet back in March. Now, however, many restaurants are once again open for service, meaning Stewart has been able to enjoy some time off from the kitchen.
Just last night, in fact, Stewart revealed to her 1.5 million Instagram followers that she attended a business dinner at Don Angie, a recently Michelin-starred Italian restaurant located in New York City's Greenwich Village (via Vogue). "Dinner so good. Ambiance so nice A lovely evening," she captioned a set of five snaps from the night, the first of which captured her smiling for the camera with her cell phone in hand. The post also contained a few close-up shots of the tiramisu that Stewart ordered for dessert, and while we're sure it was as tasty as ever, many fans couldn't help notice how similar the sweet treat looked to one particular emoji.
Fans think Martha Stewart's dessert looks like this unfavorable icon
As with many of her Instagram posts, Martha Stewart's latest update received plenty of attention. Along with more than 11,700 likes, the carousel of photos has received dozens of comments from followers like @chummywithfood, who said they "Love Martha and her style." The "Chopped" judge was certainly dressed to impress for the evening in a camel-colored sweater dress and a slew of gold jewelry, though her look wasn't the only thing that caught people's eyes. Many were infatuated with the dessert she had ordered for the evening, and, more specifically, how similar it looked to a slightly unfavorable emoji.
"Uh girl, that's the 💩 emoji 🤣🤣🤣," one Instagrammer commented. "Funny presentation, but I'm here for it," said another fan. User @juliamkelly74 was a bit thrown off by the look of the dessert as well. "I thought that was a joke poop cake for someone's birthday," they admitted.
Based on the current menu listed on Don Angie's website, Stewart's dessert from last night appears to have been the Black Cocoa Tiramisu. The dish is described as having marsala caramel and crispy feuilletine, which certainly sounds delicious. However, with the combination of its swirl shape and a dusting of cocoa powder on top, we can also see where people are finding a resemblance to the icon that Emojipedia says is called the "pile of poo" emoji. Though that may be unfavorable to some, we trust Stewart's judgment of sweet treats, and can only assume this dish tasted better than it looks.