Instagram Is Dying Laughing Over Martha Stewart's Latest Photo Crop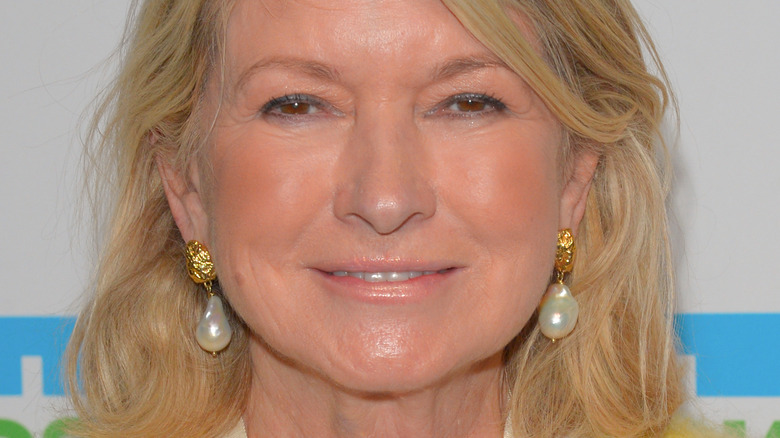 Ron Adar/Shutterstock
Lifestyle expert Martha Stewart knows a thing or two when it comes to photography, per Bloomberg. The outlet asked the media mogul to share her best tips she uses when posting on her personal Instagram account, @marthastewart48, back in 2015, which Stewart was more than happy to oblige, especially since she had recently taken all the photos for a book on gardening. One of her big tips is having everyone look at the camera. Stewart wrote, "I insist that my subjects look directly into the camera. Personality is all in the eyes — and that doesn't just apply to humans."
Well, recently the woman who gave us the "Martharita" during quarantine was attending the Wall Street Journal Magazine's Innovator Awards in New York City where the likes of Kim Kardashian and Aviation Gin's Ryan Reynolds were being honored (per the Wall Street Journal). Stewart shared some of her photos with her social media followers, but Entertainment Tonight Canada noted that some of her fans are wondering if she followed her own photo-taking tips. However, Stewart, always the epitome of grace, is taking the criticism in stride and giving us even more laughter with her screenshot share of herself, alongside WSJ innovator honoree Lil Nas X and journalist Derek Blasberg.
Martha Stewart left the tags showing
Martha Stewart took a screenshot of Derek Blasberg's post from the evening and shared it on her personal Instagram account, tags and all. Justin Mikita summed up the hilarious vibe of Stewart's Instagram screenshot perfectly, writing, "My favorite Martha photos are screenshots with the tags showing!" Instagrammers playfully joined in, with one writing, "We gotta teach you how to crop photos, Martha." Still another follower wrote, "I don't care what they say Martha, this was the best way to post!" And the Wall Street Journal Magazine simply responded using a smiling emoji with heart eyes. With more than 18k likes, this post was clearly an absolute success, with Stewart at her best, waving her hand at social media's obsession with the perfect pic.
We also love that Stewart keeps things real and authentic. Per Entertainment Tonight Canada, during an appearance on "The Drew Barrymore Show," Stewart confirmed that she does not do "fake" photos. Additionally, she offered Barrymore's viewers this sage advice: "And never post an ugly picture or unfortunate picture of any of your friends either. Always post nice pictures of your friends then they'll post nice pictures of you. So you always look good and nobody knows that sometimes you can look bad." Amen.