Everything We Know About Martha Stewart's Newest Cookbook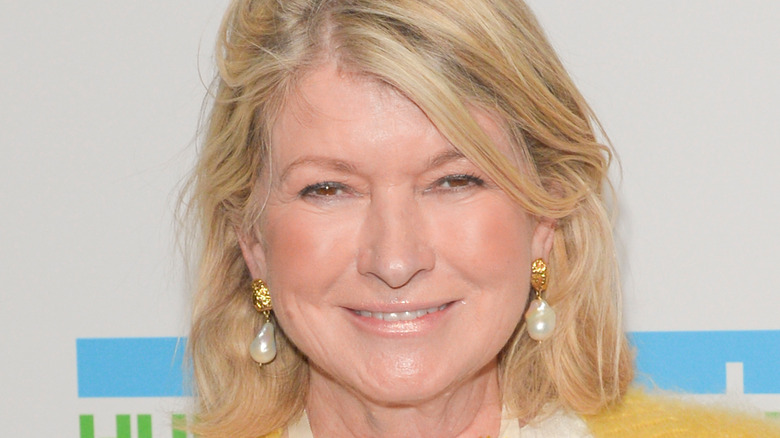 Shutterstock
Martha Stewart fans have a lot to be excited about. The home guru and celebrity chef just launched her 99th cookbook, which is quite an accomplishment to celebrate (via Delish). The official Instagram account, @marthastewart, recently shared a photo of her latest cookbook that received nearly 5,400 likes within a day. It seems her beloved followers cannot wait to add this one to their bookshelves and try out some new recipes. 
The caption read, "@marthastewart48's got something sweet on the way! Introducing Fruit Desserts, our founder's 99th book, now available to pre-order. Bursting with 100+ delicious recipes that highlight peak fruits of each season, you'll find desserts for every mood and palate, whether you're craving the cozy comforts of an old-fashioned classic or seeking to try something new." Fans are already going crazy for the pre-order of the fruit-filled dessert cookbook, which will be the perfect addition for summer parties.
This is what fans are saying about Martha Stewart's new cookbook
In fact, the cookbook includes more than 100 recipes that focus on "warm-weather dessert," according to Delish. So, there's no doubt this will be a summer filled with show-stopping fruity sweets in anticipation of this new addition to her cookbook collection. Unfortunately, you'll have to dream up your own fruit desserts like cakes, tarts and galettes this year. The cookbook will not be available until September 28 assuming you pre-order now. That means you'll have to look forward to using this must-have cookbook next summer. 
Even though they'll have to wait some time yet, fans are so excited for this new release. One person commented on the @marthastewart photo saying, "So stunning." Another wrote, "This is art!" One more showed their support commenting, "We love you martha! Amazing as always." Many fans were just ready to get their order placed to reserve a book. One wrote, "Need it!" While someone else simple said, "Ordered!" Clearly, this new cookbook is going to sell out quickly, so go ahead and pre-order today.