Instagram Is Cracking Up At This Angry Photo Of Gordon Ramsay's Son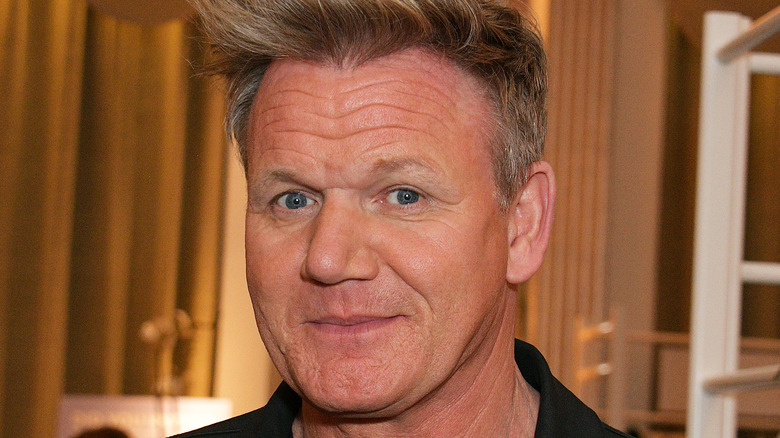 David M. Benett/Getty Images
As is customary for the chef, Gordon Ramsay recently shared a picture of his two-year-old son, Oscar Ramsay, on Instagram. Oscar's hair was tied up in the tiny toddler equivalent of a top knot. However, his cool hairdo was not the focus of the picture. Instead, all attention was on Oscar's face, which was scrunched up into an expression of extreme disapproval. As Ramsay put it, "Somebody's not happy with his hair up......"
Instagram is loving it, granting the proud pop's upload more than 100,000 likes as of this writing. Moreover, everyone is gushing about how much a disgruntled Oscar looks like a certain famously irked television chef. "Gordon is that you," one asked. "Looks like his dad when angry," another noted. A third described the image as, "This meat is so raw it's still singing hakuna matata," referencing one of Ramsay's best-known insults. And, of course, there was the usual chorus of coos over how adorable the little child is.
People can't believe how much Ramsay and Oscar look like
Perhaps the most amusing aspect of Ramsay's Instagram post is that it marks the second time this week alone that the internet has realized just how much the chef and his youngest son look alike. Earlier this week, the doting father shared another picture of Oscar on Instagram, in which he wore a red sweater over a white button-up shirt, with the caption explaining, "Dressed in my Sunday Best." 
That time, too, comments quickly popped up about how similar the pair looks. "All I can hear looking at him is "Its RAW," one admitted. "Where's the lamb sauce," another imagined little Oscar yelling. In fact, the lamb sauce joke appears regularly in pictures of Oscar. In another photo uploaded onto Oscar's family-run account, he is having his hair blow-dried while wearing yet another sour look. His expression prompted someone to describe how "the kid's like 2 and already wondering where's the lamb sauce." If Oscar really wanted to, he could probably grow up to become an excellent parody of his dad. Judging from the general consensus about how much he resembles his famous father, it's safe to say there could be a ready audience.