Papa John's Wants To Elevate Your Pizza Experience With Its New Tableware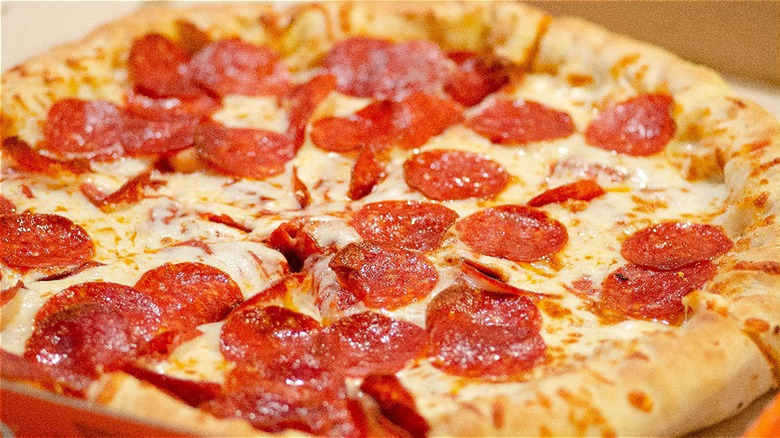 Alan Hardman on Unsplash
Fans of Papa John's new BaconMania menu are in luck: the chain just debuted a new, bespoke set of tableware — tailor-made for BaconMania menu items. Arriving just in time for Thanksgiving, the limited edition BaconMania Collection promises to "elevate" any Papa John's pizza experience.
Papa John's described the new merch in a press release shared with Mashed. The BaconMania Collection covers all of your pizza-night serving ware needs and includes a pizza pedestal, four plates ( "worthy of even your grandma's china cabinet"), and a gravy boat. The pedestal offers a perfect fit for the BaconMania Triple Bacon Pizza, and the gravy boat is an ideal container for Papa John's fan-favorite garlic sauce. 
With a green and gold color scheme, BaconMania tableware is decorated with a fun, holiday-themed version of the Papa John's logo — plus images of pizza, bacon, and garlic cloves. Papa John's BaconMania menu sounds perfect for a holiday gathering packed with bacon and pizza lovers — and its new tableware is the perfect way to take that holiday gathering up a notch.
The limited-edition tableware will be given away in a national sweepstakes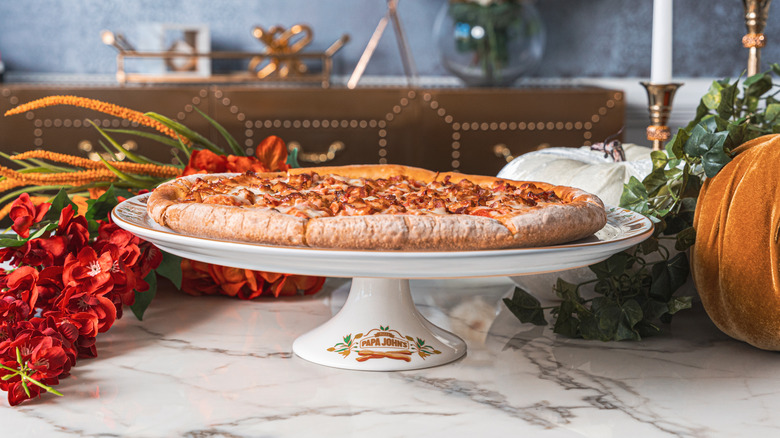 Papa John's
As explained in a press release received by Mashed, Papa John's is giving away the BaconMania Collection in a national month-long sweepstake — the Papa John's BaconMania Sweeps. Per the Papa John's website, fans of the brand can enter the giveaway with the purchase of any one of Papa John's three BaconMania menu items — either the Triple Bacon Pizza, the Smoky Bacon Parmesan Crusted Papadia, or Bacon Jalapeño Popper Rolls. 
Purchases must be made on the Papa John's app using Papa Rewards. So if you don't have a rewards account, your first step is to get one. As noted in the sweepstakes' official rules, the number of grand prizes is limited to 75. So if you do manage to get your hands on the Papa John's BaconMania Collection, you'll be in possession of a truly limited-edition collectible.
Papa John's isn't the only fast food chain offering seasonal merchandise this year. KFC recently announced a new thread-knit "bucket cozy" – officially known as the Finger Lickin' Chicken Mitten Bucket Hugger on its Instagram account (no word yet on the chain's infamous "Firelogs"). Popeyes, meanwhile, brought back its fan-favorite Cajun Style Turkeys in mid-October (via USA Today).