Emeril Lagasse's Ultimate Secret Ingredient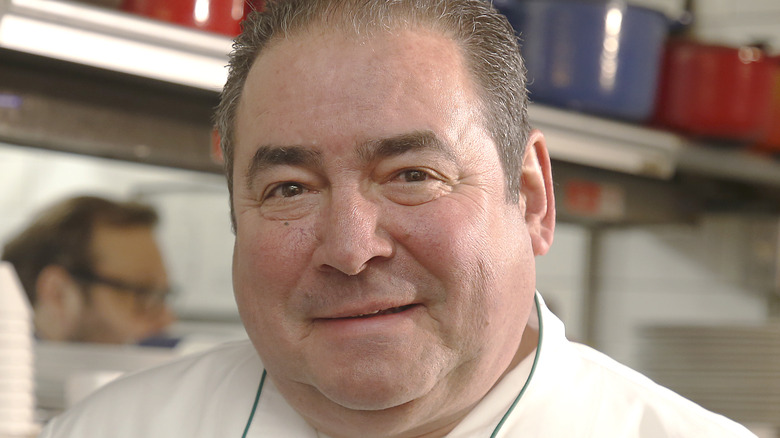 John Lamparski/Getty Images
When the name Emeril Lagasse comes to mind, you can't help but want to shout his iconic catchphrase: "BAM." The celebrity chef placed a spotlight on Cajun cooking and New Orleans cuisine despite his New England upbringing in Fall River, Massachusetts, where he lived with his French-Canadian father and Portuguese mother (per Biography.com).
The food bug bit Lagasse as a teenager working at a Portuguese bakery. Pursuing his passion for cooking, Lagasse enrolled in the culinary arts program at his high school and never looked back. In 1982, Lagasse found himself as head chef of the famed Commander's Palace in New Orleans, which also happens to be where "Chopped" judge Marc Murphy had his most memorable meal. Commander's Palace is a restaurant where diners can enjoy gumbo, the official Louisiana dish, or Creole bread pudding soufflé, aka, "The Queen of Creole Dessert" (per Commander's Palace).
Today, Lagasse is still cooking up a storm, and his son EJ is following in his footsteps, although he admits to changing up some of Lagasse's original recipes with more of a French twist (via Rachael Ray). However, EJ's style doesn't stop the James Beard Award-winning chef from using his favorite spice, even on Thanksgiving, as he tells New York Lifestyles Magazine, "A savory bread pudding makes a great side dish. I also like vegetable soup. And why not try beignets for dessert?" So, what's Lagasse's ultimate secret ingredient when he wants to "kick it up a notch" for these recipes?
Lagasse's secret ingredient has a kick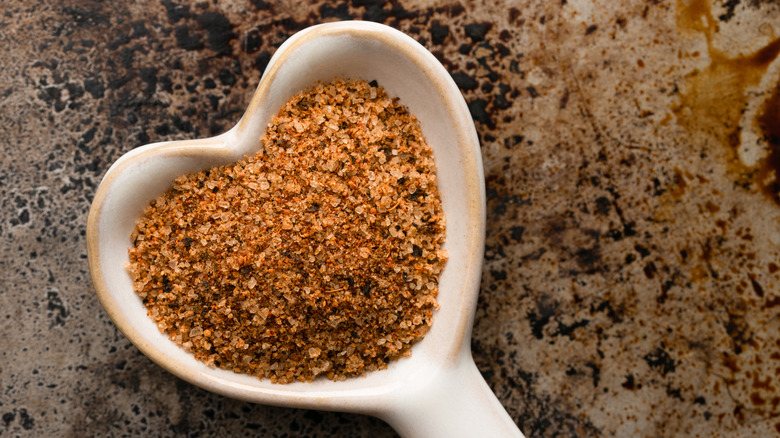 Michelle Lee Photography/Shutterstock
Lagasse told Food Network that Creole seasoning is his BFF when he is making his magic and adding that special touch to a dish. He said of the seasoning, "It's my best friend in the kitchen. It's the perfect blend of salt, peppers and other herbs and spices and makes for a one-stop seasoning shop." There must be something to it, because in 2018, Food & Wine named Lagasse's Shrimp Creole recipe one of their 40 best, noting that the seasoning was an integral part of the dish.
What makes this ingredient so fantastic is the fact that you can easily create a DIY version with seasonings and herbs you already have in your spice cabinet. Per Gumbo Pages, Lagasse's Creole seasoning is a blend of paprika, salt, black and cayenne pepper, garlic and onion powder, along with some oregano, and thyme. Chili Pepper Madness shares that Creole seasoning is one that is easy to customize. To create this flavor enhancer, you can add or subtract to mix-up a blend that is uniquely fit for your palate. The Grill Seeker notes that it should have a little bite to it, but the intensity of that bite is up to you. The blogger also focuses on the versatility of this seasoning, offering that it is just as good on popcorn and homemade apple chips as it is on your favorite cut of beef, pork, or chicken.