Cajun Stuffed Mirliton Recipe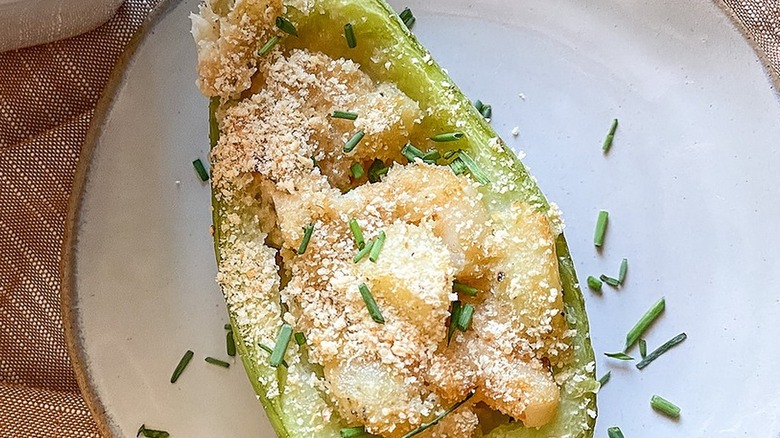 Kristen Carli/Mashed
Who doesn't love a good Cajun recipe? There's just something about a Cajun meal that is so delicious and, for many of us, it's a staple from childhood. These Cajun stuffed mirliton are filled with shrimp and crab meat, then sprinkled with a melody of spices that take the dish to a wonderful, spicy, and downright delicious level. Recipe developer Kristen Carli is known for coming up with some of the most innovative and tasty recipe and this one is no exception. "This recipe is a great meal for a crowd," Carli says. "It's involved and impressive."
If you are a newbie to mirliton, we think you've been missing out! "Mirliton are the same as chayote squash," Carli explains. "I found [them] at my local Food City." According to The Kitchn, the mirliton is a member of the gourd family, technically making it a fruit. They've also dubbed mirliton "the unofficial squash of New Orleans," so naturally, mirliton are great options when it comes to Cajun cooking. Trust us, it tastes incredible and it pairs really well with seafood. Keep scrolling to find out how to make this fantastic dish!
Gather the ingredients to make Cajun stuffed mirliton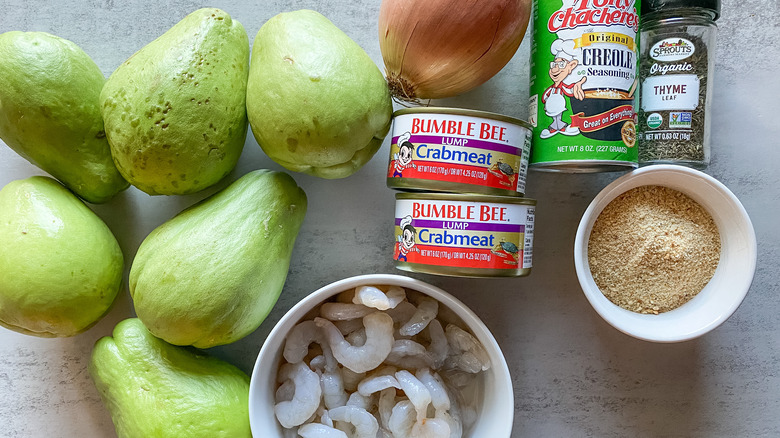 Kristen Carli/Mashed
Are you ready to start the prep work? If so, grab your keys and head to the grocery store. You will need to fill your cart with plenty of goodies so it's best to make a list ahead of time. Start with a few mirliton, and be sure to get some olive oil. You will also need one other thing from the produce section — a yellow onion. Next, hit up the spice aisle and get some dried thyme, salt, pepper, and some Cajun seasoning.
Then, head to the seafood aisle and grab small, peeled, and deveined shrimp. This will make it a lot easier on you so you don't need to peel, which can be a super time-consuming task. You will also need a can of lump crab meat, and finally some bread crumbs.
Preheat the oven and boil mirliton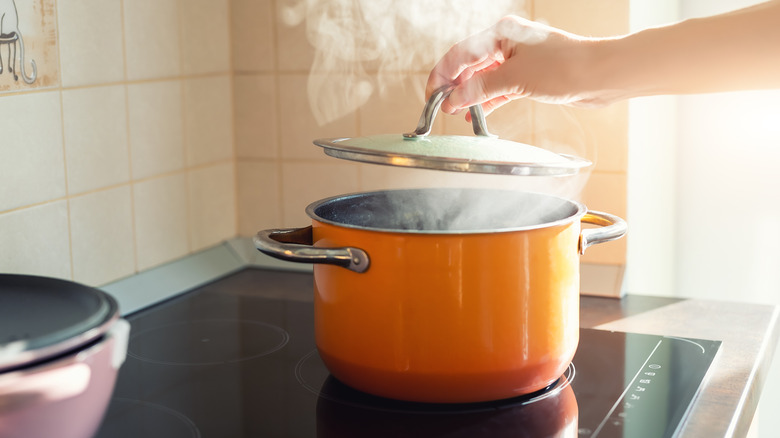 Gorlov-KV/Shutterstock
Since you will need to use your oven for this recipe, crank it up to 350 F. That way, it allows you a lot of time to prep the rest of the dish while the oven preheats. In the meantime, grab a large pot and fill it halfway with water. Bring the water to a boil and once it starts to bubble, add the whole mirlitons. Lower the mixture to a simmer and cover with a lid. This helps trap the heat, thus allowing the mirliton to cook faster. Let the squashes simmer for about 45 minutes, which is just enough time for them to soften up. 
Cut the mirlitons and scoop out the flesh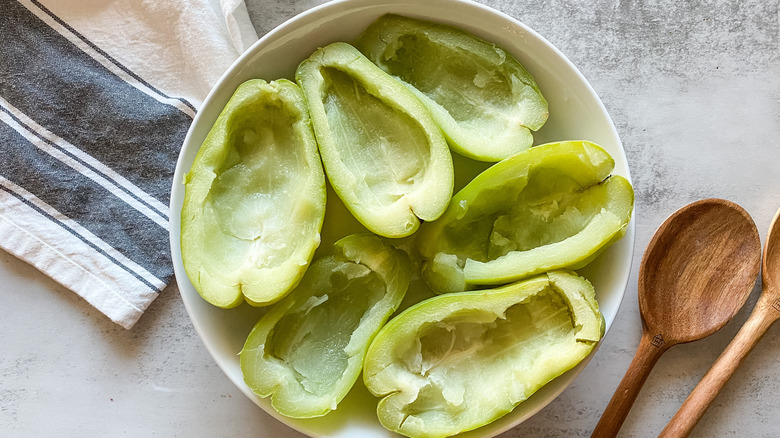 Kristen Carli/Mashed
Once your 45-minute timer goes off, remove the mirlitons from the water. You can get them out using tongs or drain them in a colander. Once they are cool enough to work with, place the mirlitons on a cutting board and cut each one in half. Remove the seeds from the center and then scoop out the flesh. Be sure to leave the skin intact and create a boat, much like you would for potato skins. Place the empty boats in a large baking dish and move the flesh to a cutting board. Roughly chop it and place into a bowl, then set it aside. 
Make the filling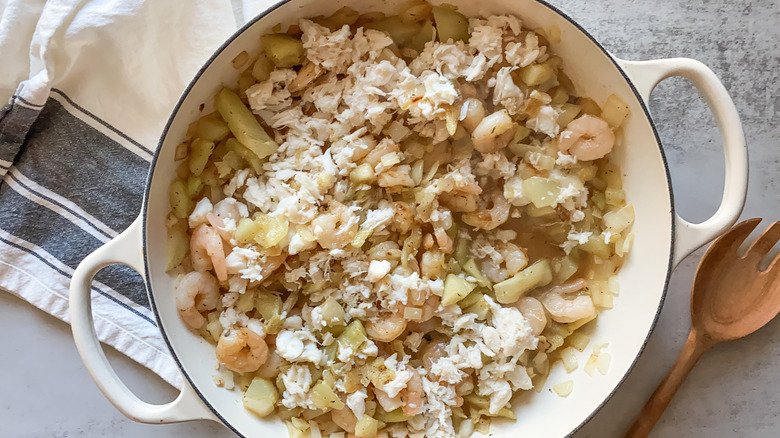 Kristen Carli/Mashed
Now, it's time to finish the filling, and this requires a little bit of cooking. Take out a large skillet and place it on your stove. Crank up the heat to medium and drizzle in the olive oil. Next, add the onions and continue sautéing them until they turn translucent, much like you would with any other recipe. This will only take about eight minutes or so. Now, add the mirliton flesh, shrimp, thyme, salt, pepper, and Cajun seasoning. Stir and continue cooking until the shrimp turn pink. Remove the pan from the heat and add in the crab meat. Stir everything again to combine. 
Bake the stuffed mirliton and enjoy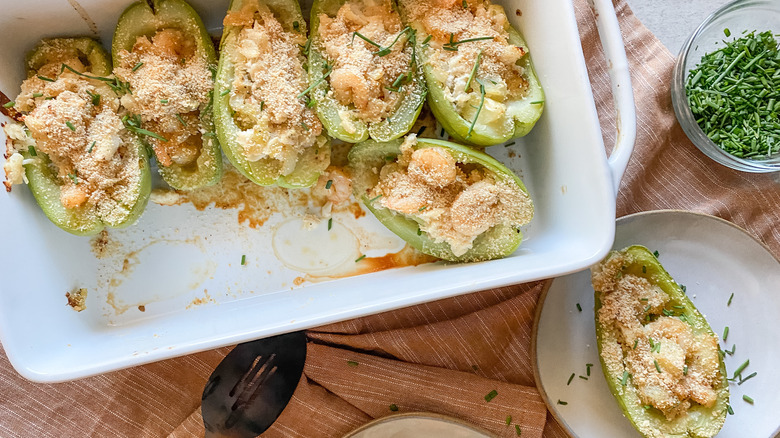 Kristen Carli/Mashed
Once you finish the filling, there is still one more step you need to take. Scoop the shrimp mixture into mirliton boats. Try to divide the mixture as evenly as possible between the 12 skins. Then, top with breadcrumbs and bake for 30 minutes.
After that, take the dish out of the oven and serve as you wish. These are plenty filling as a main course, but they would also be great as an appetizer for a crowd. "I recommend serving these with a side of potato wedges and salad," Carli suggests. As for leftovers? Sadly, they're a no-go. "Leftovers do not keep," Carli says. However, considering how delicious these Cajun stuffed mirlitons are, it won't be too hard to eat them all up in one sitting!
Cajun Stuffed Mirliton Recipe
Wow the guests at your next dinner party with this easy yet impressive recipe for Cajun stuffed mirliton.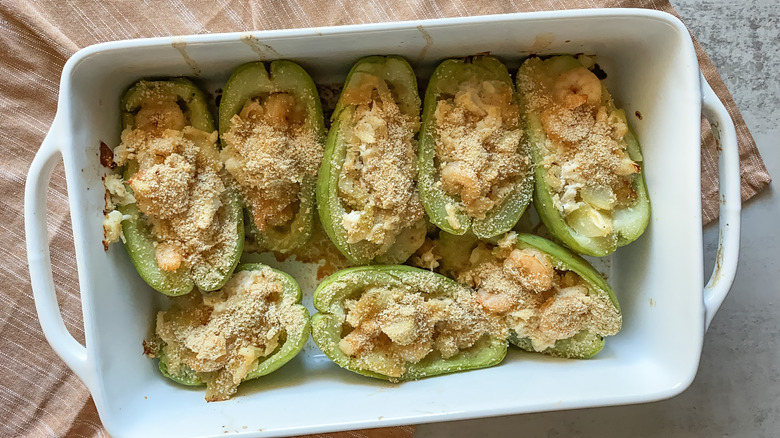 Ingredients
6 mirlitons
1 tablespoon olive oil
1 yellow onion, diced
½ teaspoon dried thyme
1 teaspoon salt
½ teaspoon pepper
1 tablespoon Cajun seasoning
1 pound small shrimp, peeled and deveined
2 (6 ounces) cans lump crab meat
¼ cup bread crumbs
Directions
Preheat oven to 350 F.
In a large pot, add water about halfway. Bring to a boil. Add the whole mirlitons, lower to a simmer, and cover. Simmer for 45 minutes.
Remove the mirlitons from the water. Cut them in half, remove the seeds, and scoop out the flesh, creating boats.
Place the empty boats into a large baking dish. Move the flesh to a cutting board. Roughly chop it up, place it in a bowl, and then set aside.
In a large skillet over medium heat, add the olive oil. Add the onion and saute until translucent, about 8 minutes. Add the mirliton flesh, shrimp, thyme, salt, pepper, and Cajun seasoning. Stir and cook until the shrimp is pink. Remove the pan from heat, add in the crab meat, and stir.
Scoop shrimp mixture into boats and top them with bread crumbs.
Bake for 30 minutes and then serve immediately.
Nutrition
| | |
| --- | --- |
| Calories per Serving | 75 |
| Total Fat | 1.9 g |
| Saturated Fat | 0.4 g |
| Trans Fat | 0.0 g |
| Cholesterol | 75.1 mg |
| | |
| --- | --- |
| Total Carbohydrates | 3.3 g |
| Dietary Fiber | 0.4 g |
| Total Sugars | 0.6 g |
| Sodium | 390.6 mg |
| Protein | 10.7 g |