The Real Reason Betty Buzz Mixers Mean So Much To Blake Lively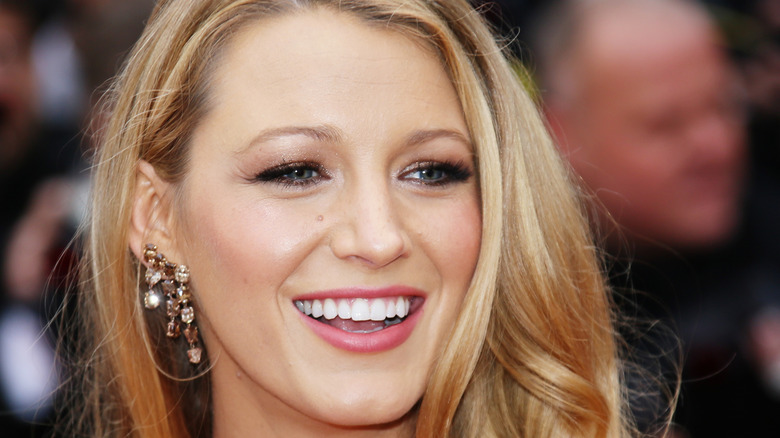 Denis Makarenko/Shutterstock
Actress, mother and entrepreneur Blake Lively has recently launched her own drink mixer brand, called Betty Buzz. She's no stranger to campaigns and partnerships, but launching her own company and creating these mixes is something completely new and different for the actress because "it allowed her the ability to take full control this time around," according to People.
You may assume that Lively must have favorite cocktails that she always orders. Or that she was inspired to create this brand based on her preferred alcoholic beverages. But the truth is, she doesn't drink alcohol. She acknowledges that it may be strange, considering her husband, Ryan Reynolds, is the public face of Aviation Gin (per Insider). She told Delish, "I know that's odd coming from the wife of an infamous gin-slinger."
She's the first to say it — that it may seem strange and unexpected that she created a line of drinks that are for mixing. She told People, "It's a mixer, but I'm the one person who doesn't drink, and I have a mixer." Launching her own mixers line has been important for her in an unexpected way.
Her bubbly creation is well-received
Lively is no stranger to working on partnerships, projects, and campaigns throughout the years. Most fans will know her as the ambassador for high-end fashion brands Chanel and Gucci (via Vanity Fair). Creating Betty Buzz has been something completely new and exciting for the actress.
In an interview with People, she said, "to have a company that's my own, that I founded, and that I really believe in — with everything from the bottle to what's inside — be something that I can claim as my own work, it's a very different thing than just signing your name onto a business that exists so that somebody else can do the job." 
Lively is fully involved in the business, and that definitely changes how she feels about her new entrepreneurial endeavor. Apart from being excited for this new creation of hers, she's been pleasantly surprised and flattered that there has been so much support for Betty Buzz, according to People. She said, "It's been neat to see how many people have come out and embraced it." So even famous actresses who may seem like they have it all, still have their concerns and worries that their creations that they share with the world may or may not be well-received.