Here's What Happened To Define Bottle After Shark Tank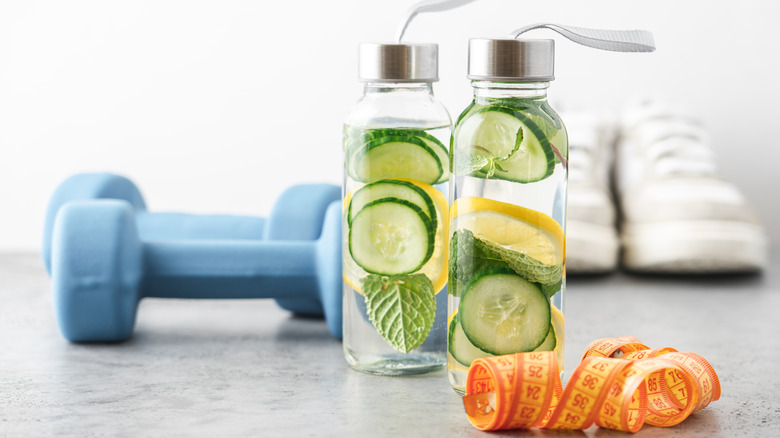 Anna Puzatykh/Shutterstock
When 15-year-old Carter Kostler presented his Define Bottle to the investor panel on "Shark Tank," it appeared that the young entrepreneur may have created a hot product (via Shark Tank Blog). His invention featured a water bottle with a compartment for fresh fruit that allowed the produce to naturally infuse into the water. The bottle's two chambers were separated by a filter. Kostler intended to market the product to kids and to help get people to drink more water instead of soda.
Shark Tank Success reports that the young entrepreneur did his research right and impressed the Sharks with his pitch. Kostler asked for a $100,000 investment in exchange for a 20% equity stake in the product. By the time he appeared on the show, the Define Bottle had an initial valuation of $500,000, and Kostler had made $65,000 in the first four months of selling the bottle. But negotiations took a sudden turn after the sharks learned that Kostler's parents had taken out a $300,000 home mortgage to help their child finance his business venture. Ultimately, Kostler failed to secure a deal with any of the investors. However, the setback didn't stop the young entrepreneur, who found another avenue to make the Define Bottle work.
Kostler has pursued a different path
After losing his investment opportunity on "Shark Tank," Kostler didn't give up, per Shark Tank Success. Despite not receiving a deal, Kostler exposed thousands of viewers to his invention through the show, and the Define Bottle made more than $250,000 after the episode aired. After cold-calling several companies, Kostler got the bottle into regular inventory at Target and Dick's Sporting Goods. Thankfully, Kostler was able to pay his parents back for their mortgage, and by 2015, his company was projected to generate $2 million in sales.
However, according to Shark Tank Blog, Kostler decided to pull the plug on his business in 2016 and now serves in the U.S. Marines Corps. Nowadays, Define Bottle are not officially sold online any longer and it looks like Kostler doesn't plan to bring the creation out of retirement anytime soon, as an article by 2paragraphs suggests.
What's to come for Carter Kostler?
According to his Twitter account, Kostler debuted a sister company to Define Bottle, Mason Infuser, in 2017, which 2paragraphs reports was the result of a Kickstarter campaign. But as of this writing, the website is down. In 2017, Kostler discussed his decision to join the Marine Corps, where he serves in the Amphibious Assault Vehicle Fleet (via Shark Tank Blog), in a search for greater purpose in his life and plans for future business endeavors, whether those opportunities be related to water bottles or not (via YouTube).
While Kostler said in the 2017 interview that he loves entrepreneurship and values his experience creating Define Bottle, he's ready to explore new ventures — even if in the corporate world. "I definitely want to move on to more projects. Maybe work with a company, see what I can contribute, see what I have to learn. I'd absolutely love to just continue running a business, being part of a business, maybe dipping my hands in a bunch of different projects," Kostler said (per YouTube).