Kourtney Kardashian Loves Fiancé Travis Barker's Gas Station Snack Pics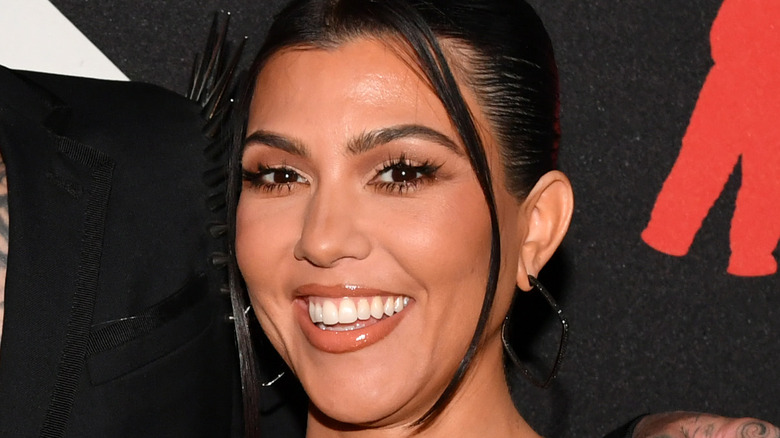 Jeff Kravitz/mtv Vmas 2021/Getty Images
As a couple, Travis Barker and Kourtney Kardashian are definitely making waves and getting plenty of attention from fans. According to US Weekly, the pair is known to feast on vegan food options. Per Poosh, Kardashian is sticking to a meat-free diet in a bid to do her bit for the environment. She was also candid enough to mention that she found it tough to adjust in the beginning and craved a "baked crab handroll" every evening. 
Kardashian wasn't rigid with her plan and let herself eat meat in moderation until she felt ready to switch completely to an eating plan sans meat. Nevertheless, she managed to adapt really well to vegan options, and it seems like her fiancé is equally enthusiastic about eating meat-free dishes.  As per his latest Instagram post, Kardashian is a big fan of Barker's food options.
She's impressed with her beau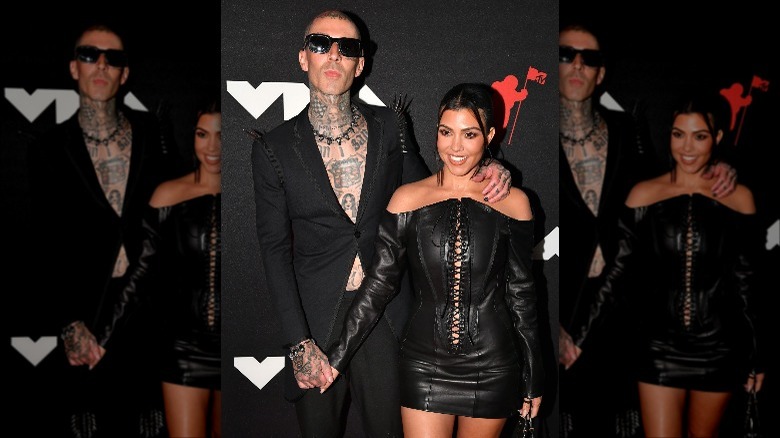 Jeff Kravitz/mtv Vmas 2021
Travis Barker posted several photos of himself on Instagram at a gas station with the caption, "I'm all lost in the supermarket." Well, Kourtney Kardashian definitely approves of his snacking choices. She wrote, "Obsessed with you and all your vegan stuff." Barker was looking at a bag of Lay's chips, by the way. As per US Weekly, these are perceived to be a safe choice for those following the vegan diet. Travis Barker turned to veganism after he was involved in a plane accident in 2008. He told GQ, "I had a conversation with one of my friends about how it was hard to find vegan options, and he said, 'Why don't you make your own?'"
Barker eventually did discover his food preferences in terms of vegan food and is now partial to vegan pizza, vegan sushi, vegan Vietnamese food, and more. The eating plan works for him and keeps him energetic all day (via Men's Journal). He added that vegan food has become much more accessible now and said he keeps snacks with him at all times. "For snacks, I will eat a lot of strawberries, blueberries, and acai berries. I find myself eating plates of broccoli or cauliflower at times," he said.