Here's What Travis Barker Really Eats In A Day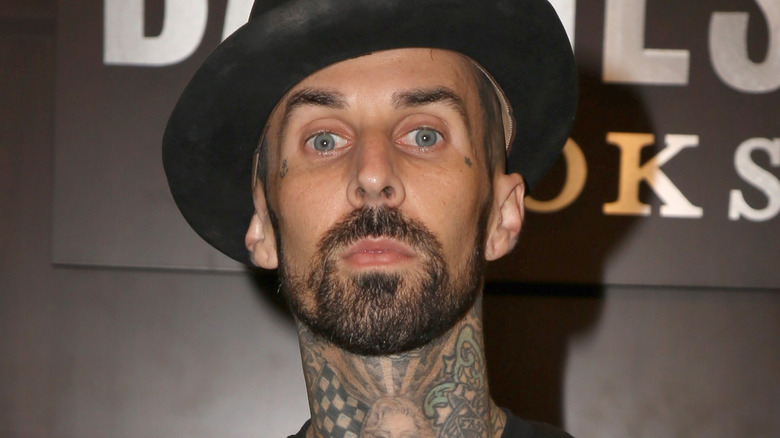 Kathy Hutchins/Shutterstock
With their "Food Diaries: Bite Size" web series, Harper's BAZAAR gets all the dirt on what a typical day of eating looks like for many different celebrities, from musicians like Grimes to actresses like Awkwafina. The daily run-down looks dramatically different from person to person, with some favoring home-cooking while others dine out all the time, some preferring structured plans where they eat similar things on a regular basis and others approaching their daily nourishment with a more spontaneous attitude. One of the latest stars to share their typical diet is drummer Travis Barker, who most will know best from his many years with the band Blink-182 — although some reality television lovers may recognize him as Kourtney Kardashian's boyfriend (via Us Weekly).
Barker names Los Angeles as his favorite food city, and he doesn't seem to do much cooking at home, instead preferring to grab his meals from various spots in the city (via YouTube). As is the case for many caffeine lovers, he kicks off his day with some coffee or matcha. Though his typical cup is either black coffee or espresso, he sometimes ventures into oat milk vanilla lattes or matcha with oat or coconut milk (and occasionally an extra jolt of espresso tossed into the matcha mixture). He follows a vegan diet, and seems to love comfort food. His ultimate breakfast choice is vegan chicken and waffles, with a vegan sausage and egg English muffin sandwich coming in a close second.
Travis Barker travels around L.A. for lunch, dinner, and dessert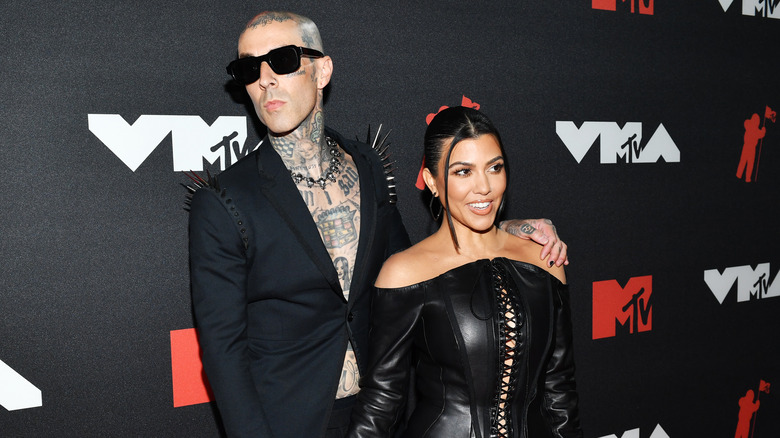 Noam Galai/Getty Images
Barker's lunch destination of choice is the Erewhon Market, where he orders meatless beef and broccoli with a turmeric smoothie (via YouTube). He ventures out for dinner as well, grabbing vegan sushi from spots like Nobu or Matsuhisa, or vegan Italian dishes from Crossroads Kitchen, such as pasta bolognese, pizza, calamari, caesar salad, or artichoke oysters, a dish that uses artichoke puree and oyster mushrooms to recreate the oyster experience in a vegan way. While he doesn't avoid gluten as strictly as he avoids animal products, he typically steers somewhat clear because, as he told Harper's BAZAAR, it "doesn't make [him] feel the best."
Post-workout, Barker loves to whip up a protein shake (one of the few meals he cooks at home) with plant-based protein powder, non-dairy milk, and a few additions such as flax seed, flaxseed oil, cinnamon, dates, and banana. Throughout the day if he gets peckish, he snacks on items like almonds, pistachios, bananas with almond butter, and avocado smoothies.
And, if you were thinking that he's the type to skip the dessert course, think again. By his own admission, he loves desserts, and has a few favorites from his frequently visited spots including the decadent sundae from Crossroads Kitchen, the coconut sorbet from Nobu, and the shaved ice dessert from Matsuhisa. It seems he prefers his sweet treats frozen.