Trader Joe's Fans Are Freaking Out Over Its Mini Gingerbread Cookies
As the hot cocoa starts to fill coffee mugs and the holiday decor begins to deck the halls, another Trader Joe's holiday favorite has been spotted on store shelves. According to Instagram account @traderjoesnew, the always popular mini gingerbread cookies have returned. Considered a holiday fan favorite, the cookies are shaped to look like mini gingerbread people. White chocolate fudge is used on the front and back of the cookies, and that little touch of sweetness is just as enticing as the dapper bow ties on each of the holiday treats.
As seen in various Instagram comments, many people are dashing to the store to purchase a box or two. From @targettakesmypaycheck saying "My fav every year!" to @jordansparages commenting "I remember almost eating the entire box in one sitting. These are way too addicting," these desserts might be gone before Santa starts to make his holiday cookie wish list. Listed as part of Trader Joe's "Deck the Halls with Sweets and Sundries" holiday guide, the classic gingerbread cookies have been a favorite for many years. Whether eaten by the handful, enjoyed on a holiday cookie plate, or even incorporated into a holiday charcuterie board, there are plenty of uses for these cookies. Although many people are getting that stand mixer ready for all the holiday baking, these Trader Joe's cookies are the tasty solution to any kitchen catastrophe.
What makes the Trader Joe's mini gingerbread cookies so enticing?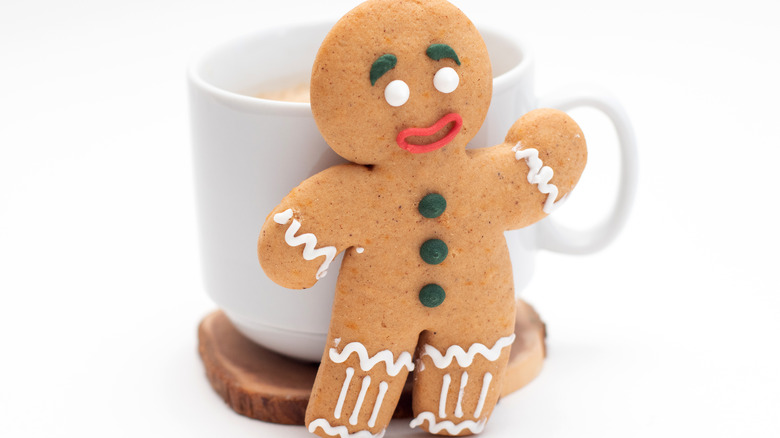 Epov Dmitry/Shutterstock
While gingerbread houses make great table decor, some consider them to be more of a visual holiday tradition than a plate of deliciousness. For people who love a great gingerbread flavor, the Trader Joe's mini gingerbread cookies deliver in an approachable, delightful way. As seen in @traderjoesnew's Instagram picture, the cookie box describes the flavor as spicy with cinnamon and molasses. With a brown rice syrup, the treats taste traditional yet not overly bold. Since the cookie has a white fudge chocolate coating, that extra sweetness balances the spices in the traditional holiday cookie.
As part of the Trader Joe's "Deck the Halls" holiday offerings, it is one of many traditional holiday treats returning to store shelves. Other gingerbread treats include Cookie Mug Hangers, which were a huge hit last year. Perfect for dipping into that hot chocolate or holiday coffee, these cookies should hit store shelves soon. And if gingerbread treats don't top the holiday list, Trader Joe's has a wide array of other holiday flavors, such as peppermint. While the mini gingerbread cookies might be enjoyed by one and all, the holiday treats at Trader Joe's are far from a small sampling of deliciousness.