Trader Joe's New Gingerbread Cookies Have A Surprising Feature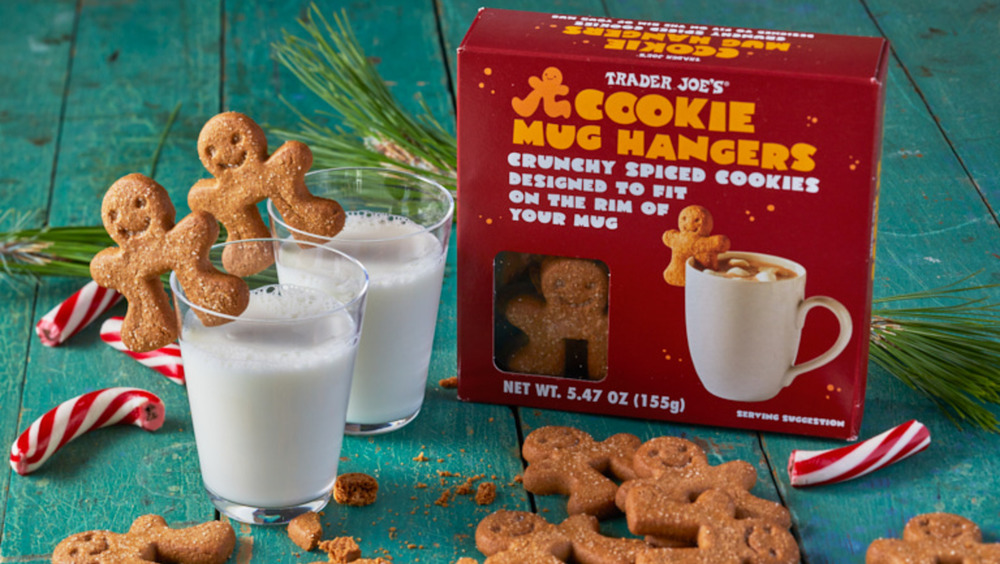 Trader Joe's
Gingerbread is a classic Christmas treat. Lots of people have fond memories of decorating gingerbread houses or settling down somewhere cozy with a sweet gingerbread cookie and glass of milk. Warm and delicious, with a hint of spice, it's no wonder why gingerbread is a traditional holiday sweet. Many of us enjoy keeping our tasty holiday traditions alive, celebrating them with our loved ones year after year, and even adding new celebrations to the old ones. This year, Trader Joe's is offering a cute and festive new way to enjoy this traditional ginger treat.
The supermarket recently released their new Cookie Mug Hangers. The product features a sweet, crunchy gingerbread man, but with a twist. Each cookie is designed with a fitted space, so it can sit snugly on the end of your mug. They add a little festive decoration to any drink and are ready to be dunked whenever you decide it is time to enjoy the tasty snack.
Trader Joe's Cookie Mug Hangers are a holiday steal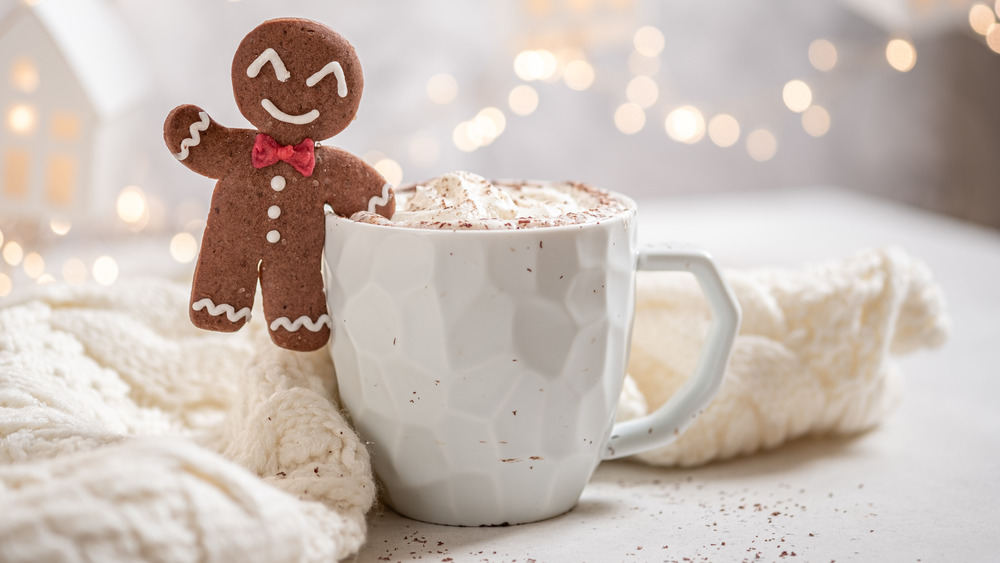 Shutterstock
These little gingerbread men are sure to be a delightful addition to any holiday beverage. These festive friends pair well with any number of drinks, from your morning cup of coffee or a cozy mug of hot chocolate to a festive eggnog drink and even just a simple, cold glass of milk.
The Instagram page @traderjoeslist featured the festive new treats in a post, announcing: "NEW COOKIE MUG HANGERS... a new friend to hang out with whilst you enjoy your fave cozy, holiday beverage in your warm fuzzy socks." Other social media users were quick to chime in and voice their delight. Instagram user @annie.runs.the.world announced, "Just got these for my nephews this morning and they love them!" @art.design.cali.retired joked: "Heck with the kids LOL I want these." 
Instagram user @airfryerarchives simply commented "these are so cute," and @cedes27 agreed, saying "Genius!! Need them!" These adorable treats can be found at all Trader Joe's locations throughout the holiday season, and they are selling for only $2.49 per box, according to Trader Joe's.