Little Bites Is Bringing Back This Popular Muffin Flavor For The Holidays
With the holiday season practically upon us, it's now the time of year when many of us start to focus on catching up with friends and spending quality time with family. But while big, noisy celebrations and holiday parties might get most of the attention this time of year, having a quiet, cozy day in with loved ones can be just as much fun. And what could kick off a fun family day better than a sweet muffin that also brings back fond memories of snacking on butter cookies at your grandma's house?
Entenmann's has the perfect way to start any festive morning with the return of its popular seasonal muffin flavor. The company has just announced they will be bringing back their limited-edition Little Bites Butter Cookie Muffins just in time for the 2021 holiday season. According to Chew Boom, boxes of the sweet, buttery muffins can be found at participating major retailers nationwide for a suggested retail price of $5.29 for a 20-count box.
Each Little Bites Butter Cookie Muffin is made with real butter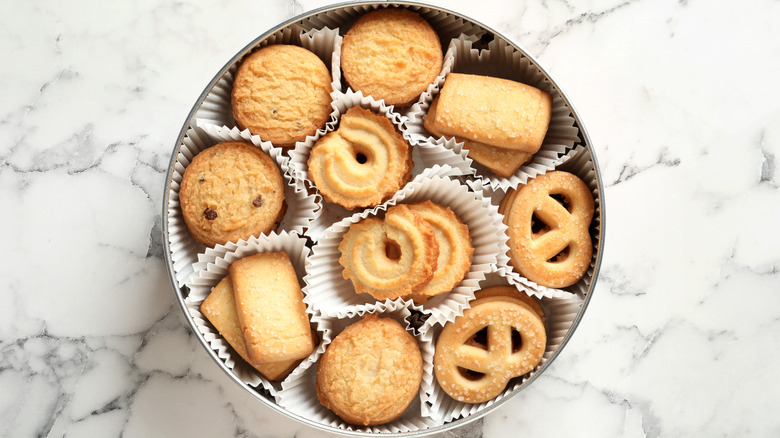 New Africa/Shutterstock
These bite-sized buttery muffins are packaged in five pouches of five per box, making them the perfect treat to share with loved ones around the breakfast table or at snack time. Each Little Bites Butter Cookie Muffin is moist, delicious, and made with real butter that delivers a smooth, rich flavor exactly like a classic butter cookie. Even better, these muffins contain no artificial colors or flavors and zero high fructose corn syrup, according to Little Bites. But that's not all — fans who want even more festive fun can also visit the Little Bites website for great recipe ideas and fun holiday activities. The Holiday Lights Muffins are created with Little Bites Butter Cookie Muffins, white icing, and bright candy pieces, while the Snowflake Ornament is put together using an empty Little Bites Muffins box, glitter, spray paint, and glue.
So if you've been looking for a snack to help get you and your family into the holiday spirit, then look no further than a box of these sweet, buttery muffins. Whether you're taking a trip to visit family for the holidays, picking out your perfect Christmas tree, or spending the afternoon putting up festive decorations around your house, these Little Bites Butter Cookie Muffins are the perfect treat to kick off a day of holiday fun.