Instagram Is Concerned By Martha Stewart's Table Wars Screening Party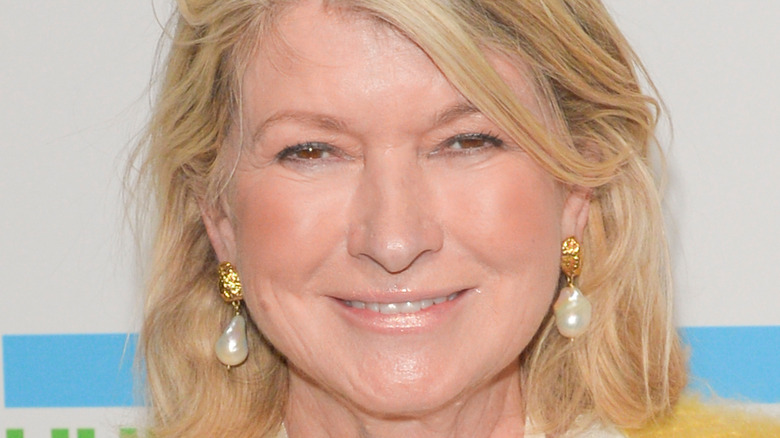 lev radin/Shutterstock
Martha Stewart has built an empire centered on entertaining, whether that means sharing delectable recipes, coming up with decor ideas, or doling out tips that can help even the most novice of hostesses. So it only makes sense that she would become involved in a competition about creating the perfect, over-the-top tablescape. Stewart serves as a judge alongside event planner and designer Chris Hessney (via MarthaStewart.com) on HGTV's show "Table Wars," where creative people compete for a cash prize of $50,000 (per the HGTV website).
It seems Stewart recently hosted a viewing party for an episode of the series. An Instagram post shows a group of guests gathered in what looked like a home theatre room decorated in neutral tones with plenty of cozy-looking couches and loveseats for seating options. There even appeared to be a few bites to eat and some bubbly, arranged on tables towards the back of the theatre space.
The guests appeared to be having a good time, smiling and posing for the camera in the first image from the quartet of photos that Stewart shared with her 1.5 million Instagram followers. However, though the guests may have had a blast, a number of Instagram users were a bit concerned by the screening party for one reason — there were quite a few individuals gathered in what looked like a relatively small space, and COVID loomed large in people's minds.
What fans were saying on Instagram
In the caption that accompanied the Instagram snaps, Stewart shared several bits of information, including the fact that the party was hosted in New York City and that the host of "Table Wars," actress and television personality Tamera Mowry-Housley, wasn't able to attend the party. Mowry-Housley responded in the comments section, writing that she wished she was there and telling Stewart to give her fellow judge "a kiss for me." Though, fans might have questioned whether a kiss would be safe.
One bit of information that wasn't included was whether any COVID measures had been being taken. Since it wasn't clear if Stewart's guests were vaccinated, some people took to the comments section to share their concerns. "Looks fun, but is COVID over in New York?" one follower wrote, followed by a masked emoji. Another simply commented, "I hope all of those people are vaccinated" with a shocked face emoji.
However, there were other fans who didn't share the same sentiment and instead felt envious that they hadn't snagged an invite to the screening party. "New life goal: get invited to a Martha streaming party," one follower commented. Another cheekily wrote, "Martha they must've lost my invite or something! Next time I'm there."