Smothered Cheesy Beef Enchiladas Recipe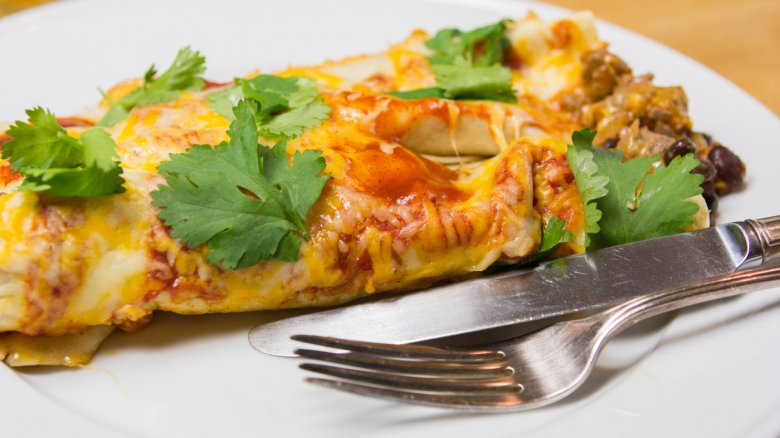 If you're a fan of Mexican cuisine, you've no doubt spent an unseemly number of hours scouring the Internet for recipes of enchiladas only to realize there are way too many to get through. Of course, this Mexican food staple has many variations. While you might find it hard to go too wrong with super cheesy beef-filled tortillas, you should know that not all enchiladas are created equal. The quality of the ingredients you use and the ratio of filling to sauce to tortilla to cheese make a huge difference to the final dish. Beyond that, feel free to experiment with what suits your palate. Enchiladas aren't difficult to make at all and the presentation is impressive, which means they are as ideal for casual weeknights as they are for impressing a roomful of hungry guests.
Here, hearty black beans pair well with traditional ground beef, while a generous amount of enchilada sauce keeps everything soft and moist, and a blend of cheeses lend loads of flavor. While I love this recipe as it is, it's also easily adaptable. You can use chicken instead of beef or simply saute chopped veggies if you prefer a vegetarian-friendly version. Make your own fab enchilada sauce or choose your fave brand from the grocery store. Opt for a mix of different cheeses for character. The best part of working from a recipe such as this one is the ability to customize it to make the dish truly your own. Always have fun with your cooking, especially when enchiladas are on the menu.
Here's what you'll need to start cooking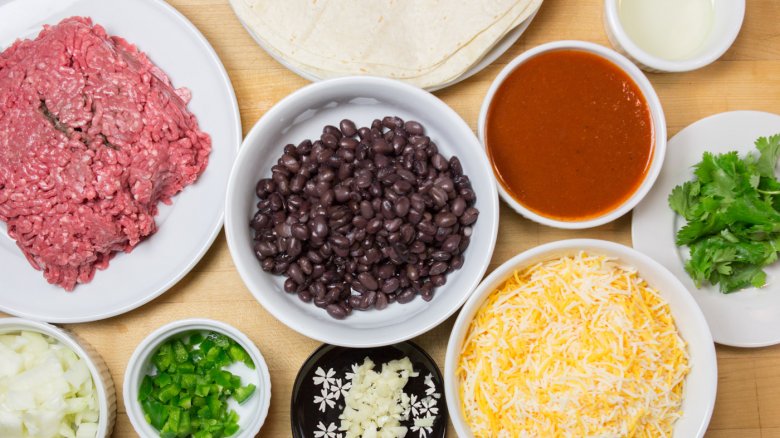 The filling of these enchiladas bring together hearty black beans and flavorful ground beef. Choose beef that's higher in fat content—diets be damned—as the extra fat really lends the filling a big flavor boost. Simple aromatics like onion, garlic, and fresh jalapeno add depth and kicky oomph. The other components are flexible depending on what you have at hand. Whether you use a store-bought red enchilada sauce or a homemade version, you want to make sure to have plenty on hand, especially if you like your enchiladas saucy. I used Mexican-blend shredded cheese and lots of it.
Start cooking the beef mixture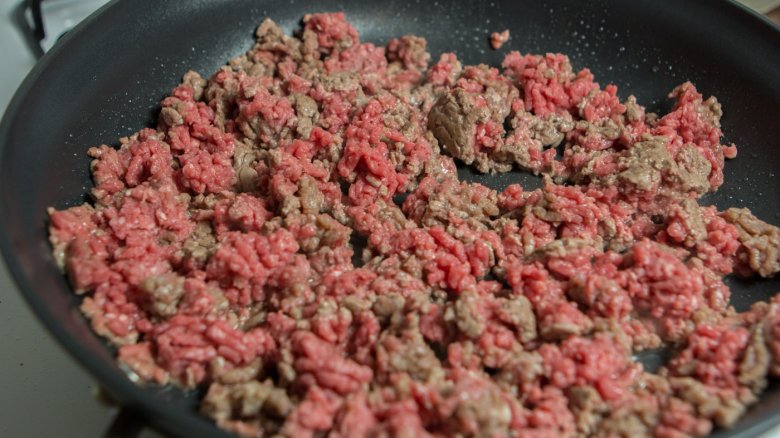 Instead of cooking the aromatics first, start cooking the beef so that some of that delicious fat renders and mingles with the oil in the pan. As you cook, be sure to break up the chunks of beef with the back of a spoon.
Add the aromatics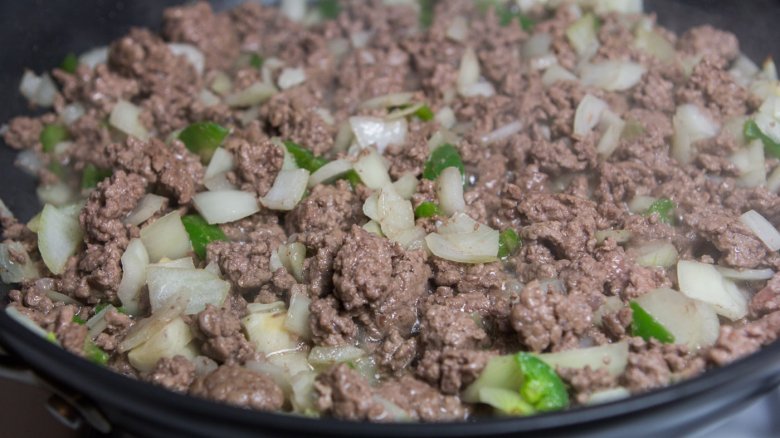 Add the onion, garlic, and jalapeno once the beef is nearly cooked through so that rendered fat has a chance to flavor them. Don't worry about all the liquid and fat since after the beef finishes cooking, you'll drain the liquid and reserve only your perfectly flavored beef filling.
Assemble the enchiladas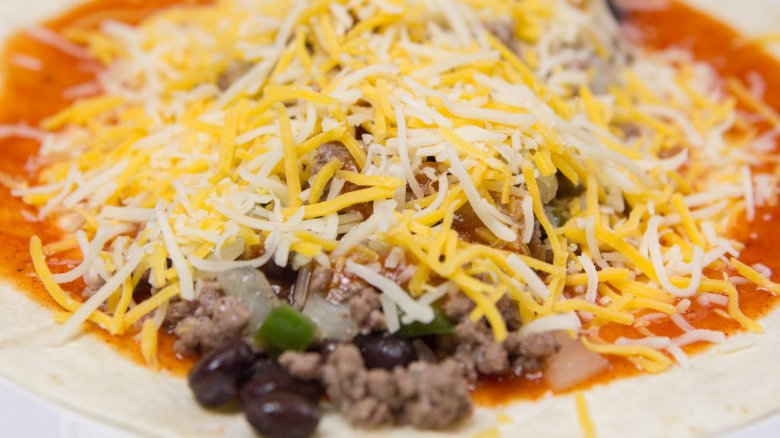 Now for the fun part: assembling the enchiladas. This step is fun and sometimes messy, all of which are okay. Lay out your tortillas one at a time and add the enchilada sauce, beans, beef, more sauce, and cheese.
Rinse and repeat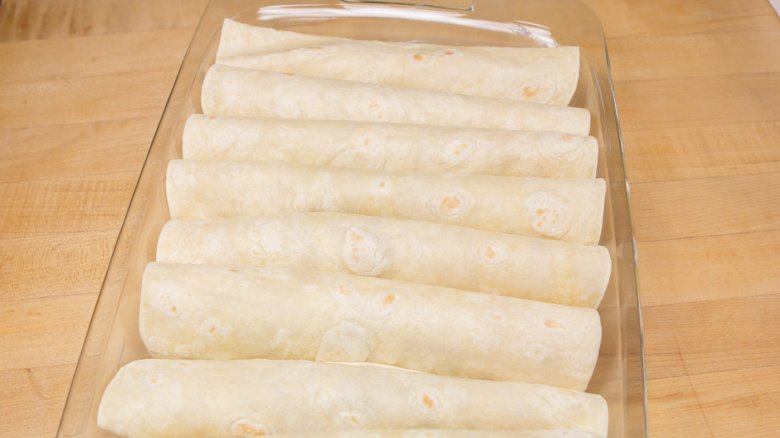 Repeat the enchilada assembly steps until you finish with the last of the eight tortillas. Be sure to line them up in your baking dish seam-side down so they don't unfurl before you finish baking them—although they would still be delicious.  
Finishing touches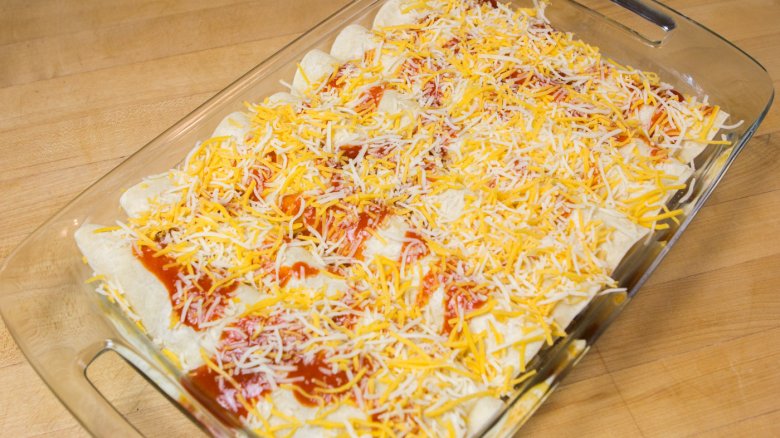 To make sure everything is adequately smothered, spoon the remaining enchilada sauce over the enchiladas, then top with the rest of the cheese. Yes!
Time to bake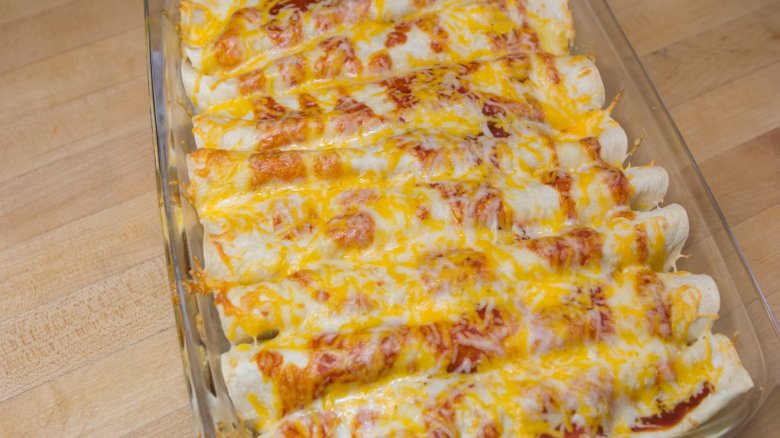 You're about 20 minutes away from hearty, cheesy enchilada bliss. Transfer the entire dish of perfect enchilada soldiers to the oven and bake until all the yummy filling is warmed through and the cheese on top looks sufficiently melty and gooey. Once you remove the dish from the oven, set it aside to cool for about five minutes to avoid burning your tongue!
Decorate with bright green cilantro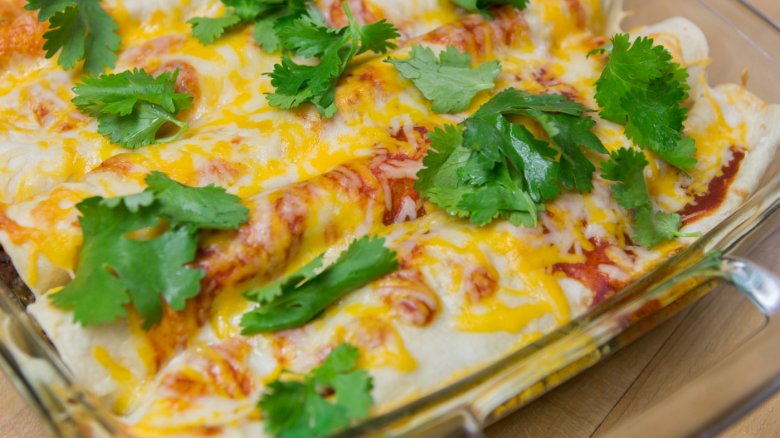 Cilantro is an herb that complements Mexican food flavors splendidly. If you are not one of those cilantro haters, do garnish your enchiladas with these fragrant green leaves. If you're not a fan, it's totally fine to skip this step. 
Serve 'em up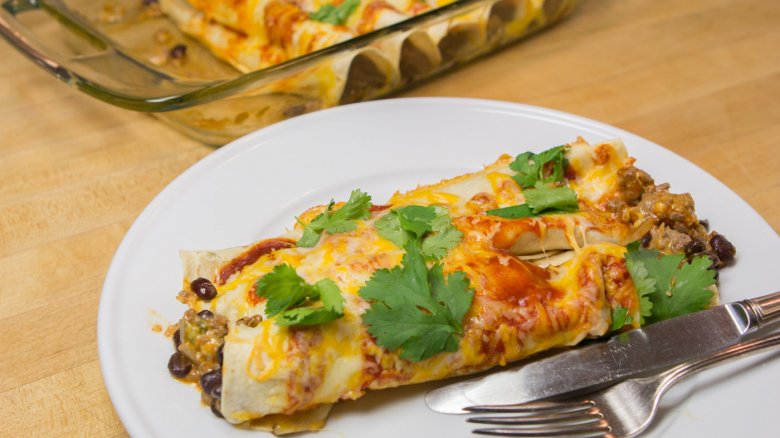 Serve the enchiladas on your favorite plates and dig in!
Directions
Prep time: 10 minutes
Cook time: 30 minutes
Servings: 4
Ingredients:
2 tablespoons canola oil
1 small yellow onion, diced
2 garlic cloves, minced
1 jalapeno, seeds removed and minced
1 ¾ pounds ground beef
kosher salt
black pepper
1 14.5-ounce can black beans, drained and rinsed
8 flour tortillas
4 cups Mexican-blend shredded cheese, divided
3 cups store-bought or homemade red enchilada sauce, divided
fresh cilantro for garnish
The process:
Preheat the oven to 350 degrees Fahrenheit. 
Heat the canola oil in a large pan over medium-high heat. When the oil is ready, add the beef and cook, breaking up with the back of a spoon, until about halfway cooked.
Add the onion, garlic, and jalapeno to the pan with the beef and cook, stirring, until the beef is cooked through and no longer pink, 5-6 minutes. Remove the pan from the heat.
Transfer the prepared beef mixture to a colander or fine-mesh strainer and drain the liquid, discarding.
Working one at a time, lay the tortilla on a plate and spread about 2 tablespoons enchilada sauce on top. Arrange 1 to 2 tablespoons black beans in a line at the center of the tortilla. Top with a heaping spoonful beef mixture. Spoon over an additional 1 tablespoon enchilada sauce. Sprinkle about ⅓ cup cheese on top. Roll the enchilada tightly and place it in a greased 9 x 13-inch baking dish, seam-side down. Repeat with the remaining tortillas, enchilada sauce, black beans, beef mixture, and cheese.
Spoon the remaining enchilada sauce over the top of the enchiladas and sprinkle with the remaining cheese.
Transfer the dish of enchiladas to the middle rack of the oven and bake uncovered until the filling is warmed through and the cheese is melted, 20-22 minutes. Remove the enchiladas from the oven and set aside to rest for about 5 minutes.
Garnish the enchiladas with the cilantro and enjoy while they're hot. Enjoy!